Each business software project starts with an original concept. Nonetheless, to succeed, companies have to elaborate an in-depth plan before proceeding to the project completion.
Let's find out how to draw up the software startup plan avoid pitfalls in 2022 and develop a prosperous digital product.
Business Plan Significance
The startup plan for a digital product refers to a document comprising the project concept, roadmap, as well as deployment, maintenance, and exiting strategy.
The driving reason for suffering a setback for many new projects is insufficient funding. According to statistics, this reason has resulted in failure for 38% of startups, and 35% were broken down due to the irrelevance on the market.
Thus, having a clear project plan on hand will help with a reasonable resources accumulation, higher relevance, step-by-step implementation with all the challenges considered beforehand, and faster product launching. Besides, there are some more opportunities it provides:
Engage investors
Defined elaboration strategy
Forecasted and calculated budget for the project development
To maximally benefit from the startup software business plan, it should contain the following points:
Executive summary
Organization specification
Marketing strategy
Financial forecasts
Team composition
How to Create Executive Summary
This part of the entire plan acquaints the reader with the project idea and the entity itself:
Project definition involving the product's driving idea, plans, and opportunities (1-3 sentences)
Target market covering the aims within your industry and solutions delivered by your future software
Competition reveals what makes your product outstanding (quality, cost-efficiency, capabilities, etc.) and your potential rivals
Finances disclosing specific milestones and defining claimed data with diagrams (including revenue, sales, ROI, etc.)
Personnel describing each employee (experience, competence in your software development team, missing specialists, and ways to hire them
Funds defining the financial estimates required to realize the conceived concept for investors
How to Elaborate a Perfect Executive Summary: Tips
Here are some hints to follow to build an excellent executive summary for your business plan:
Complete the research for all the aspects which go after the introduction and then create the executive summary at the end
Keep it laconic and include only significant details and information to this part
Well-structured description containing the introduction, main part, and summary will also help in defining your idea properly
Exiting strategy is an indispensable part to include; moreover, it's vital for stakeholders as well
Prove your words with relevant statistics, market analysis, and the other relevant data to confirm the facts
Cliches should be eliminated, as investors will easily spot them and won't take the provided data and plans seriously, use only real facts and clear description
Business Definition
Let's cover the critical aspect to include in this part:
Founding history
Depending on your company's present status, you should describe how it was founded (when it comes to the already established business) or how the startup concept was originated.
Location
Cover the placement of headquarters laconically. In case you have a home office, this aspect should be included as well.
Domain
A critical point to add is the business niche. You should describe the industry of your entity clearly and set proper goals.
Team composition
Introduce your team by covering each expert's responsibilities, experience, specialization, and achievement, as well as indicate the missing employees (if any).
Legal structure
This point determines the taxation, so it should be included. Describe the company formation as well as its ownership; this is primarily significant for investors.
Crucial goals
Set the aims your company is striving to achieve. This part should be creative and engaging, yet, not avoid being excessive and limit yourself with 1/2 precious lines.
Scalability
Consider the company's further elaboration opportunities as well as required resources for the business expansion.
Prospects
Tell about the outlook and prospects your project has and add the experts' opinion concerning your business, factors impacting the success, as well as the profitability reasons.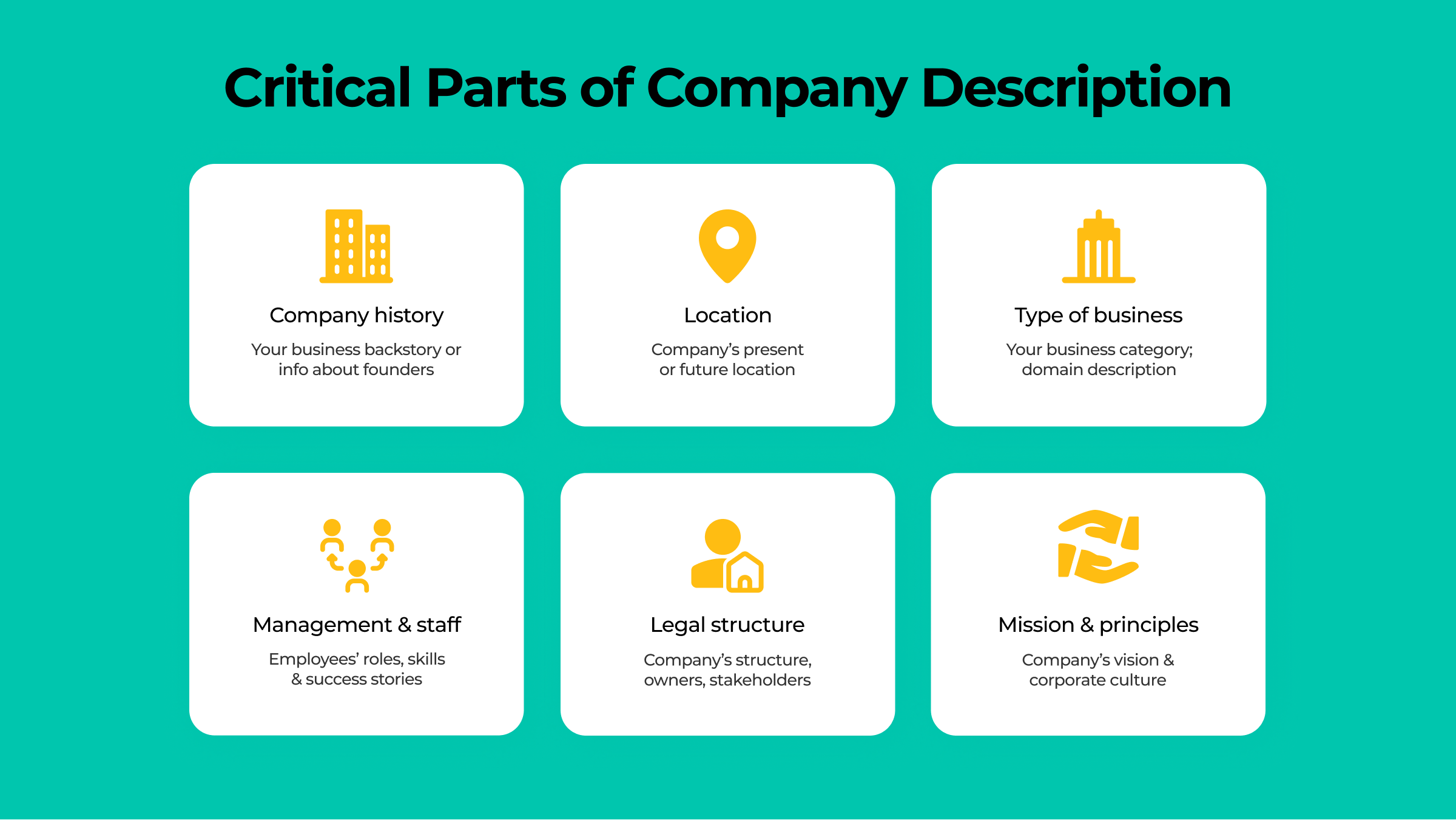 Marketing Strategy
Here, you should reveal ways to attract the audience to the product and how your software will stand out for the crowd of competitors. Stakeholders should see how the customers will be engaged in using your product in practice and aspects that will make it sought-after.
Commonly, this part is split into three basic sections:
Target audience research
To meet the customers' requirements, you should study the audience your solution is aimed at. For this, come up with the list of characteristics listed below:
Age
Gender
Location
Education level
Revenue
Ethnicity
The next step is meticulous research that may be accomplished in diverse ways. We suggest you consider the following ones:
Carry out surveys with the help of a focus group to indicate the customer behavior, needs, and requirements of your audience
Study the competitors' clients by determining the key factors that engage them in applying the rivals' products
Build a buyer persona according to the gathered information by describing the ideal client covering challenges, daily decisions, and even ways he or she spends the spare time
Competitors' studying
Begin with a basic query on the Internet and go through such points:
Define rivals
Select the competitors from your industry with a concept similar to yours via a simple request on the browser. Then, inspect their social media, feedback from clients, and the other details.
Explore thoroughly
Cover the following characteristics when studying the information regarding your rivals:
Costs for their services
Traffic and the number of visits
Activity and mentions on the social media
Market experience and time of existence
Divide them into categories 
Split the gathered competitors by the danger stage (primary, secondary, and tertiary rivals) to observe their further strategies.
SWOT analysis
The integral part of each startup plan is SWOT analysis which stands for:
Strengths that refer to features and uniqueness of the concept
Weaknesses implying drawbacks of the idea that may influence the success
Opportunities that describe the potency and the company's prospects
Threats that are external impacting points independent of your business decisions
Financial Forecasts
Financial assessments cover the projected profits as well as project costs:
Balance sheet
This aspect reveals the current financial condition within the organization and determines the further company's progress rates.
Expenses calculation
Categorize the expenses into fixed and recurring. Besides, estimate the final amount of financial resources required to bring your idea into reality for stakeholders.
Profit forecasts
Add the projects in sales, and based on them, calculate the approximate income generated by your startup.
Cash flow
Include all the external and internal financial processes made within the company. It helps compare expenses and the income to assess the growth as well as bring higher transparency for investors.
Monetization
Draw up the strategy for monetizing your solution depending on the industry and the product type.
Sales plan
Establish the projection of sales to make it easier to meet your financial goals and understand what should be done for this in practice.
You would also like to read: Overview of Startup Valuation
How to Create a Financial Plan: Hints
The financial plan completion may be challenging, so below you will find some tips to fulfill it correctly:
Make your financial plan comply with your project's goals set before
Back your forecasts up with sufficient material and keep your calculations realistic
Try to stay as precise as possible within your estimates and be sufficiently optimistic about meeting the current market conditions within your domain
Look for the ready-made templates that include all the integral sections to fill in
Team Composition
As it was mentioned earlier, here, you should disclose the employees of your company and acquaint them with stakeholders. To complete it correctly, you may divide this part into two sections:
Management team
Firstly, you introduce the following teammates:
The description of the software development team should also include such experts as UI/UX designers, front-end and back-end designers, Quality Assurance Engineers, and the other integral members you have.
Personnel gaps
Next, you cover the gaps in the staff, covering what set of hard and soft skills, responsibilities, duties, and proficiency your project requires.
Board members
This notion describes the assistants that help you in managing your business. In case there are some missing experts, such employees take care to perform all the necessary tasks.
Startup Plan: Supplementary Part
This section may be filled with extra information concerning your business as well as the project for stakeholders:
Diagrams, tables, and other visual representations
Patents/ trademarks documentation
More thorough market analysis data
Credit history
Supportive contracts, agreements, etc.
Production plan with tasks fulfilled for specific achievements
Operation plan with the required resources for the project elaboration
On-Demand Projects Beginning as Startups
The following list of famous market players in various industries that have gained their success by developing an excellent startup business plan. Each of them has begun as a small startup.
Yet, the idea, as well as concept uniqueness accompanied by thorough planning, have resulted in rapid product progress, interest from the investors' side, and, obviously, success on the market.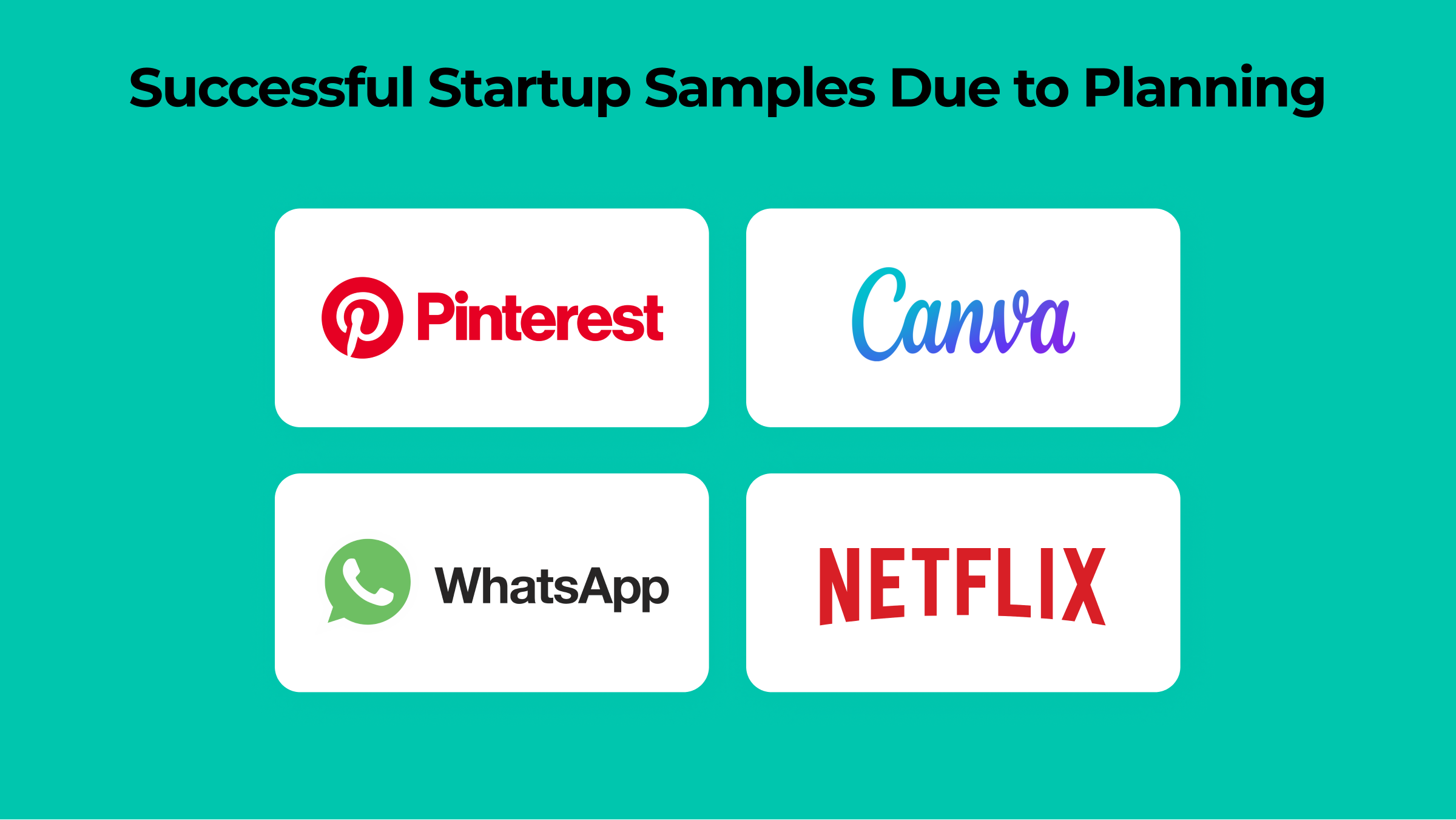 Development Of Your Business Plan
The creation of the startup plan is a complex process with multiple integral stages. Thus, it may be challenging to prepare such a document yourself successfully. You may find lots of decent and great templates for a business plan on the Internet. Therefore, you won't forget to add each integral section and correctly disclose it.
Summarizing
This guide, combined with the templates appropriate for your project, can become your integral assistants on the path to a perfect startup plan. However, there's no universal business plan template suitable for each project case.
That's why we highly recommend you to apply to the team of experts who will provide a more individual approach to your idea and deliver a precise, utter, and meaningful startup plan. It will make your product meet your and the target audience's expectations as well as recoup the development costs very soon.
Author's bio
Vitaly Kuprenko is a writer for Cleveroad. It's a web and mobile app development company with headquarters in Ukraine. He enjoys writing about technology and digital marketing.