If you've ever had pita bread, falafel, or hummus, you've experienced the delights of Middle Eastern cuisine.
But the cuisine has a lot more to offer than these renowned staples—it boasts of a wide spectrum of tastes and styles.
Food from the Middle East is influenced by a range of civilizations found along the Mediterranean, Red, Arabian, and Caspian Seas. It comprises Arab, Israeli, Moroccan, Syrian, Turkish cuisines, and others. In fact, it includes a huge list of nations and civilizations.
Middle Eastern cuisine is often distinguished by aromatic and plentiful spices, nuts, fragrant oils, and creamy components. We are accustomed to seeing lots of meaty and savory dishes from the region.
But the world is still sleeping on Middle Eastern desserts. While there are many confections to choose from the cuisine itself, they are not as popular in the world outside of the Middle East. Kunafa World is bringing the Middle Eastern dessert of its namesake to Indians. Let's find out more.
The Founding Story
Kunafa World has its humble beginning in Jameela Ruhi, a dedicated home baker and her husband. One day, she presented her techie husband Zamzeer Ahamed with a plate of Kunafa.
Relishing the amazing taste of the dessert, Ahamed decided he would make a business out of it. Initially named Bake Angel, the couple started selling their delicious Kunafas locally through social media.
They started their venture in Mangalore and soon were selling in Bangalore as well. Kunafa World, and the Kunafas that it was made out of, became an instant hit.
Kunafa World's first flagship store is located in Frazer Town. This dessert store is located on New BEL Road in Kammanahalli, and they also have a cloud kitchen in Koramangala.
Both of Kunafa World's founders have engineering degrees. Mr. Zamzeer Ahamed went on to Manipal University to earn an MBA in international business.
He also runs a Facebook group called "goodfoodmangalore," which has over 30,000 members and allows him to keep up with current food market trends. When he saw his wife's Kunafa dish, he realized it had the potential to become a product-centric idea in the market.
They were compelled to launch this as a full-fledged firm in Bangalore because of the enormous initial reaction to Bake Angel. So they collaborated the business with Mr. Hafeez, a close friend, and opened their first QSR-type restaurant in Frazer Town.
But What Is Kunafa?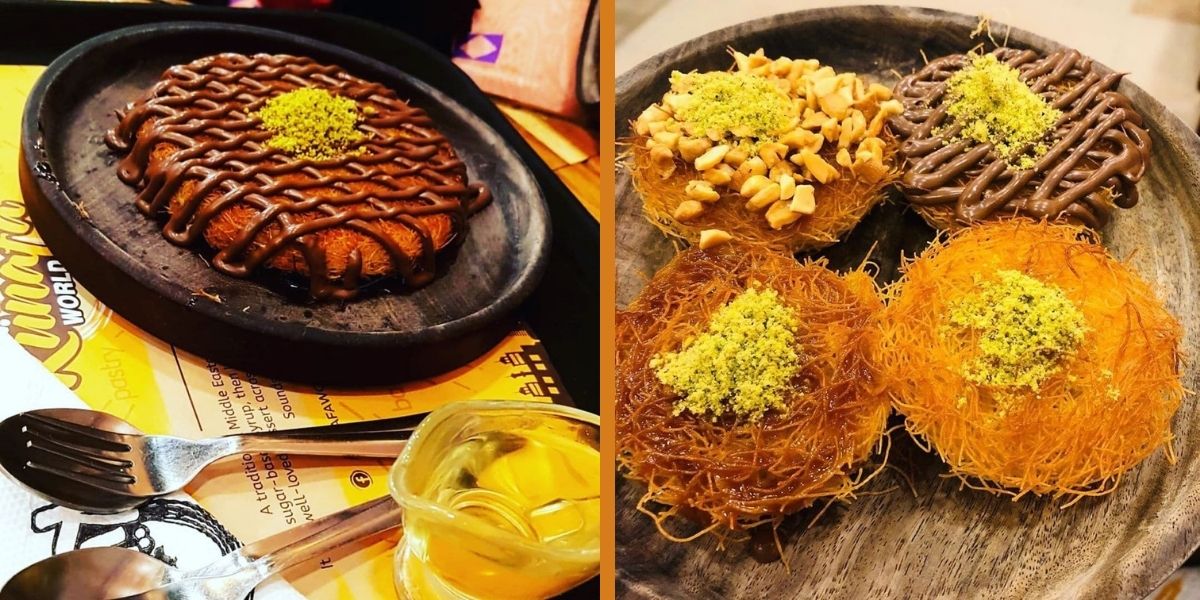 Kunafa is a Middle Eastern dessert prepared with fine semolina dough (also known as Kataifi), which is soaked in sugar syrup and covered with cheese or thick cream.
Finally, finely chopped pistachios, almonds, or other nuts are added as a finishing touch. Drizzle some sugar syrup on top before eating, and you're good to go.
This is a fascinating delicacy that has recently arrived in Bangalore's dessert market. Kunafa World not only introduces us to the world of Kunafa but also allows us to taste 15 various flavors.
So what's on the menu? Crunchy and Classic Kunafas as well as Assorted Mini Kunafas and Nutella Cone Kunafas are available at Kunafa World. Other varieties available include Creamy Kunafa, Cheesy Kunafa, Nutty Kunafa, and Caramel Kunafa.
If cookies and candies are what you seek, the Oreo Kunafa, Snicker, and Kit-Kat Kunafa are sure to win you over. Experience the Chef's Feast Kunafa, which comes with a dollop of Vanilla ice cream on top.
Shark Tank Experience
Kunafa World is a sweet dessert that made an appearance on Shark Tank India Season 1 Episode 28. Its proprietors requested a sum of 90 lakhs in exchange for a 5% stake in their firm.
The sharks were impressed with Kunafa World's delicious offerings but did not agree to the proposed deal.
However, Kunafa World's popularity has skyrocketed since the feature. It has built more outlets since, and the number of customers has grown considerably. According to the founders, the sharks have helped the startup grow in a lot of ways.
From the first episode of Shark Tank USA, Jameela Ruhi and Zamzeer Ahamed have been glued to the screen.
They have been fans of the franchise for a long time. When the opportunity to register for Shark Tank India was advertised, they did not pass it up.
According to the founders, the entire experience seemed surreal after being chosen. It was incredible to be able to pitch their company plan to a panel of respected sharks who have their own remarkable tales to tell.
They provided Kunafa World with some important insights and ideas that would undoubtedly enhance their company strategy.
Growth and future plans
Today, the firm is valued at 18 crores. Kunafa World's revenue for the fiscal year ending March 2020 was 55 lakhs, sales for the fiscal year ending March 2021 were 2 crores, and revenue for the fiscal year ending March 2022 is 1.7 crores. A recent month's sales totaled 30 lakhs. The net profit margin is 30% and the gross profit margin is 50%.
The company plans to build at least 50 stores throughout all Indian states by 2025, and then expand to a global scale.
Indians have a massive sweet tooth. Therefore, the founders believe their market is the entirety of the massive Indian population. Middle Eastern food has a lot in common with a lot of Indian cuisines, so Kunafa is a unique offering, while also being compatible with the Indian palette.
Let's hope to see Kunafa World impress more Indians with its delicious offering in the future.