One of the leading startups in the content industry, Apna Writer aims to provide world-class quality content to online business ventures at unmatchable prices.
It has been a few years since this content service provider came into action but it's not the first venture for Sravani.
"I worked as a freelance writer after my marriage, but I wasn't satisfied, so I started my first content service providing company. But because of various reasons, it wasn't a successful one. Learning from it, and making the changes, I bounced back with launching Apna Writer," said Sravani.
The Backstory 
Apna Writer is the dream of Sravani Sundeep, a housewife turned entrepreneur.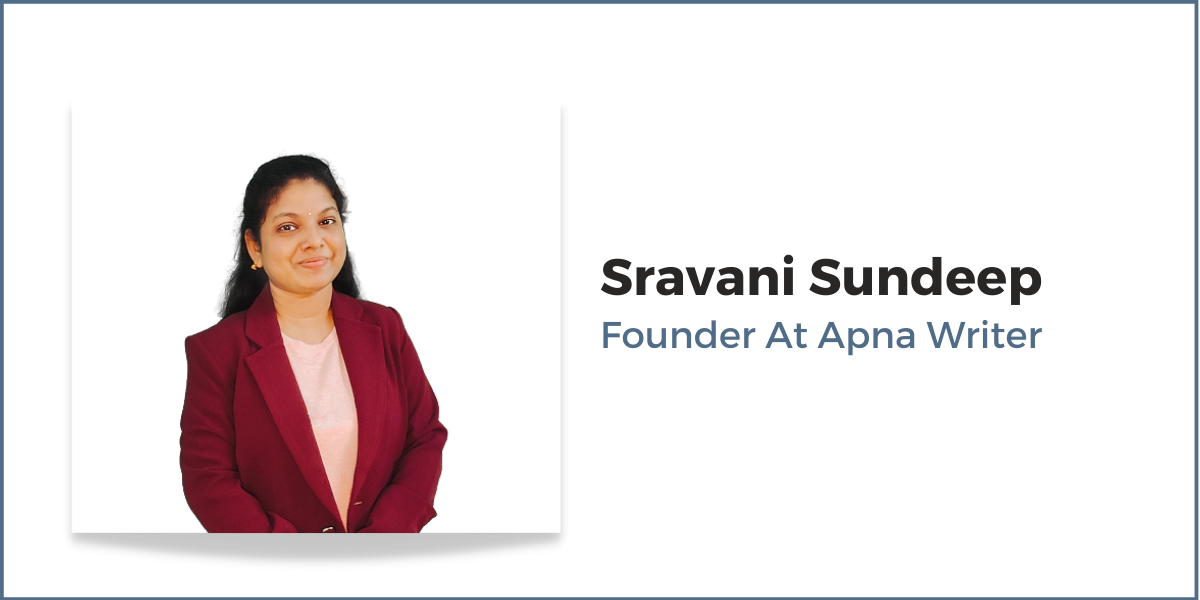 After her marriage, Sravani spent a few months of her life being a housewife. She wanted to start something on her own that she and her family can be proud of. With an interest in content writing, she started taking freelance content writing projects.
Sravani was earning a decent amount working as a freelancer. However, she always had that sinking feeling of something being incomplete, as all the platforms she used to find work for herself were not up to the mark.
Also, she had the dream of becoming an entrepreneur someday.
In order to be the showrunner rather than to be a show warmer, she decided to change things up and decided to launch a platform that connects the publisher and the writer at the same place.
Without having any prior knowledge of running a company, a B. Tech graduate turned writer, jumped into the business world.
But the journey was not smooth and was filled with struggles.
She managed to include numerous resources on one platform which could connect both the writer and publisher.
She worked on the project for four straight years and gained real-world experience which no business textbook could ever teach her.
But the platform was still not a success. The reason being, that the multiple options and features she facilitated in her platform actually confused the users.
Gradually the downfall of the venture began.
But it wasn't the end of the story for her.
She learned one most crucial lesson from that unsuccessful startup. Client satisfaction is the most important factor for the success of every business than any other factor. As she was a quick learner, she analyzed her mistakes, worked on them to bounce back, and this time to start writing a success story in the history books.
But before she could begin the journey again, she had to find the solution to one major flaw that she had discovered with her previous platform.
And that was to find excellent writers that could produce high-quality content. Finding high-quality writers in the crowd of writers in India was a difficult task at hand. But she knew that this hole in her business needs to be plugged in to come back into the industry strong.
And this led to the rise of the idea of Apna Writer. Since then she has never looked back, and the company is doing great in the content service industry. Their testimonials speak volumes of the work Apna Writer has delivered.
Apna Writer Leaving a Mark In The Industry
Apna Writer works with utmost professionalism for every content form they provide. Their service includes websites, blogs, emails, social media, advertisements, press releases, and a lot more.
The team of experienced thinkers, editors, writers, and editors put their hearts and soul into crafting every single piece of content for their clients.
Whereas Sravani, the captain of the ship makes sure that the team works in sync and each content piece delivered from their end is of superior quality.
She is the face and voice of Apna Writer.
It's because of her that the atmosphere in the company is friendly. She also sprinkles her management and writing skills in the company, and hopes for an even more successful future ahead.
What Separates Them From The Rest?
The competition is very high in the content writing industry, and Apna Writer has managed to make a mark in the industry despite all that.
Their style and way of doing business is their USP, and also their distinction from the rest of their competition.
Sravani has put all her experience from her first startup to make sure that Apna Writer makes its mark in the industry. The experience they provide their clients with is unmatchable compared to all the other content writing service providers.
They have a motto which they work very hard on, and with full dedication, which is – "We Listen, We Understand, We Serve".
And they believe that the content writing services they provide are what their clients deserve. They just don't do it for the sake of making money, but to provide as much value and satisfaction to the client as they can.
This is the major reason why they are able to retain 95% of their clients, which is a staggering number in the industry.
Their overall progress has been inspirational, and they are on a successful run.
The Core of Apna Writer 
Their team is the core part of Apna Writer.
They have a team of writers and editors working day in and day out.
But they are not restricted to a limited team.
They are also open to third-party outsourcing when the order is in bulk, and this is how they manage the situation dynamically.
They have hired talented and professional writers from all across the country so that there is no compromise in the taste and quality of the final product they deliver.
Their in-house editors make sure every single content piece, which has an Apna Writer trademark, is up to the highest standards set by the company.
And the curator of all this, Sravani is the most vital element in managing all this.
A Satisfied And Growing Clientele
As stated above, their testimonial speaks volumes for their quality of work.
They cater to clients from multiple industries.
Apart from versatility in industry, they associate with clients having B2B as well as B2C setups.
Overall, they have a team of versatile writers and editors to make this possible in the first place.
Sravani has done a commendable job to provide 21st-century businesses the freedom to find every solution for their content requirements.
The future seems bright for Apna Writer and Sravani.
The Bright Future
Sravani believes in brand marketing rather than direct response marketing for her long-term plan.
This is the core reason why Apna Writer is currently working upon minimum profits and maximum client satisfaction.
Working on profits below 10% is really a bold move. But the company is taking baby steps in the right direction and with the right motive of serving the industry.
Sravani has done all the hard work from making the bold move of stepping into the business industry, learning from her failures, bouncing back strongly, with the right sense of purpose.
We wish all the very best to the team of Apna Writer and Sravani.
---
Founder: Sravani Sundeep
Social Accounts: Facebook | LinkedIn