Technology is helping every industry in one way or the other. The improvements in the underlying work process are making it easier for both the businesses and the users in getting things done.
Insurance is one such sector that has seen a huge growth in the past few years. Businesses working in the health and insurance sector require robust applications and tools to handle the growing demand. Some applications help them in the front-end and similarly some take care of the backend process.
In this brand story, we will be looking at one such platform Artivatic.ai that is on the verge to empower the Insurance & Healthcare sector globally with its in-house patent technologies.
Let us know more about their story and how they are working to reform the whole health and insurance industry.
About Artivatic.ai
| | |
| --- | --- |
| Startup Name | Artivatic.ai |
| Industry | InsurTech, HealthTech |
| Established | 2018 |
| Founders | Layak Singh and Puneet Tondon |
| Headquarters | Bengaluru, Karnataka |
| Legal Name | Artivatic Data Labs Private Limited |
Artivatic.ai is a full-stack insurtech & health-tech platform that empowers life insurance, health insurance, general insurance, healthcare, distribution & re-insurance businesses & developers to re-imagine insurance products for the next billion users.
Artivatic builds low-cost, modular API infrastructure & distribution platforms so that insurance businesses can go live in a matter of days, not months.
The platform pioneers in the new age digital innovations in insurance (Life & Health) with 200+ modular API infrastructure and Integrated core products like
Customer Buying Journey
Alternative Underwriting & Automated Underwriting Decision
Customer 360 Profiling & Health Assessment
Environmental & Alternative Data Analysis
Risk & Fraud
Claims Automation & Management,
Voice/Speech-Based Tele MER/PIVC,
Documents Processing (Handwritten, PDF, Scanned for Medical, Financial, Others),
Quote Management and New Product Creation (Byte-Sized, Stackable),
Distribution & Servicing Platforms and other solutions that Artivatic has built over a period of time.
🏷️ Their Tagline: Enabling millions for affordable access to health & insurance using Technology
Artivatic's Vision & Mission
Artivatic.ai is on the verge to empower the Insurance & Healthcare sector globally with its in-house patent technologies.
The company is transforming legacy, traditional, complex, and 'one size fits all' into personalized, digital, instant, risk-based, new age insurtech that touches human lives, understands their need, use data to provide them better, need-based products instantly using technology.
⭐Artivatic aims to provide personalized insurance products based on customer goals/needs under 60 seconds using data, technology, and process.
🏆 The mission is to build a full-stack Insurtech technology platform for varied industries.
About The Founders And Info About Their Team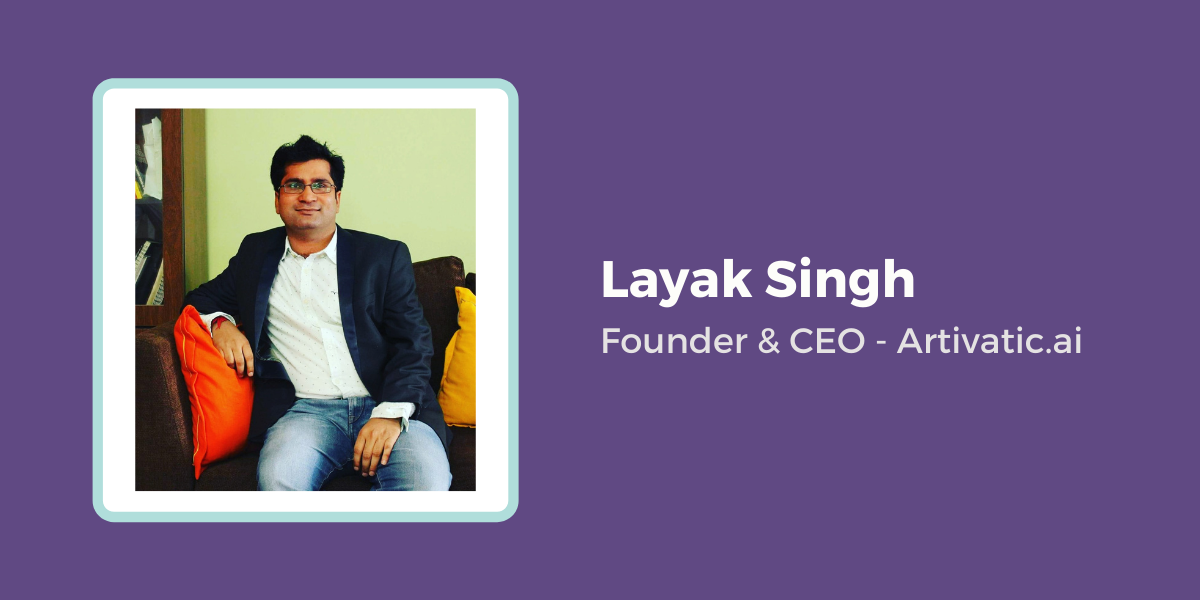 Layak Singh – Founder & CEO – Artivatic.ai
Layak, Artivatic's Co-Founder, spearheads the strategic goals of the company while being instrumental in building the company's future roadmap. He is an IIT Kharagpur Graduate who founded Artivatic in the year 2016.
Prior to this, he has been a Founder & CEO at Fullerene Solutions and Services (P) Ltd, a portfolio company for education, online dating, content, and lifestyle ventures.
Earlier, he has also been a part of DRDO, IOCL, EDUDIGM to execute their projects, being an in-house entrepreneur, and more with a focus on building team, product execution, helping in business strategies, prediction, marketing, PR, revenue & financial performance.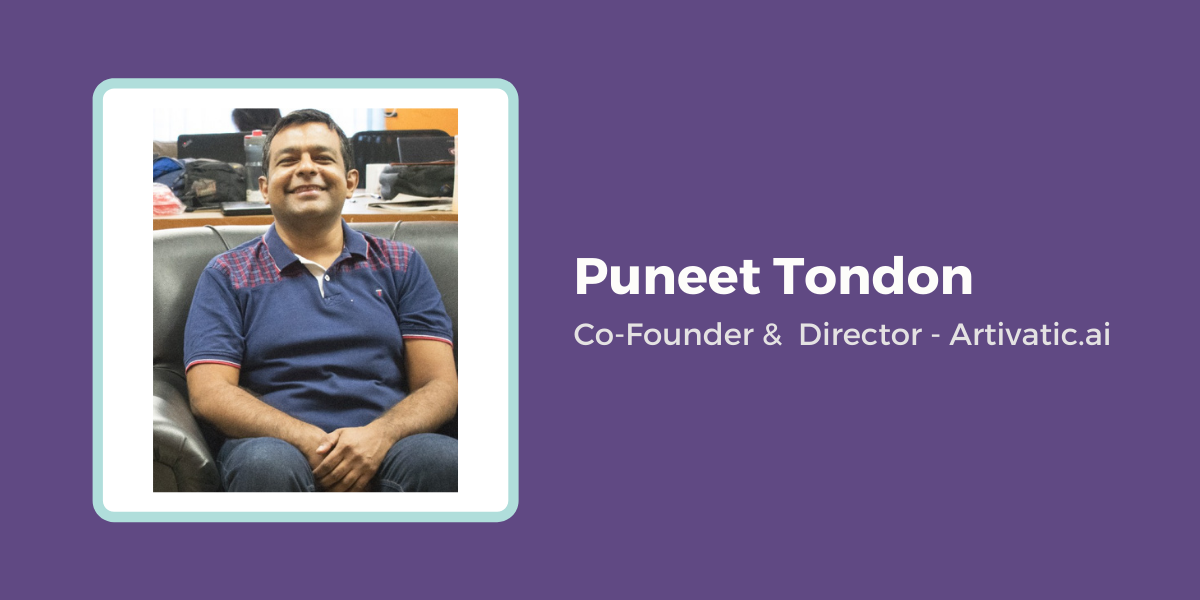 Puneet Tondon – Co-Founder & Director – Artivatic.ai
With a diverse experience of 18+ years, Puneet Tondon is a serial entrepreneur with a strong penchant for technology who strives to simplify and streamline complex "pain points" using technology.
As a co-founder of Artivatic.ai, Puneet is responsible for spearheading the rapid transformation of the firm. His area of expertise covers operations, product vision, execution, market research, capacity building, operations, technology, strategic decisions.
Artivatic has made significant growth in terms of the team (200 full-time member team), clients, products, solutions, and setting the benchmarks among the industry globally.
Today the company has its own technical team, support team, quality analysts, delivery managers, data scientists, and functional consultants who constantly help them to achieve the goals.
Artivatic's Story And How It All Started
The inspiration for starting Artivatic was through Layak's last startup when he was working on building consumer intelligence to understand human behavior.
During the past startup when he was looking to buy insurance for his employees then he realized the problem of inefficiencies, no choice for buying need-based insurance, complexities in the entire journey/process, experience, and high cost.
To solve the problem to make it simple, personalized, risk-based and in quick time, Artivatic built a SaaS platform that is a 360 full-stack insurtech & health platform that takes care of the entire insurance journey.
The whole idea behind starting this company was to enable the enterprises to have a human brain-like intelligent system, which should have the power to make self decisions with limited human intervention.
They believed that decisions that are taken by humans using traditional analytics costs time, money and are often error-prone.
With a team of over 30, they started to achieve the perfect AI brain. To help individuals to make better-personalized decisions, the platform uses deep machine learning and proprietary algorithms to offer insurance & healthcare solutions.
Major Challenges Faced During Their Initial Stage
The Artivatic journey for the last 2 quarters was truly interesting as well as challenging. There were multiple challenges that they faced during the journey.
💡 It was a tough time of the entire journey that their team observed. It took so much brainstorming to understand Artivatic in-depth and it took almost 3 months for them to decide finally – what was Artivatic, how to build further, who will be building Artivatic, and where they were aligning their visions for the future.
Many investors rejected them stating that they were working on something superficially' that cannot be executed.
💡 At the end of the first quarter, the team was able to figure out what they were building and why. Although they were suffering from a financial crunch, the team was supportive and motivated that this product will benefit them in the future.
The whole team underwent lots of learning in the first quarter. In the sector quarter, they were able to launch the first version of the product. This first version gave a boost of confidence to all of them and they were motivated enough to go ahead further.
After that, they partnered with Zomato, Dineout, and ClearTrip as well to test the technologies with help of their in-house product 'LiveOnGo (LOG)' and it was really successful. Artivatic validated its technology and business model in the 2nd Quarter.
Our customers are superheroes – we are their growth partners – Artivatic.ai
Despite the fact that they faced a number of challenges in the initial stage, the belief of their team members and investors in their product has helped to boost the confidence, motivation, and interest to build furthermore innovative technologies and support these businesses for improving their ROI, consumer engagement, personalized experience, business strategies and automating decision making.
💰 Artivatic's Fundings And Major Investors
Artivatic has raised more than 2 million dollars in revenue through a pre-series A Investment and strategic partnership with KFin Technologies. Artivatic has also raised 2 rounds of funding as well from Indian Angel Network and many HNIs.
How Artivatic Works?
Artivatic is a global risk & decision-making platform that automates human decisions in insurance & healthcare to provide efficiency, transparency, risk assessment, personalization, and digitization in the entire lifecycle of operations.
Artivatic platform aims to provide personalized insurance products based on customer goals/needs under 60 seconds using data, technology, and process.
Here are some of their major products:
AUSIS – AI Smart Underwriting & Alternative Data, Decision Platform
ALFRED – Health Claims, Accidental Claims /Death Claims Automation & Decision Platform
DARVIN– AI Healthcare Platform for patient & Provider
CARSURE – AI-Based Motor Vehicle Inspection & claims Estimation Platform
MiO – Distribution, Sales & Marketing, Lead Management, Agent & Self Servicing Automation Platform
PRODX – Risk-Based Smart Product Design & Distribution Platform
ASPIRE– 360 Customer health, profiling, communities and engagement platform
MiO Property- Realtime Property Risk Inspection System
BRIAN – B2B2C Distribution and Embedded Insurance Platform
Xtractor – OCR/ICR Platform
Artivatic's Current Growth
Artivatic Data Labs's operating revenues range is Under US $1M  for the financial year ending on 31 March 2020. Also, with over 30% MoM, they are processing more than 3 million policies and 100 plus claims.
📌 In the year 2020, they established:
7 Successful Live Clients
Started Generated regular revenue
Launched 8 core products & 400+ APIs platform
Expanding to APAC & USA Market
📌In the year 2021:
Incorporated in USA- Artivatic, Inc.
Launched B2C ASPIRE Platform
Health System Launch
Property & Auto Insurance Sector Launch
Distribution & Buy Policy Platforms Launch
Micro, Byte sized or Risk-Based Product Design Platform Launch
Launched MiO Sales Platform
Launched Infrd Insurance API Cloud
Raised Pre-Series A Fund from KFintech (Backed by General Atlantic)
Launched in Singapore Office
What Are Their Future Plans
The next three years will witness Artivatic.ai as an established Global Insuretech organization, influencing health and insurance sectors across the world for at least the next 10 years. For now, they are focusing upon:
💡 Establishing Artivatic as a truly global brand with each operational center sufficiently scaling up on its own to establish strongholds in its area of operation. Active focus on building local teams in every Geo along with decentralized management capabilities – thereby helping to build a scalable model.
💡 Expanding SME and Commercial sectors, new age platform byte size insurance, neat based insurance, and increase sales industry revenue growth
Artivatic's Competitors
There are some competitors but not direct competitors to Artivatic. Artivatic is always focusing on building next-gen solutions that are driven by on-ground experience, learning, and root problems.
They always keep innovating and building solutions that are not even thought of. Their team works and thinks for the next 10 years rather than just for the next 3 years.
🏆 Build fast, expand fast, fail fast, and win fast.
Frequently Asked Questions About Artivatic.ai
What is Artivatic?
Artivatic is a global risk & decision-making platform that automates human decisions in insurance & healthcare to provide efficiency, transparency, risk assessment, personalization, and digitization in the entire lifecycle of operations.
Who is the Founder of Artivatic.ai?
Artivatic is founded by Puneet Tondon and Layak Singh in the year 2017.