Learning new skills was never so easy as it is today in this digital world. People have all the resources right in their smart devices to start learning new skills and build the base for their careers.
The Edtech industry has seen a huge growth in recent times and mainly after the pandemic. Now, people are more inclined towards learning skills online rather than moving out for the same.
In this brand story, we are covering the story of Bizgurukul, an online platform helping people gain new skills. They are focusing on skills that can make people business ready. So, let us get into their ideas, vision, and what made Bizgurukul happen:
About Bizgurukul
Bizgurukul is a place for students who wish to explore alternate careers in digital entrepreneurship space such as digital marketing, content writing, copywriting, personal branding, Facebook and Instagram marketing, video making, and other courses to upskill like Microsoft office, email marketing, personality development, public speaking, etc.
They are an EdTech platform that wants to make India ready for Business through their online education. So the team always talks about education that matters the most.
🏷️ Their Tagline: Education that makes you Business Ready.
Bizgurukul's Mission and Vision
📌 Vision: Bizgurukul aims to build India Business ready. The current scenario shows there are going to be two different eras in the world, Pre-Covid, and Post-Covid. Ignorance of freelance careers, entrepreneurship opportunities, digital emergence can take people way behind the time.
But, on the other hand, awareness of such things creates lots of possibilities and opportunities for young Indians. Bizgurukul is a contribution towards a better tomorrow.
🎯 Mission: Bizgurukul wants to educate 1 million individuals by 2025 with the actual education of Business, Entrepreneurship, and Online Opportunities.
About The Founders And Info About Their Team
Bizgurukul has an incredible team.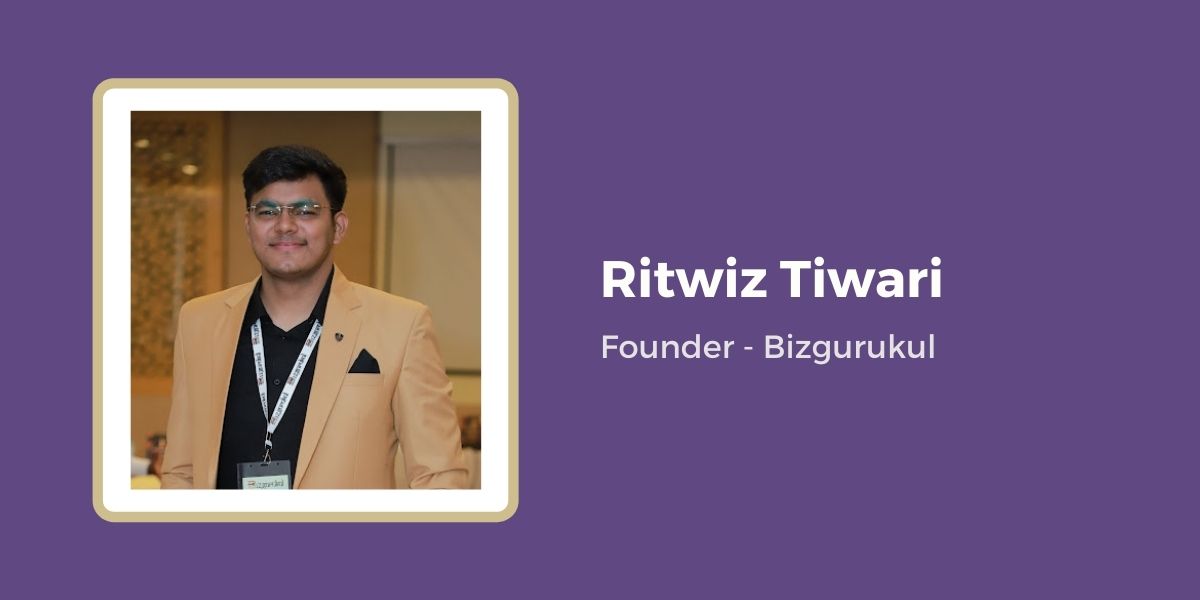 Ritwiz Tiwari, Founder – Bizgurukul
His vast experience in the marketing field found a massive gap in the market while working with international brands in affiliate marketing which eventually forced him to bring a proper system and training coupled with online education in India.
The idea of EdTech is not unique; he knew this, but collaborating with affiliate marketing has helped him bootstrapped the whole concept and made it into a well-known brand today in the market.
Today, an online education platform that provides a living to many people by sitting and working from home is no less than a blessing. He then joined hands with three other talented friends: Rohit Sharma (Co-Founder), Kartik Dang (Business Support Head), and Paras Saxena (Marketing Head) named this venture 'Bizgurukul'.
"Whatever achievements have reached us is because of the hard work and efforts made by the whole team" – Ritwiz
The name itself represents the vision; it's an institution, a gurukul for learning Business. A new age business. It aims to promote marketing and entrepreneurship skills in this age of great information but is less organized. This team is determined to take this responsibility and change the face of online learning platforms, not by talking but by creating one.
Rohit Sharma is an expert professional in sales, marketing, and entrepreneurship. He is a phenomenal public speaker and an extremely unconventional mind who does not think of what society says instead of focusing on community needs.
He loves experimenting with new projects. However, he joined the training industry and began coaching soft skills and personality development with a simple mission to impact lives.
However, with more than nine years of experience, he was confident enough to start something of his own, resulting in the rise of Bizgurukul.
Kartik and Paras were friends with them and gave Bizgurukul their whole heart. On one hand, if Kartik is responsible for all the collaboration and resources, Paras has handled the marketing part very well.
Bizgurukul's Story And How It All Started
Amidst this unfortunate situation, some people fixated themselves on solutions and not counted problems or played blame games.
Ritwiz Tiwari didn't want to sit idle; he took a challenge to convert this situation into an opportunity to become an online entrepreneur and guide people to become entrepreneurs themselves during these challenging times.
Being experimental by nature, he put his hands into many business potholes and surrounded himself with many start-up owners and marketers. Having worked as an affiliate marketer himself for more than a year with international brands, he knew how complex the process is.
Later he found there were no brands in India that could simplify these procedures for people. Understanding the importance of starting early, he wanted to create a platform for the young generation of the country.
No big venture can start alone. A strong team with the same mission is the backbone of any successful business. Therefore, he joined hands with Rohit to convert an unconventional idea into reality. Then they found the rest of the leadership, which brings exponential growth and stability to the organization.
It is rightly said, if the right people come together, there is nothing unachievable. Bizgurukul is an example of coming together with the right minds together, at the right place, and at the right time.
Major Challenges Faced During The Initial Days
There were two significant challenges for their team:
First was the limited trust of the Indian market in online education & EdTech platforms.
And the second one was, finding a team that aligns with the vision precisely the way they want. The team was not very experienced in Business and technology.
However, this journey has taught them many things that they otherwise would have not learned.
How The Platform Works?
Bizgurukul is an EdTech platform with business education. They find trainers who are not influencers yet but have influential powers with expertise in their respective subjects.
So, they are always on the look for excellent teachers and provide them a platform to showcase their talent and thus help Bizgurukul bring the best to the table. Also, the company runs affiliate programs, and the campaigns for them have been successful so far.
💰 Revenue Generation: The main source of revenue generation for Bizgurukul is through selling courses through their online platform.
💸 Funding And Investors: Bizgurukul is a bootstrapped start-up. They haven't raised any fundings yet.
What Are Their Future Plans?
Their plan with Bizgurukul is simple yet revolutionary. Their main focus would be to work for people who want to upskill themselves and learn entrepreneurship.
The team wants to make Bizgurukul a synonym for business education in the online world. In all these years, they have realized that the mission is enormous, and it needs a lot of work to make it a reality.