The crypto market has witnessed huge growth in the past few years. With a lot of cryptocurrencies delivering great returns, more and more people are interested in investing money into them.
For investing money or trading in cryptocurrencies, you will require an exchange. People buy and sell digital currencies like Bitcoin, Ethereum, Vechain, and more through these exchanges.
In this Brand Story, we are featuring CoinDCX, one of the nation's safest crypto exchanges. The story will cover everything that you need to know about this growing Indian brand.
So, let's get started:
About CoinDCX
CoinDCX is India's first crypto unicorn and the nation's safest crypto exchange. With a focus on making crypto accessible, the business provides simple and safe investment options besides advanced trading features through its extensive suite of products in India and globally.
Founded in 2018, CoinDCX has already onboarded more than  3.5 million users. The company carries forward the vision of making crypto accessible in India, accelerating its efforts towards bringing 50 million Indians into crypto.
CoinDCX is ISO Certified and has taken a $100 Million insurance through BitGo. They offer a wide array of products for investing and trading in crypto-based financial products for retail, HNI, and enterprise customers:
CoinDCX: India's Simplest Crypto Investment App
CoinDCX Pro: Advanced Product for Crypto Traders
CoinDCX Prime: An HNI/Enterprise product for assisted investment in crypto baskets
DCX Learn: Crypto/Blockchain Academy for Free & Credible Education
COSMEX: Global trading platform which gives access to ⅓ rd of Global Liquidity
Headquartered in Mumbai, India, CoinDCX is proudly recognized as a "Great Place to Work".
📌 CoinDCX's Mission and Vision: CoinDCX envisions enabling global financial inclusion through crypto-based financial services.
🏷️ CoinDCX's Tagline: Your Gateway to Crypto
About The Founder and Info About Their Team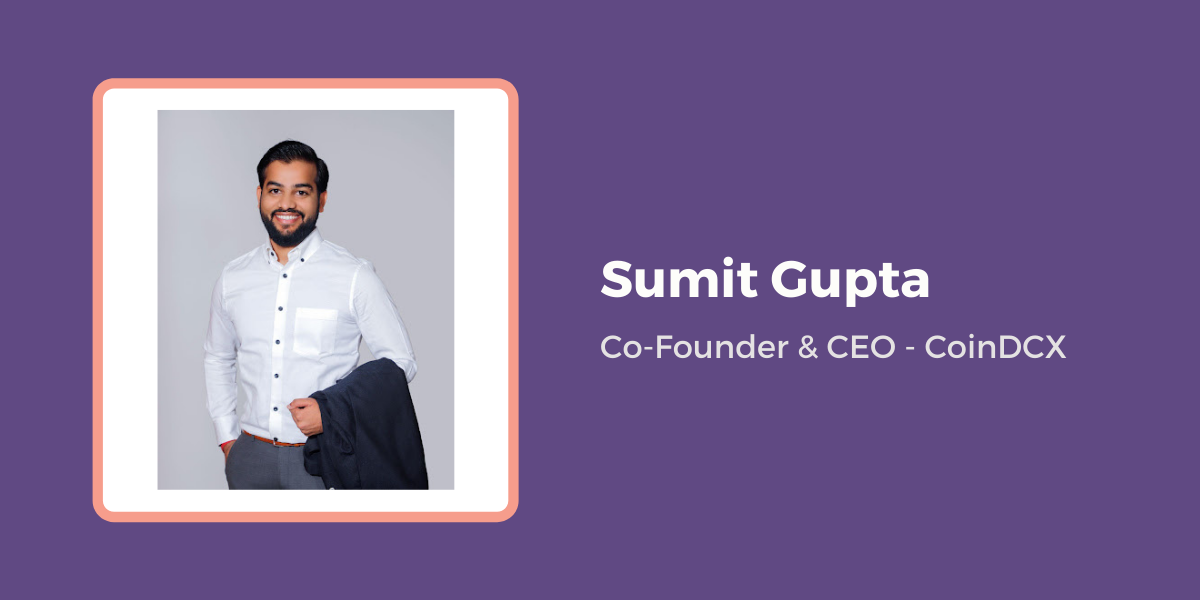 Sumit Gupta is co-founder and Chief Executive Officer (CEO) of CoinDCX, India's safest cryptocurrency exchange, and liquidity aggregator. Beginning his journey in the world of business at the age of eight, Sumit showed an early proclivity for entrepreneurship.
When Bitcoin began gaining traction in 2014, Sumit saw the potential of leveraging blockchain technology to enable financial inclusion. He actualized this vision by founding CoinDCX, which has grown to become India's safest cryptocurrency exchange.
At CoinDCX, Sumit has been the driving force behind onboarding 50 million Indians into crypto. To turn that statement into a reality, Sumit has been instrumental in introducing CoinDCX, an app that simplifies buying and selling crypto in minimal steps, through INR.
He holds an Undergraduate and Master's degree from the Indian Institute of Technology Bombay.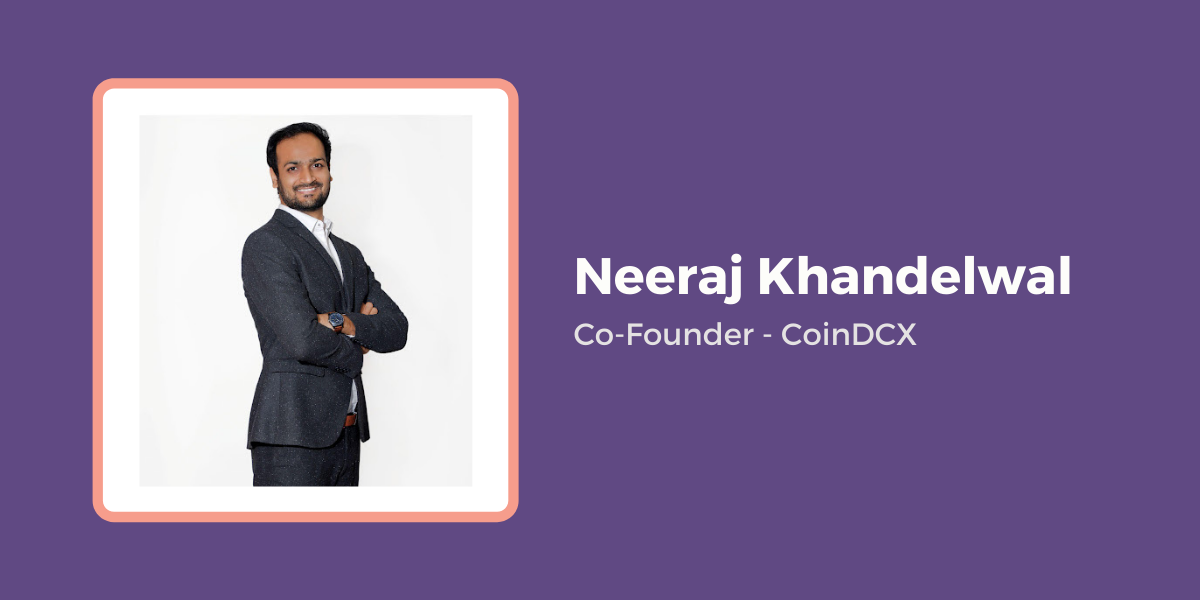 Neeraj Khandelwal is the co-founder of CoinDCX, a leading Indian crypto exchange. As a known face in the crypto industry, Neeraj has been instrumental in building some of the most revolutionary products in crypto namely Lend, Staking and Margin, among others, on the exchange.
With a passion for technology and an inclination towards building technology that can be scaled into a profitable business, Neeraj aims to build products that make crypto accessible and easy to global audiences.
He aims to solve problems by enhancing financial systems with the help of Blockchain and Crypto technology.
Neeraj is a firm proponent of the belief that crypto and blockchain can transform finance to a much greater degree in the next 10-20 years. His areas of expertise lie in the crypto macro space and also has a keen eye for global crypto developments such as CBDC, DeFi, among others.
Neeraj holds a degree in Electrical Engineering from the prestigious Indian Institute of Technology (IIT) Bombay.
CoinDCX's Story and How It All Started
CoinDCX's co-founders, Sumit and Neeraj, are childhood friends, growing up in a small town in India. Their first achievement was materializing their long-held aspiration of moving to Mumbai and attending the prestigious Indian Institute of Technology, Bombay.
Together, they had cryptography classes and immersed themselves in other new-age technologies. While they always had a keen interest in exploring emerging technologies, their passion grew further in university and they aspired to establish their own startup to reach an untapped and underserved market in India.
The road to becoming India's first crypto unicorn was not an easy one. Both Sumit and Neeraj had years of collective experience under their belt working for the likes of Sony Japan, DoorMint, and Holachef.
Sumit was also a co-founder of his first startup where he took away invaluable learnings that shaped the foundations of CoinDCX.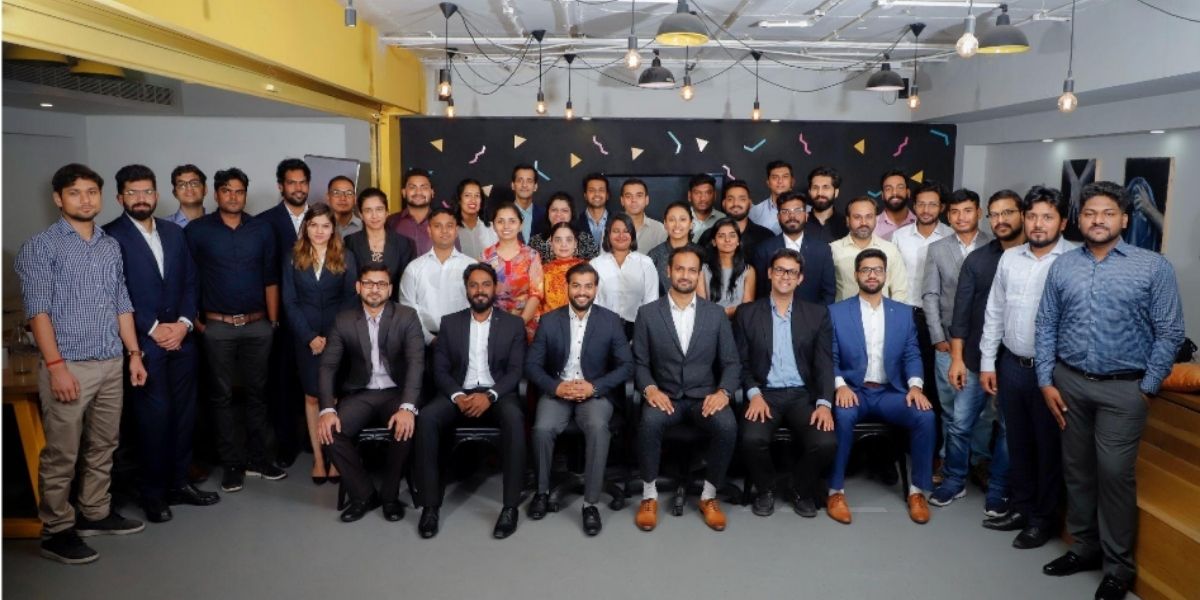 Now, 3 years later, over 200 people have joined their team and supported the journey to bring 3.5 million users to the CoinDCX platform and accelerate the growth at breakneck speed to reach unicorn status.
Major Challenges Faced During Their Initial Stage
When the team first started CoinDCX, the Reserve Bank of India ordered financial banks to stop providing banking services to crypto companies. This was especially challenging for them, as it led to an outflow of investors, leaving them without the funds critical to sustaining the company.
They had two options — either give up or pivot to a different strategy. And, they chose the latter. With a team they could count at our fingertips, it all started from scratch.
The team worked tirelessly, got their own office, and after the reversal of the ban, the investors came back and CoinDCX got funded twice during the ban period. Their team continue to grow even stronger after the storm
Fast forward to today, CoinDCX is one of India's safest cryptocurrency exchanges and the country's first crypto unicorn. Despite the achievements, there remains a lot of work to be done for crypto to reach its full potential and to truly flourish in India.
They're looking to continuously push forward in their efforts to strengthen policy conversations through public discourse and foster continued collaboration with the government to introduce favorable regulations and education support programs.
How Does CoinDCX Work?
As India's safest crypto exchange and a pioneer of India's crypto industry, CoinDCX aims to make crypto accessible in India and globally by providing the efficiency, security, and compliance that investors have come to expect.
For beginners and newcomers, the CoinDCX app provides a simple and safe way to invest. For the more seasoned trader, CoinDCX Pro offers a wide array of features such a:
Lend, which provides decentralized lending services
Margin, which offers up to 10X leverage across more than 500 markets, and
Futures, which offers up to 20x leverage trades on leading digital asset futures.
The company also recently launched the DCXLearn—a full-fledged crypto learning program in English and Hindi, with courses on crypto and blockchain to continuously address misinformation and drive public awareness in emerging technologies such as crypto and blockchain.
Their unique selling proposition was to solve the challenge of the industry's lack of liquidity. As crypto traders ourselves, they understood the pain points that many traders face.
Therefore, CoinDCX pioneered the Liquidity Aggregative Model, aggregating liquidity from top exchanges from Binance, Huobi, to Bitmex to bring liquidity to Indian users.
CoinDCX's Funding and Investors
CoinDCX successfully completed several funding rounds and they're proud to secure support from major international investors such as former Facebook co-founder Eduardo Saverin's B Capital Group, Bain Capital Ventures, and Temasek.
From our latest funding round, we were named India's first crypto unicorn. We're thankful for the continued support from our returning investors—Coinbase Ventures, Polychain Capital, Block.one, Jump Capital—and are recognized and awarded for our contributions to the Indian emerging tech space.
CoinDCX's Current Growth
In just 3 years since its launch, CoinDCX has grown to a 3.5 million Indian user base. Over the past year, the number of new user sign-ups has increased by 235.8%.
Most recently, they reached unicorn status following their Series C funding round led by Facebook co-founder Eduardo Saverin's B Capital Group, becoming the first crypto company in India to do so.
What Are Their Future Plans?
With their vision to make cryptocurrencies accessible to 50 million users in India and double down on our international expansion, they have lots planned in the pipeline, from expanding the business beyond the shores of India, driving new product launches and initiatives.
India
Their team is looking forward to also launching the CoinDCX Prime initiative, their HNWI/Enterprise product for assisted investment in crypto baskets, strengthening partnerships with key fintech players to expand their crypto investor base, and set up a Research & Development (R&D) facility.
Additionally, CoinDCX has always played a key role in strengthening public discourse and education on crypto and blockchain technologies. As such, they look forward to continuing to foster strong ties with the government and policymakers to bolster regulations that favor greater innovation in crypto and emerging technologies.
Internationally
Going global, they are to bring a simple and safe offering to a global market with the upcoming launch of their latest crypto-to-crypto product offering, Cosmex.
With Cosmex, crypto traders can benefit from greater liquidity and easier and smoother access, better navigation, and the most competitive trading fees.
CoinDCX's Competitors
As the rate of crypto adoption in India grows exponentially, so does the influx of competition from players, both local and foreign, wanting a slice of the pie. Healthy competition can be positive, in that it can lead to more innovation that brings more choice and value to consumers.
However, as their priority is to make cryptocurrencies accessible to 50 million users in India, they want to stay well ahead of this curve not just as a leading fintech player with advanced technology, but as India's preferred platform to gain exposure to this nascent asset class.
This means supporting their customers with a thorough understanding of their needs and aspirations. To bolster the exchange's security, CoinDCX has also incorporated multiple security safeguards, and partnered with leading industry players such as BitGo, OnFido, Coinfirm, to name a few.