According to the world bank, 90% of Indians don't have access to formal credit. Around 81% of the employees in India work in the informal sector. Security guards, street vendors, call center executives, workers in small and medium-sized enterprises.
Would they be able to access formal credit?.
No chance.
Even low-paying employees working for big corporations can't get a loan from a bank.
So, what is the solution?
In this Brand Story, we are featuring Coine, a fintech platform built for India's unbanked. We will understand how the platform is there to solve the issues we just discussed above. So, let us dive deep into the story behind Coine.
About Coine
At Coine, they make digital lending accessible to the people in lower economic sections of India by offering instant bite-sized loans ranging from ₹1000 to ₹30,000 without the need for a credit score. Their goal is to solve the short-term cash needs and improve the financial health of the users, which enables access to formal credit channels.
Startup's Mission and Vision
Financial inclusion offers underprivileged groups an opportunity to advance by opening locked doors. It is a key element of social inclusion and is particularly useful in combating poverty and income inequality.
Today, millions of Indians are constrained from pursuing their wants, desires, or aspirations simply because they lack the capital to do so. They could do these things only when they have access to funds but they are stuck in a credit-scarce world.
Coine's vision is to enable their users with access to financial inclusion products – basic no-frills banking account, saving products (investments, pension), simple credit products, and micro insurances to help level the playing field in the good times and provide a safety net in the event of a financial shock.
They can give people the choice and economic freedom to do with their lives what they choose, or at the very least, fulfill important lifecycle events. Coine aspires to become a digital Bharath bank with a vision to enable every Indian to access financial inclusive products and transform their lives. Their belief is that access is a right, not a privilege.
All you need is a phone to unlock the power of financial tools designed to help you succeed. In everything they do, they put people first, and they aren't afraid to pioneer. Starting today!
🏷️ Startup's Tagline: Lending beyond urban India
Coine's Founders and Info About Their Team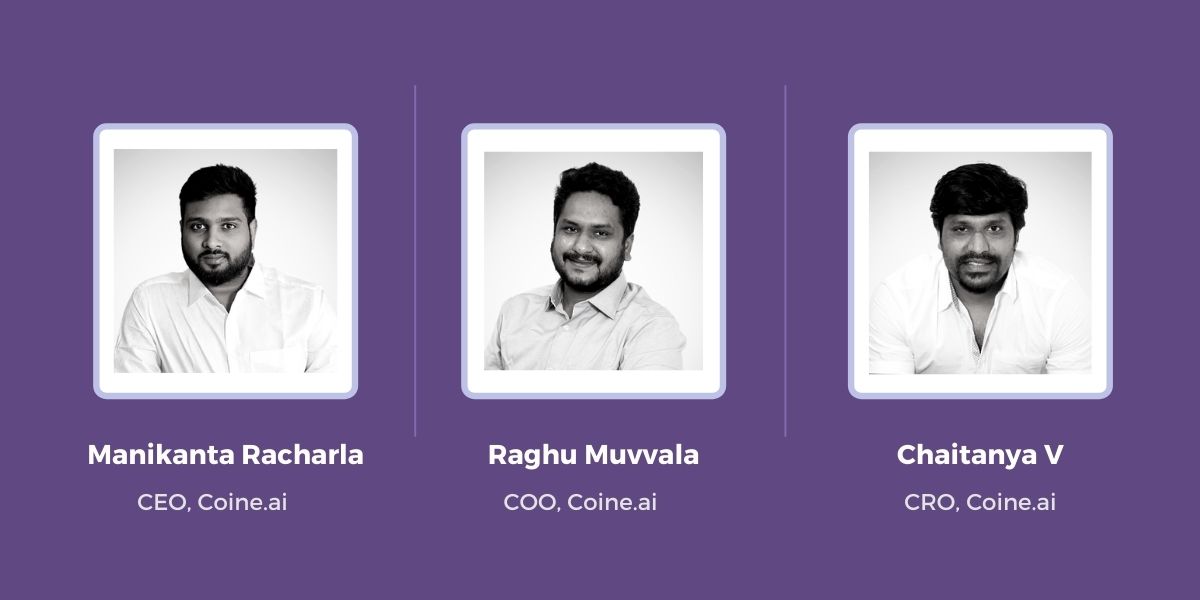 Their founding team is composed of entrepreneurs and chartered accountants. The CEO, Manikanta Racharla has spent the last 9 years as a serial entrepreneur, failing and succeeding at multiple start-ups.
And, the Chief Revenue Officer, Chaitanya, is a chartered accountant with over 12 years of experience working for ICICI Bank, Oracle, Value Labs, and Medicover group. Raghu, the COO, has also had successful exits from his previous start-ups Payfix and Nytro.
Manikanta and Raghu have a long history of developing consumer-centric companies especially for millennials from informal sectors (Previous start-ups).
A strong team with previous start-up experience and a deep understanding of financials and revenue streams, their association worked for them. Since launching Coine, they have experienced 90% MOM growth, a 68% retention rate, and are EBITDA positive today.
Coine's Story and How It All Started
It all started in 2020, amid the pandemic, Manideep Vasa applied for a bank loan. However, despite being a professional CA with a regular income, his application was rejected due to inconsistencies in salary credits.
This led them to think — if this could happen to a professional with a proper credit profile, what would happen to those who are working for unorganized segments and have no credit profile at all.
After that, they started working on the idea in early 2020 and by end of the year, team Coine launched the solution to address billion Indians living outside of Tier-1 cities.
Major Challenges Faced During The Initial Stage
Credit underwriting is the most challenging phase of a loan cycle. Access to credit is restricted for most of the population in India.
The problem arises from two factors: first, most of the population has no formal borrowing history and thus no bureau (CIBIL) score and is consequently invisible to banks. Since banks don't have enough information on the borrower, they ask for collateral, and that's why most lending is secured.
Apart from underwriting, there were many factors to look at including the banking profile of the customer, availability of digital data, and how do Coine bridges analog and digital data of the customers. They are expanding their operations with a mission to onboard 1 million users by 2022.
📊 Current Growth and Stats
1,47,000 users on-boarded across 548 towns in India
27.5% of users are new-to-credit with no formal borrowing history
 Average customer retention rate stands at 68%
₹10.7 crores of the amount disbursed to date
How Coine As a Platform Works?
The platform connects borrowers with lending partners. Borrowers are required to download the Coine app from the Google play store and complete the loan applications in a few simple steps
Application Flow:
Digital KYC
Aadhar and PAN validation with UIDAI, NSDL
Machine-learning-based risk assessment (proprietary).
Stable fund score system for underserved customers (credit score-proprietary)
Bank statement analysis – Cashflow analysis with the ability to forecast income vs expenditure ratio (proprietary)
Digital loan sanction letter, loan agreement
🏙️ Business Model: Coine is a fintech platform connecting lenders with borrowers.
💰 Revenue Generation: Coine charges a nominal processing fee and interest rate as per RBI norms. They generate revenue through Net Interest Margin from the amount that they disburse through their lending partners and repayments they receive from the customers. On the other side, Coine charges a platform fee from lending partners to access the loan applications received from the platform.
💸 Coine's Funding: The company is running under the Bootstrapped model.
🏆 Major Competitors: NIRA, Myshubhloans, Beuno finance