Content is an important growth factor for any business either big or small. The first thing that people notice from any brand is the content itself.
It can be in any form either visual or textual but the content is what connects people with brands. The email they send, social media posts they publish, videos they create, everything is content and requires professionals who know the ins and outs of the market.
In this brand story, we are featuring Content Writing 101, a platform for beginner writers to learn and earn. The story will take you through their journey right from the idea to their future growth plans.
About Content Writing 101
Content writing 101 is a platform for new writers to learn and earn. An all-encompassing platform, content writing 101 aims to create new opportunities by teaching people about the opportunities in the Content industry and the Gig economy.
💡 They're building the company on 3 core principles
Teach
Create Opportunities
Help
Their Mission and Vision
Their mission is to empower the hidden talent from tier 2 and tier 3 towns in India and put them on the global roadmap by teaching them how to do things the right way in the content industry.
And, their vision is to build a community of writers and content marketers and reach 100000+ people while helping 1000 writers make their first $1000 online.
🏷️ Content Writing 101's Tagline: Everything about content!
With the tagline in mind, they wish to be the go-to repository or library for anyone looking to understand, learn and earn through content.
About The Founder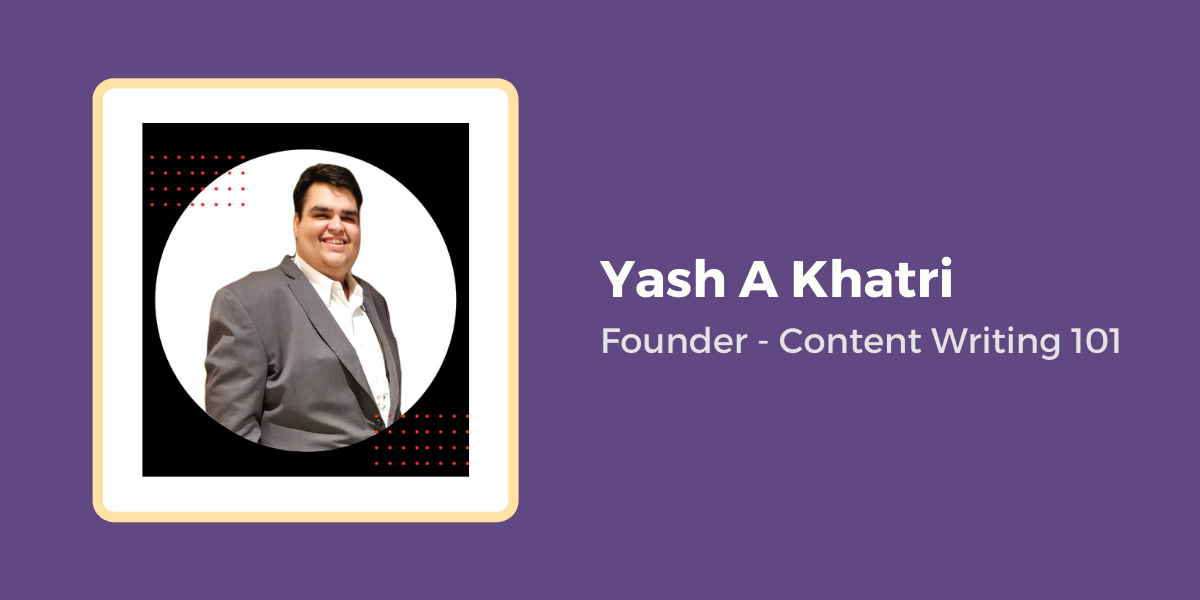 Founded by: Yash A Khatri – Management and Marketing Enthusiast.
Yash has held various positions across his career and helped various businesses and startups grow and expand their reach. He has worked on startups like Book A Workshop, LiDO learning, etc. Currently, he's leading the project and wearing all the hats required to run a successful business.
📌 You can connect with him on LinkedIn – Yash A Khatri
Their Startup Story and How It All Started
Yash started out in the industry at the young age of 16. Back then he didn't had a clear path or platform that would help him go from A to Z quickly teaching him about the ins and outs of the industry.
He vowed to never let the same thing impact new writers who are looking to build a successful remote freelance career and that's how Content Writing 101 was born.
💡 Major Challenges Faced During the Initial Stage:
Like most startups, the two primary challenges were money and team. A bootstrapped startup needs to find new, crafty ways to build if they wish to be successful and that's exactly what they did.
They overcame these challenges by building out easy-to-follow processes and funding the project from their own pockets for the greater good of society.
How The Platform Works?
Content writing 101: A portal for people to learn content writing, learn how to write specific types of content, understand the opportunities available for them, and join the clan.
A writer can visit the blog to learn various things about writing and how they can become a better writer. [Under construction]
Academy Content Writing 101 (Coming soon): Once a writer understands the opportunity that is content, they can enroll in a course that will teach them how to get started as a freelance writer. This course will be led by industry experts.
Content Writing 101 Agency: A platform where a writer, once trained and capable of serving customers, will list their services and look at available jobs from clients across the globe. [CW101 will facilitate this platform and get clients on-board who'll eventually hire from the roster of writers]
Content Writing 101 AI [Phase 2]: A GPT-3 powered AI content generation tool that helps writers reduce the time it takes to develop unique content by offloading certain tasks like research, outlining, and formatting to AI.
What is the Business Model for Content Writing 101?
Content writing 101 is currently pre-money. The project can be monetized in various ways. The initial plan would be to generate revenue from advertisements on the main portal. Down the line, the sale of courses and subscriptions to AI-based models is also planned.
💰 Revenue Generation: No revenue as of now. We're building it for society. We believe in building a great user experience first and letting the money follow later.
💰 Funding: The business is currently working on a self-funded model.
What Are Their Future Plans?
We're building the repository of content, the community, and marketing channels at a breakneck pace. We'll be launching the academy soon and the agency model of work sourcing would follow soon. Our primary focus is building the main platform for now.
Also, they are looking forward to launching their AI-based content writing model. It will help content writers in a number of tasks including the research, outlining, and formatting of the content.
Get to know more about them on their social handles: Facebook | Instagram