India's fintech market is currently valued at $31 billion and is expected to grow to $84 billion by 2025, a compounded annual growth rate of 22 percent.
The market has seen explosive growth and as per the recent report from the Boston Consulting Group, the Indian Fintech industry is a USD 100 billion opportunity.
In the last few years, a number of innovative Fintech startups have emerged. The vision for all of these startups has always been to make financial activities effective with the help of technology.
Today in this Brand Story, we are covering the story of Lendbox, a Peer to Peer lending platform based out of India. Peer to Peer Lending also known as P2P lending allows individual borrowers to get loans directly from an investor who lends money for earning good interest.
This model removed the need for an intermediate financial institution thus making the process a bit smooth for both the investors and borrowers. Now you know about their model, let us know about the story behind Lendbox and how they are making a change in the P2P market:
About Lendbox
Lendbox is a wealth tech company and one of the leading P2P Investment platforms in India founded by Ekmmeet Singh (CEO) Bhuvan Rustagi (COO), Jatin Malwal (CTO), designed to help people create wealth through a new-age digital asset class.
Started as a marketplace where investors could directly lend money to individual borrowers, Lendbox now has over 20 investment products giving Investors of every risk appetite access to numerous non-market linked investments for easier wealth creation.
Investment products at Lendbox are divided into two different categories.
Lendbox Investments for moderate-risk investment products offering returns of up to 24% p.a and
Lendbox Alt Investments for lower-risk products offering annual returns of up to 14%.
Lendbox's Mission and Vision
Lendbox's mission is to democratize non-equity market-linked investments and disrupt the fixed income assets space. The platform aims to disrupt the way India invests. They enable investors to generate consistent returns while also making a social impact.
Lendbox created numerous smart products to help people finance their medical expenses, education fees of children, and business expansion. They aim to create non-market linked investment assets for not only wealth creation but also for solving numerous financial hassles of general Indian people.
Their aim is to serve the underserved Indian investor by providing them access to products previously only enjoyed by institutions and UHNIs.
🏷️ Lendbox's tagline: Democratizing India's alternate investments
About The Founders and Info About Their Team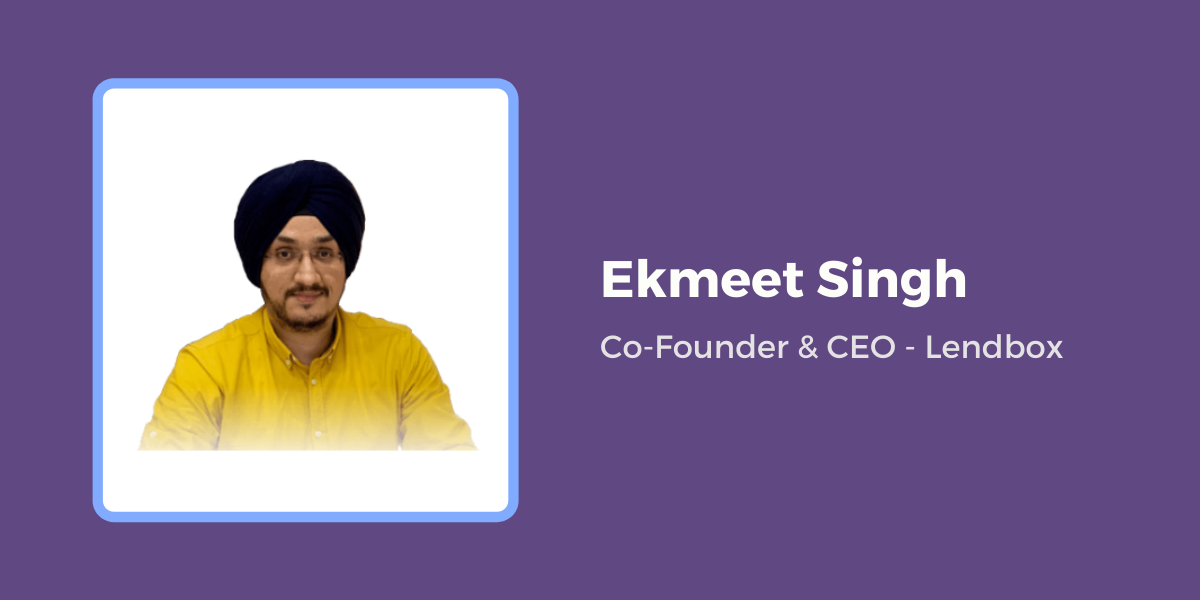 Ekmeet Singh – Co-Founder and CEO
Ekmeet is a proactive and result-oriented Strategy & Investments professional demonstrating a high level of intellectual curiosity with exposure to a Fortune 500 Company, a Micro-managed organization, and Technology Startups with an MBA from one of the best B-schools of the world, IE Business School Spain.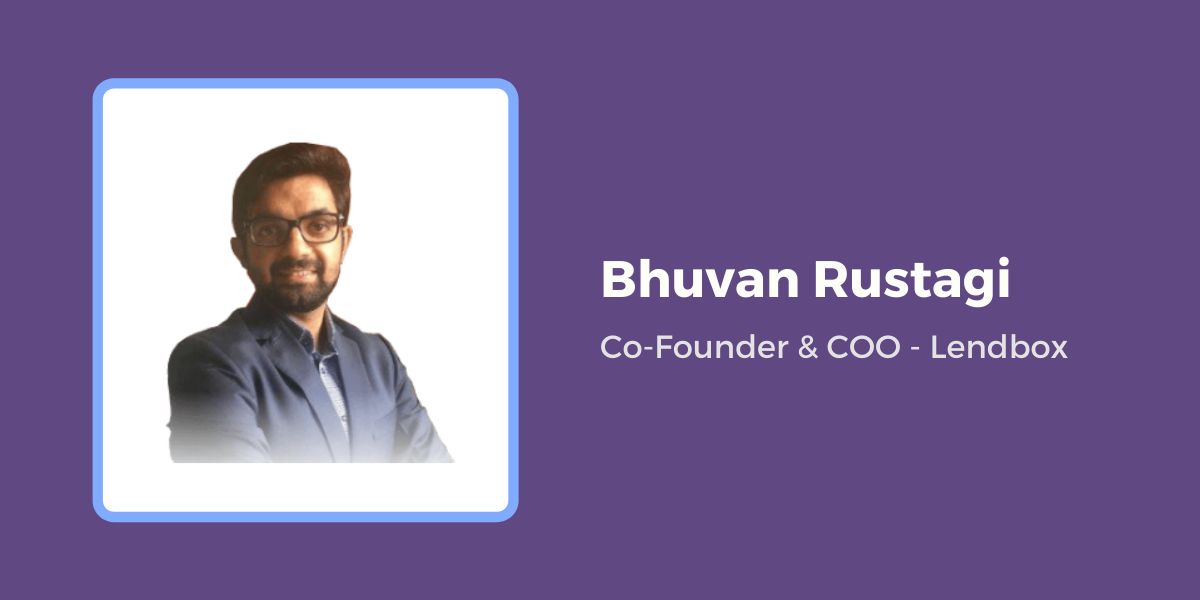 Bhuvan Rustagi – Co-founder and COO
Bhuvan Rastogi is an M&A professional turned Fintech entrepreneur now trying to revolutionize the alternate finance space in India.
Jatin Malwal – Co-founder and CTO
Jatin Malwal is a tech entrepreneur with 10+ years of experience in building tech products. He is passionate about building scalable products from scratch and is also a proud recipient of the President Award.
Lendbox's Story and How It All Started
After majoring in Entrepreneurship during his MBA and spending time in the Venture Investments and Venture Development side of the startup ecosystem, Ekmeet decided to be on the other side of the table and be an Entrepreneur again by co-founding Lendbox.
Ekmeet got the idea to Lendbox in the summer of 2015, when one of his dad's friends took voluntary retirement. As a part of the move, he received around 30 to 40 lakh money, which he invested in open markets to get a return of around 18 percent.
For starting with Lendbox, Ekmeet was joined by Bhuvan Rustagi (who is the Chief Operating Officer) and Jatin Malwal (the Chief Technology Officer of the startup).
Jatin was earlier a part of the product team at Snapdeal, and he was looking at the seller part of the business. He quit and started Playselfie, an app like Instagram for selfies.
The company was incubated with GSF Accelerator. Ekmeet, who was then a part of the venture development team at GSF, met Jatin and discussed the idea of Lendbox with him.
Bhuvan on the other side was Ekmeet's roommate at Spain's IE Business School. Before joining team Lendbox, he worked with Alvarez & Marsal in Mumbai. The trio launched the platform in November 2015.
In recent times, Lendbox has helped a lot of individuals to realize their dreams by serving their capital needs with complete integrity. – Lendbox
Major Challenges Faced During The Initial Stage
Lack of awareness about P2p lending was a tough challenge during the early stage of this business, despite money lending being such a common phenomenon, the idea of lending capital digitally wasn't easy for many investors to grasp.
The team spent a lot of time educating retail investors of India on how p2p lending-based investment works and how the risk associated with it can be minimized.
In the last 6 years, Lendbox has greatly evolved from being just a p2p lending platform to a hub of multiple non-market linked debt investment products.
How The Platform Works
Lendbox enables individual or institutional investors to access numerous non-market linked investments designed on the concept of p2p lending.
Lendbox pools in thousands of pre-verified borrowers through partnered NBFC and fintech companies and bundles them across different debt investment products depending on associated risk, rate of interest, and many other factors. Investors have the ability to manually invest in their desired products.
For healthy diversification, Lendbox cuts down a singular loan into hundreds or thousands of chunks so investors can spread their capital across hundreds of borrowers.
Being a highly tech-oriented product, Lendbox allows users to automatically reinvest their earnings based on their desired configuration for compounding and the portfolio data and performance can be monitored through their dashboards.
Lendbox's Business Model
The business model of Lendbox works on a "mediator fees" model.
Using technology, the platform creates an environment where individual borrowers and NBFC's can access required capital as a credit directly through individual and independent lenders/investors and repay with interest as per the respective tenure.
It as a platform enables both parties to transact digitally and charges a nominal fee on each transaction. Over time, Lendbox's operation and revenue model has evolved as they keep working towards including a variety of debt investment products that are way ahead of the p2p lending concept.
💰 Generating revenue: Lendbox charges a nominal registration fee from Investors along with 0.5% on invested capital. Just like investors, Lendbox charges a nominal processing fee for loan seekers upon disbursement of their loans.
📊 Current Growth: Lendbox now has over 55,000 registered investors having invested over 300 crores with over 25 crores invested just last month (August 2021), Lendbox is still in the process of integrating multiple new-age debt investment products before the company exponentially scale.
What Are Their Future Plans?
After becoming one of the leading p2p lending platforms in India, Lendbox now aims to build an investment hub that would allow Indian retail investors to access a variety of smart nonmarket-linked investment products.
They're building some really extraordinary products that not only yield greater returns but also have great risk mitigation mechanisms making wealth creation easier in India.