As per Wikipedia, a non-fungible token is a unique and non-interchangeable unit of data stored on a digital ledger. NFTs can be used to represent easily-reproducible items such as photos, videos, audio, and other types of digital files as unique items, and use blockchain technology to establish a verified and public proof of ownership.
Though they are here for sometime but NFT as a term has gained huge popularity in the recent times. People are interested to buy and sell NFTs either for their craze or for making some money out of their trades.
The major question that people usually ask is where to buy or sell these NFTs?
In this Brand Story, we are featuring NFTically, a white-label SaaS platform that allows anyone to buy or sell their own NFTs. We will understand the process that they follow, the idea behind their platform and what vision they are focusing on. So let us get straight into their story:
About NFTically
NFTically is India's first global white-label NFT SaaS Platform that enables artists, celebrities, influencers, gamers, communities, clubs & enterprises to launch their own white-label NFT store or NFT Marketplace without any technical knowledge.
With NFTically, individuals & enterprises can control various aspects of their NFT hub like configurations, Blockchains pinning, analytics, user experience, APIs, integrations, custom terms & policies, and likewise.
NFTically provides its users with unique and one-of-a-kind cloud store launching solutions alongside additional configurations, Blockchains pinning, analytics, KYC, team access, user experience, social tokens, APIs, integrations, custom terms & policies, and much more.
With them, users can launch their own private/public, SEO-friendly NFT stores with all features in a few minutes under personal domains. They currently support minting & trading on three Blockchains: Ethereum, Polygon & Binance Smart Chain.
🏷️ NFTically's Tagline: Launch your own NFT Store without any technical knowledge.
NFTically's Mission and Vision
Mission: They are on a mission to make NFTs more accessible. They enable users to reach masses & engage with their community & followers through Blockchain-based tokens.
Vision: Their vision is to become a one-stop shop for artists, influencers, celebrities, creators, events & enterprises to set up their public or private NFT stores.
NFTically's Founders And Info About Their Team
They are a group of Blockchain developers & business executives who love to solve a real-world problem at scale. There team is passionate about NFTs & how they are bringing changes in the world through proof-of-existence, proof-of-ownership & proof-of-copyright.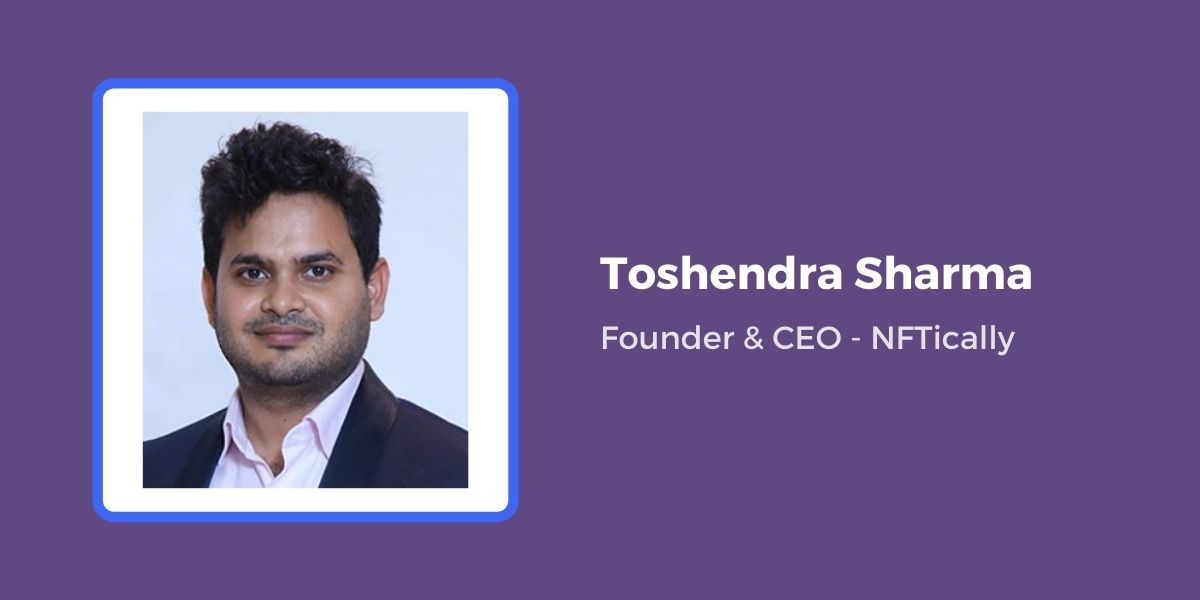 Toshendra Sharma, Founder & CEO
Post-graduate from IIT Bombay in Computer Science. A known face in the Blockchain Industry with a Bootstrapped startup in the Blockchain Education space. Provided consulting & advisory to many Blockchain & Crypto companies to help them build their Solution. An entrepreneur for the last 12 years. Product Designer, Creator & Investor. Forbes Asia 30 Under 30.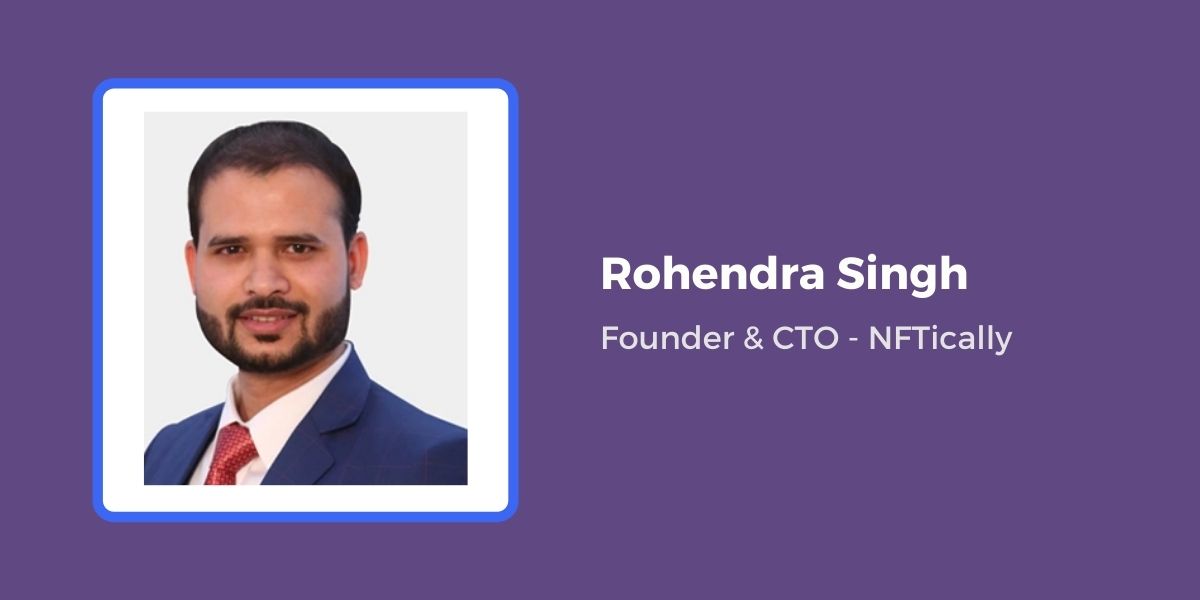 Rohendra Singh, Founder & CTO
Programmer, Architect, Problem Solver, DevOps Expert with 12 years of experience in developing large-scale software products. Developed more than seven feature-rich, highly scalable, and secure SaaS applications around Blockchain and Education. An early adopter of Blockchain technology with expertise in Blockchain application development.
NFTically's Story And How It All Started
"I believe that money should be the last thing on your mind when starting a business since it is a short-term goal, and the long-term goal is to see if you can make an impact and tackle problems that are global or maybe even national."
With such virtuous ideologies, Toshendra Sharma, NFTically's founder & CEO, searched for opportunities that would benefit not just individuals, but nations.
He is a post-graduate from IIT Bombay in Computer Science and holds a keen interest in Blockchain, Cyber Security, B2B SaaS & EdTech space. With the recent rise in popularity of non-fungible tokens (NFTs) throughout the world, the profitability prospect of the concept piqued his mind.
Backed up by some of the reputable heads nationally and internationally, here they are, NFTically, a full-fledged organization helping individuals and enterprises alike to launch customized white-label NFT stores and get exposure to a global audience pool.
📌 Major Challenges Faced During Their Initial Stage
Having been established only four months ago, they are still in their early stages and have a lot to explore and experience. They are thankful to their dedicated team of experts, and are always prepared to overcome any obstacles that comes their way.
🏆 Major Competitors: BitSki, WazirX, Nifty, OpenSea, Rarible, Myth.Market, Enjin, SuperRare, and Binance
How NFTically Works?
The platform seeks to provide the users with hassle-free solutions regarding NFT marketplace creation, their platform usage process has been curated into 6 simple steps.
Connect the wallet of choice
Add work from device/dropbox/google drive
Select store name and logo
Create NFT collections on the preferred blockchain network
Style NFT store with available marketplace customization features
Decide the price of NFT and how they wish to sell it.
How Does NFTically Generates Revenue?
It is completely free to create a basic marketplace on their website. For additional services and functionalities, they charge the users according to the revenue model outlined below:
2.5% Commission on sales happening on the Marketplace
1.5% Commission on sales happening on User's own Free NFT Store
$99-$999 Monthly subscription for premium stores for big artists, events & enterprises with 0% commission.
One-time airdrop charges based on the number of items dropped or claimant count.
One-time fixed Social Token Creation charges.
NFTically's Current Growth Stats
Within just 2 months of their launch, they collaborated with Zee Studios and helped them drop Bollywood's first-ever NFT through a custom NFT Store built on their platform. In these early phases itself, they have accounted for 700+ Storefront creations per month.
NFTically's initial seed funding rounds have already resulted in investments under a million dollars from reputable leaders located domestically and worldwide. Their website has an active user base of 500+ from 190+ countries spread all over the globe.
NFTically's Future Plans
They are an association of techno-head blockchain enthusiasts who want to simplify technology for the general user base. NFTically wishes to diversify their client-customer portfolio and spread the brand identity amongst the DeFi, blockchain, and crypto metaverse.
The company envisions a future where NFTs become the general norm among individuals & enterprises, regardless of their prospects and scale, and want to normalize the concept of active/passive income generation with the help of NFTs and blockchain technology.