Stock trading and investment have seen a huge growth in India in recent times.
With more and more people getting aware of the stock market, the need for the right resources has also increased. It requires rigorous training, regular industry updates, guidance, etc to do well in the market and build wealth over a period of time.
For the same, a number of companies are building informative platforms to help people start with investments and training. You as an active Internet user might already have witnessed the investment-related content popping out from a lot of bands.
As a field, it was still lacking a space where investors can connect with like-minded people, get the guidance, learn more about the process, etc. And, to give people that space, Stockative is here as a social network to connect with investors, traders, influencers, and more.
💡 Stockative is a community of like-minded people where meaningful discussion about successful stock trading and investing takes place. Here, in this Brand Story, we will be covering everything about Stockative, right from the initial ideas to their future goals.
About Stockative
Stockative is already on its way to becoming India's first social network site designed exclusively to connect regular investors and traders so they can learn, profit, and have fun.
Stockative allows people to join their platform and start learning wise investment tips from their fellow investors, industry leaders, market influencers and have in-depth discussions about what's happening in the world of stock trading, IPOs, investment, trading, and more.
Now anyone can create their profile at Stockative and start learning the basics and make profits by investing in stocks that are making waves.
Stockative's Mission and Vision
As a platform, Stockative has a mission to give shape, awareness, and visibility to what they now call Social Trading. It is all about bringing novice and professional traders together to learn, earn money, and have fun while doing all this with fellow investors on the platform.
The biggest issue that the founders noticed which slows down the enthusiasm for retail investors is Trust. Without the know-how, it is difficult for beginners in the world of trading to build wealth.
They are left with only two options:
Learn and do it themselves – a path that takes a long time and is full of risks
Hire an advisor who is primarily focused on serving High Net Worth Individuals or HNI's.
These two options shared above are the reason for a huge gap between retail investors and an expert who knows a thing or two about making sound financial decisions.
This is where Stockative comes to the rescue and helps small or beginner investors. It is a platform for everyone and comprehensively covers the entire value chain of stock trading.
Stockative facilitates the interaction, allows the exchange of ideas, makes you trade wisely, and creates wealth all along the process. Investors or traders can use it to have the latest industry insights, read financial news-making headlines, and keep themselves tuned with the market changes.
About The Founders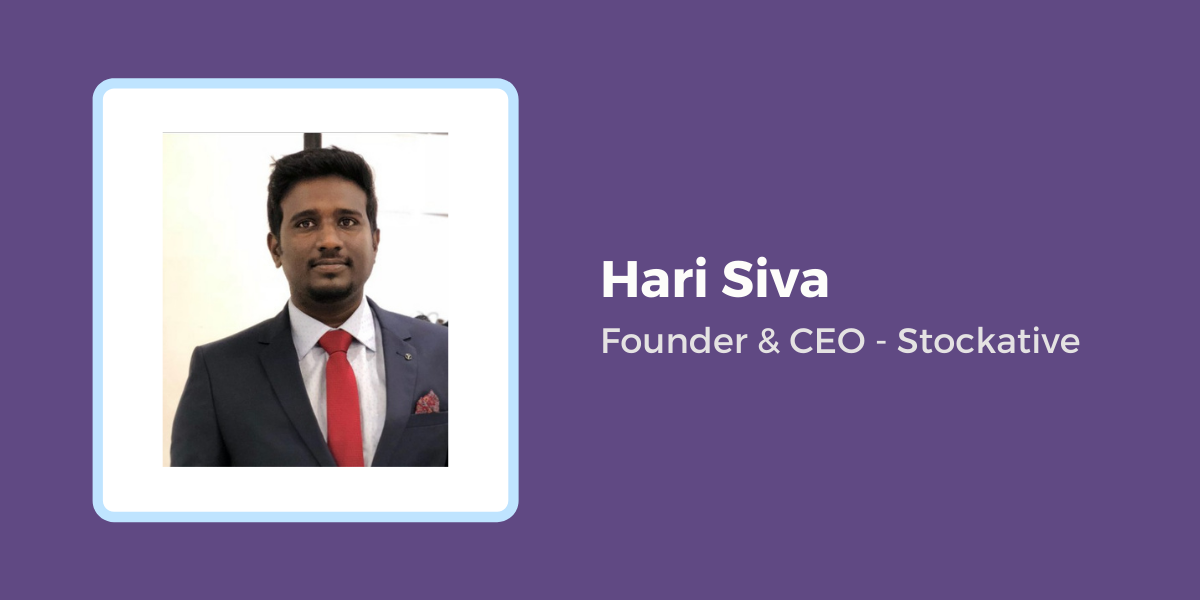 Founder & CEO – Hari Siva
Hariharasudhan Sivalingam was the director of 360 technology a couple of years back and has recently moved to be on board with Scadea Solutions as the VP- People & Culture. He has got 9+ years of experience as an IT Consulting /Business professional with a demonstrated history of working in the Network Security, healthcare, Insurance, and Product development arena.
📌 You can connect with him on LinkedIn – Hari Siva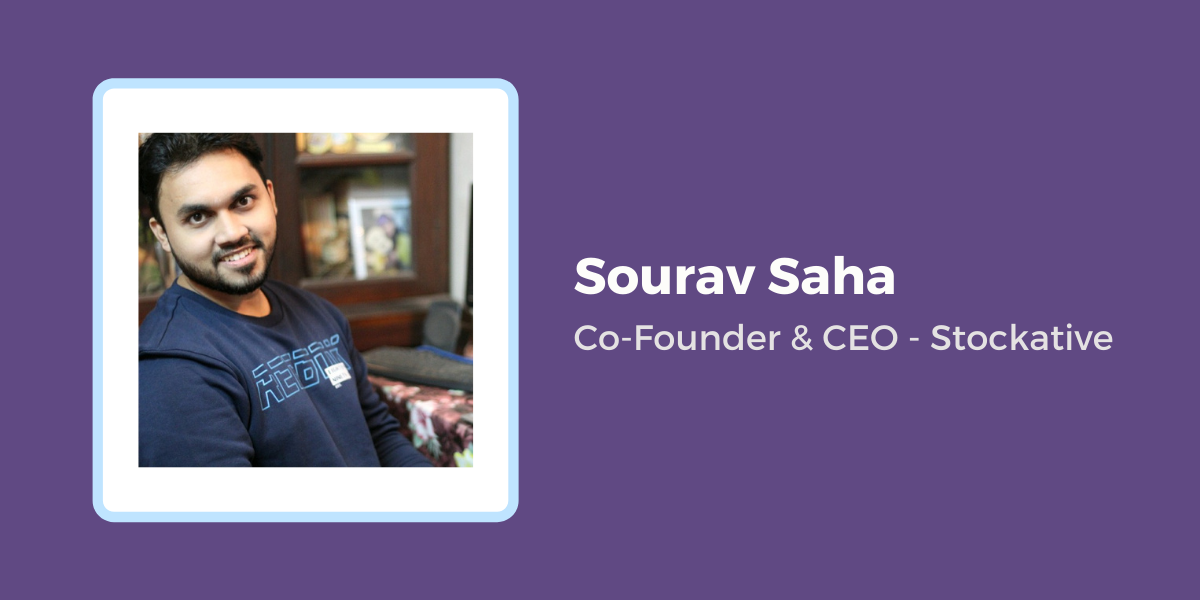 Co-Founder & CEO – Sourav Saha
In all these years, Sourav Saha has been applying his technical abilities at 360 Technologies, an IT Consulting firm based out of Bangalore. He has also worked as a System Engineer and Big Data Engineer under leading tech firms.
📌 You can connect with him on LinkedIn: Sourav Saha
Both of them came with the idea of building a social network exclusively focused on the stock market.
Stockative's Story and How It All Started
During the summer of 2019, both Hari Siva and Sourav Saha were discussing India's social media landscape. During the discussion, they talked about the need of having a networking platform that allows investors and traders to connect and share their ideas, tips, strategies, etc.
One thing that they observed is that most of the experienced and successful stock investors and traders keep their learnings to themselves.
As a result, stock trading, commodity trading, and currency trading are still being considered the domain of committed specialists and the rich in India.
Both of them also observed that while most traders conduct their own fundamental and technical analysis before investing, a subset of traders prefers to watch and copy the work of others. After hours of brainstorming, they came with the idea of building Stockative as India's very first social network for investors and traders.
Stockative allows everyone at our platform to exchange techniques and get inspired by other's moves. As a member of the larger social trader group at Stockative, anyone can choose to 'follow' another well-established trader and see where exactly they are investing. – Hari Siva
Major Challenges Faced During the Initial Stage
One of the few challenges that they faced during their initial days of conceptualization is to finding the right talents to support the growing team-building requirements.
Another big challenge that they faced was the prevailing covid situation and it delayed the soft launch of Stocative for about three months. At present, the biggest challenge that the team is facing is to have their marketing process bringing in desired results for the platform.
How Does Stockative Work?
The working process behind Stockative is simple yet effective. The team tried their best to keep it easy to use and get the best out of the platform. Anyone can simply visit the website and create a user account. For creating a user account, the visitor can use a number of ways including a Google account, Facebook account, LinkedIn account, etc.
After creating the account, the user can sign in to their account to use the platform. Stockative allows users to watchlist stocks, connect with other people, share post updates just like you do on social media platforms, and a lot more.
"Stockative is all about bringing novice and professional traders together to learn, earn money, and have fun." – Sourav Saha
What Are Their Future Plans
One of the key plans for Stockative future strategy is to introduce the Premium Rooms feature. Premium Rooms at Stockative will provide unmatched access to exclusive content, insights, and analyses from India's top business and financial minds to everyone for a nominal fee.
When someone will join these rooms, it will allow them to be a part of a tailored group that helps them invest and trade more effectively. It is a place where Influencers can monetize their expertise by giving knowledge to other investors.
Apart from that, their long-term goal is to be the LinkedIn for every individual interested in the stock market and financial services in India. Their team has crafted a well-defined roadmap for their product and has a vision of having a million subscribed users in the coming years.
💰 Funding and Major Investors: At present, Stockative is working with a self-funded or family-funded business model. They are also looking forward to interested investors who would want to join their journey and invest money in Stockative.
📊 Current Growth: The company is currently focused on building a solid user base/community that would drive them to their future goals.
Frequently Asked Questions About Stockative
What is Stockative?
Stockative is one of India's first social networks exclusively for everyone associated with the stock market. It allows people to network with fellow investors, traders, influencers, and more.
Who is the Founder of Stockative?
Hari Siva is the Founder and CEO at Stockative and Sourav Saha is the Co-founder and CEO of Stockative. Both of them have idealized the concept behind the platform and are now working on scaling it for future demands.
Is Stockative Free to Use?
Yes, the platform is free to use for everyone. They are also planning to add premium rooms on the platform that would allow users to get unmatched access to exclusive content, insights, and analyses from India's top business and financial minds to everyone for a nominal fee.