The gig economy is on rising!
If you still haven't heard about this term then let us help you understand what Gig Economy is. In Gig Economy, the companies hire contractors or freelancers on a flexible tenure instead of hiring full-time employees.
As per Investopedia, the gig economy is based on flexible, temporary, or freelance jobs, often involving connecting with clients or customers through an online platform.
After the pandemic, a huge growth was seen in the gig economy and as per the details on the portal MBA Universe, almost 40% of the US workforce now earns at least 40% of their total income through gig work.
In this Brand Story, we have covered the story of Workflexi, a gig-based platform that connects freelancers with clients who are looking to hire them for small tasks. So, let us dive deep into everything that Workflexi is doing to be a part of the growing Gig Economy.
About Workflexi
Workflexi is a gig tech marketplace that connects a hirer to a gig worker. The company has built a technology-driven platform that supports everything from shortlisting, engaging, paying, and rating the gig workers.
Their Vision: Connecting people to the world of gigs that earn them money.
Their Mission: Helping companies engage skilled gig-workers to meet their business goals
🏷️ Startup's Tagline: Gigs Karo, Paise Kamao
Workflexi's Team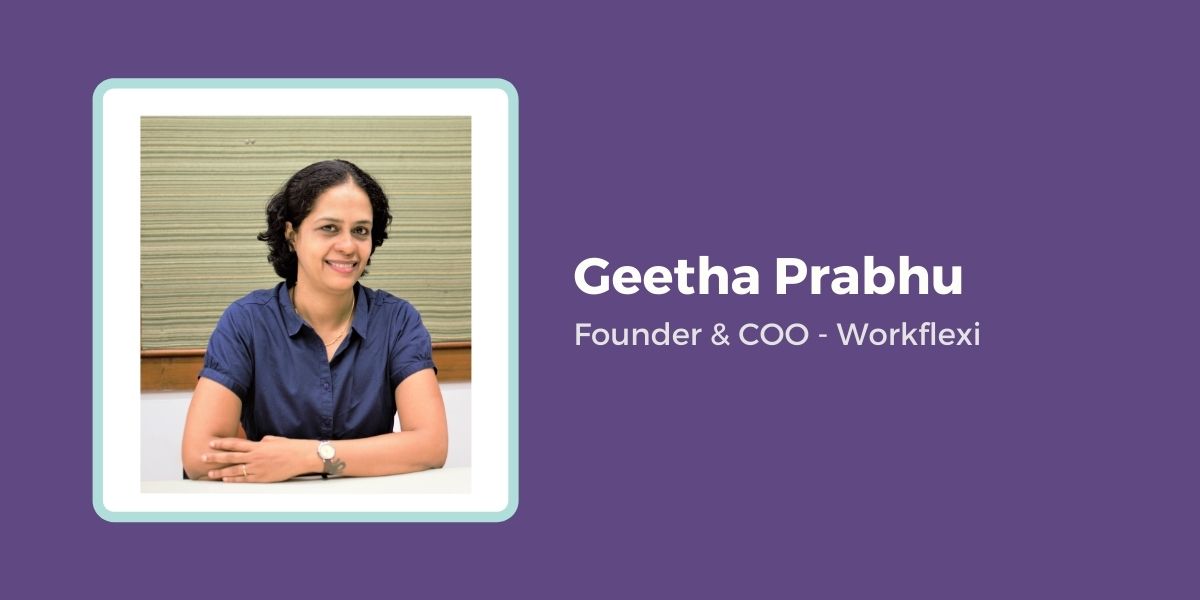 Geetha Prabhu (Founder, COO)
Geetha comes with more than two decades of experience in market research and marketing. A startup enthusiast who is passionate about technology. Currently, she is on a break from market research, carrying out certain entrepreneurial activities, one of them being Workflexi.
You can connect with her on LinkedIn: Geetha Prabhu
Sandesh Kangod (Co-Founder, CEO)
Sandesh comes with more than 15 years of experience in sales. He Loves economics and theatre.
You can connect with him on LinkedIn: Sandesh Kangod
Workflexi's Story and How It All Started?
It was in 2015 when Geetha quit her job as a market researcher. Being a mother, she wanted to give enough time for her child and family. At the same time, the dynamism in her did not want to let go of her career.
Geetha wanted to explore new opportunities and experience working in different sectors. She wanted to try five different things and see what she liked. She was looking for opportunities where she only worked for a few hours like teaching, typing, consulting, and even tried doing market research independently.
Sooner she realized that being able to leverage all this flexibility makes the work structure way more convenient and turned out to be an efficient model for both herself and the clients she worked with.
Geetha Prabhu eventually thought this is something that many would like to adopt because of the benefits it comes with. If this idea could be streamlined and structured, it could revolutionize the way how staffing and employment works. Companies could function much more efficiently and workers will have more flexibility.
This is when the idea of gig working sparked and Geetha decided to venture out to be an entrepreneur to build a company that can streamline this idea. Geetha and her idea caught the attention of NASSCOM and got incubated at NASSCOM 10k Startup Warehouse.
This is when Geetha met Sandesh. Sandesh came with complementing skills, abilities and seemed to be an ideal partner to work with.
Eventually, they agreed to partner with each other, Workflexi was incorporated in 2016, and there is no looking back. They have been sticking together through all ups and downs, striving and thriving endlessly in building Workflexi.
💡 Their Future Plans:
Integrating the platform on top of blockchain technology to ensure better security for transactions and authenticate each profile created on the platform.
Integrate an AI-powered recommendation engine to ease the hiring process.
Partner with insurance companies and banks to provide added benefits for the gig workers.
Major Challenges Faced During The Initial Stage
India is a country where most decisions are taken depending on emotions rather than practical and analytical thinking.
People were accustomed to the idea of traditional hiring and employment that there were no ears for something new. Workflexi had a hard time propelling this idea for a very long time.
It is during the pandemic when employees were being laid off and companies running out of funds, the idea of gig working started gaining momentum.
🏷️ Major Competitors: Though there are few companies that offer similar services, Workflexi is the only technology-driven platform in India that works with a vision to make the entire hiring process involving zero to minimal manual intervention.
How The Platform Works?
Workflexi's platform caters to 4 different users:
Individual Gig Worker
Individual Hirer
Company Gig Worker (Services offered by companies)
Company Hirer
The platform is open for any skilled professional/company to register, create a profile, and showcase their skills. Similarly, the platform is also open for any independent hirer/company to post their requirements, or directly shortlist and engage any gig worker on the platform.
While engaging a gig worker, the platform offers a feature called milestones for the hirer where the hirer can describe the task that needs to be done, assign remuneration for the task, and fix deadlines.
The platform also has a chat application integrated for any negotiation between the hirers and the gig workers. Once the milestone is accepted by the gig worker, the hirer shall load their wallet with the designated amount and start the task.
On successful completion of the task, the hirer can disburse the money directly from their wallet and the money reaches the gig worker's bank account almost instantly.
Finally, the hirer gets to rate the gig worker and vice versa.
What Is Their Business Model?
The platform is absolutely free for the hirers. They only have to pay 18% GST and a 2% bank processing fee on top of the gig value.
The platform takes a 10% cut from the money disbursed to the gig worker, as a commission. The commission charged to the gig worker is the only source of revenue currently.
💰 Funding: Received seed funding of US$ 157.4k from Kamalraj Hospitality Concepts India Private Limited in January 2021. The company is currently in the process of raising Series A funding.
📊 Current Growth: At Workflexi, they are growing close to 100% month-on-month at present.