The food truck business in India has seen remarkable growth in recent years.
You might have seen trucks selling fast food items near your office space, a shopping complex, or schools. The increasing demand is because of the opportunities that they come with.
According to a report by TechSCI Research, the Indian Food Service Market has been valued at USD42.5 Million and is expected to grow with a CAGR of 11.29% from 2024 to 2029. A large part of this growth would be taken by unorganized players that might include food trucks as well.
Food trucks, in particular, have gained popularity as a unique and affordable dining option.
In this article, we will be looking at the world of food trucks in India, discussing their origins, the costs involved in starting one, and most importantly, their profitability in the Indian market.
So, let us get started with the basics:
What Are Food Trucks?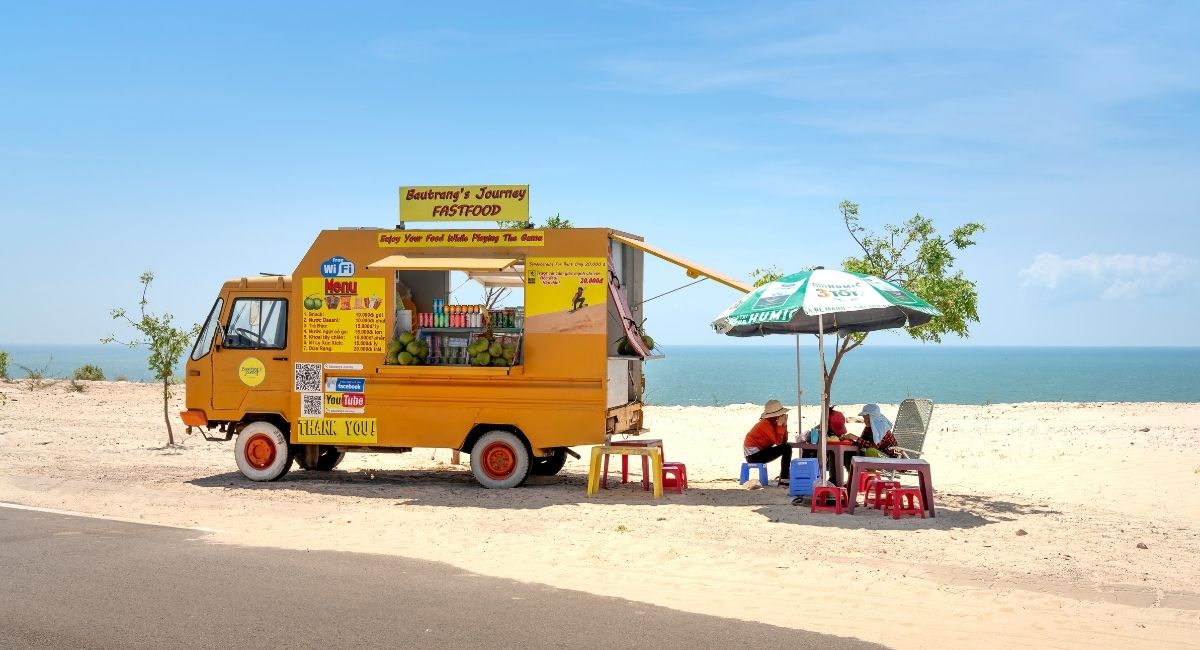 Food trucks originated in the United States in the 19th century, and have become popular globally, including in India. These mobile restaurants offer a diverse range of dishes based on their location and public demand.
You can find a variety of food items from traditional Indian dishes to international favorites like pizza, burgers, and even tacos. What makes food trucks so appealing is their mobility, allowing them to reach a wide range of customers in various locations within the city.
In India, the food truck trend took off in the early 2010s, mainly in metropolitan cities like Mumbai, Delhi, and Bangalore.
The Indian street food culture, combined with the passion for culinary diversity, contributed to the popularity of food trucks. These compact kitchens on wheels provide a convenient and affordable way to enjoy a wide variety of food, making them a hit with both local people and tourists.
How Much Do Food Trucks Cost in India?
Just like any other small business, starting a food truck in India involves a significant investment. The cost can vary greatly depending on factors like location, the type of food items, choice of food truck, and the condition of the truck(new or secondhand).
Below is a breakdown of the approximate costs involved in launching a food truck business in India:
Acquisition of a Vehicle: The most important investment is the purchase of a food truck or a used vehicle that can be converted into one. The cost of a new food truck can range from ₹5 lakhs to ₹10 lakhs, while purchasing a second-hand vehicle and converting it can be more cost-effective, starting at around ₹3 lakhs.
Kitchen Equipment: The food truck will require necessary kitchen equipment such as grills, deep fryers, refrigerators, and storage cabinets that can cost approximately ₹2 lakhs to ₹4 lakhs.
Licenses and Permits: You will need various permits and licenses, including a food vendor license, health department permits, and municipality approvals, which can amount to ₹50,000 to ₹1 lakh.
Vehicle Modification: To make the food truck both functional and visually appealing, you might have to spend ₹1 lakh to ₹2 lakhs on custom modifications.
Initial Food Inventory: Stocking up on initial ingredients and supplies can range from ₹1 lakh to ₹2 lakhs. This will be regular but you can cut these expenses later from the sales your truck will make.
Operational Costs: On average, monthly operational expenses, including fuel, maintenance, and staff salaries, can add up to ₹50,000 to ₹1 lakh.
Here is a table to summarize the above-mentioned information:
| Expense Category | Amount Range (₹) | Reason for Expense |
| --- | --- | --- |
| Acquisition of a Vehicle | ₹3 lakhs to ₹10 lakhs | Purchase of a food truck or used vehicle |
| Kitchen Equipment | ₹2 lakhs to ₹4 lakhs | Purchase of grills, fryers, refrigerators, etc. |
| Licenses and Permits | ₹50,000 to ₹1 lakh | Food vendor license, health permits, approvals |
| Vehicle Modification | ₹1 lakh to ₹2 lakhs | Custom modifications for functionality and appeal |
| Initial Food Inventory | ₹1 lakh to ₹2 lakhs | Stocking initial ingredients and supplies |
The initial investment required to start a food truck in India can vary from ₹8 lakhs to ₹15 lakhs or more. It is important to create a detailed business plan and budget to understand your specific requirements accurately.
Are Food Trucks Profitable in India?
Yes, food trucks can be highly profitable if managed effectively. A food truck in India on average can earn ₹5,000 to ₹10,000 or more per day depending on the popularity, location, type of food items, etc.
Here's a breakdown of what you can expect in terms of daily and monthly earnings:
Daily Earnings: The daily earnings of a food truck can range widely depending on factors like location, menu, and marketing. On average, a successful food truck can earn anywhere from ₹5,000 to ₹10,000 or more per day. However, you should understand that this number can fluctuate and may be higher during weekends, festivals, and special events.
Monthly Earnings: With consistent daily earnings, a food truck can make between ₹1.5 lakhs to ₹3 lakhs or more per month. However, you must note that there will be expenses to deduct from the earnings to calculate the profits.
To increase profitability and ensure success, you can apply the strategies given below:
Location: Choose high-traffic areas such as events, schools, or local markets to maximize the sales potential.
Menu Innovation: Offer a unique and appealing menu that sets you apart from the competition.
Marketing: You can utilize social media, online food delivery platforms, and local advertising to promote your food truck.
Quality Control: Maintain high food quality and customer service standards to build a loyal customer base.
Cost Management: Keep a close eye on your expenses and optimize your operations to manage the costs effectively.
Where to Start?
Before starting a food truck business, you will need to understand the complete process. We at KeeVurds have published a comprehensive guide to help you understand the process of starting a profitable food truck business in India.
Find the guide here: How to Start a Food Truck Business in India
By following the above tips and implementing them effectively in your food truck business, you can run it profitably. India has tons of opportunities for people looking forward to starting their own small businesses. Thus, you can make use of the right resources and start building your own small business.