In India, we are well into the second phase of the Covid-19 vaccine rollout. However, the real concern is whether India's supply network is prepared for the massive task ahead. Of course, the same question may be posed by other emerging countries in Asia and the rest of the world.
There has been a lot of thinking and consideration on the implementation front, including sourcing, distribution, as well as the order of priority for who gets the vaccination first.
This, like in other nations, begins with frontline healthcare personnel, then moves on to the elderly (who are divided into two groups: those over 60 and those between 50 and 60 years old), and eventually to the rest of the population.
The procedure of obtaining licensed vaccinations, as well as end-to-end storage and transportation logistics up to the final administration location, is extremely complicated and lacks in our infrastructure.
Blackfrog Technologies Pvt. Ltd. is a technology firm located in Manipal, Karnataka, that aims to increase the efficiency of vaccination supply chains.
They have backing from BIRAC (DBT) and top impact investors in the country, including Venture Centre (NCL, Pune) and Social Alpha. Blackfrog Technologies have created patented solutions for precise cold-chain and vaccine tracking systems to offer logistical help in the last-mile distribution of vaccinations.
The Fundamentals of Last-Mile Vaccine Delivery
An immunization supply chain includes all of the people, activities, infrastructure, resources, and planning required to keep vaccinations safe and effective while also ensuring that they reach the children who need them. Strong supply chains are necessary for increasing vaccination coverage and equality, as well as lowering child mortality.
India cannot afford vaccine waste in the face of rising cases and a severe scarcity of Covid-19 vaccinations. However, because our vaccination campaign focuses on getting vaccines to people rather than the other way around, there is a risk of vaccine waste in transportation over the 'final mile' (from the healthcare center to the administration location) due to exposure to suboptimal temperatures.
According to recent research, approximately 65% of all vaccination vials in ten Indian states had indications of freezing during storage.
Both drugs currently being administered as part of the immunization drive in India, Covaxin (BBL) and Covishield (AZ) strictly require temperatures between 2 and 8 degrees Celsius (35-40°F) and are freeze-sensitive.
How Does Emvólio Make a Difference?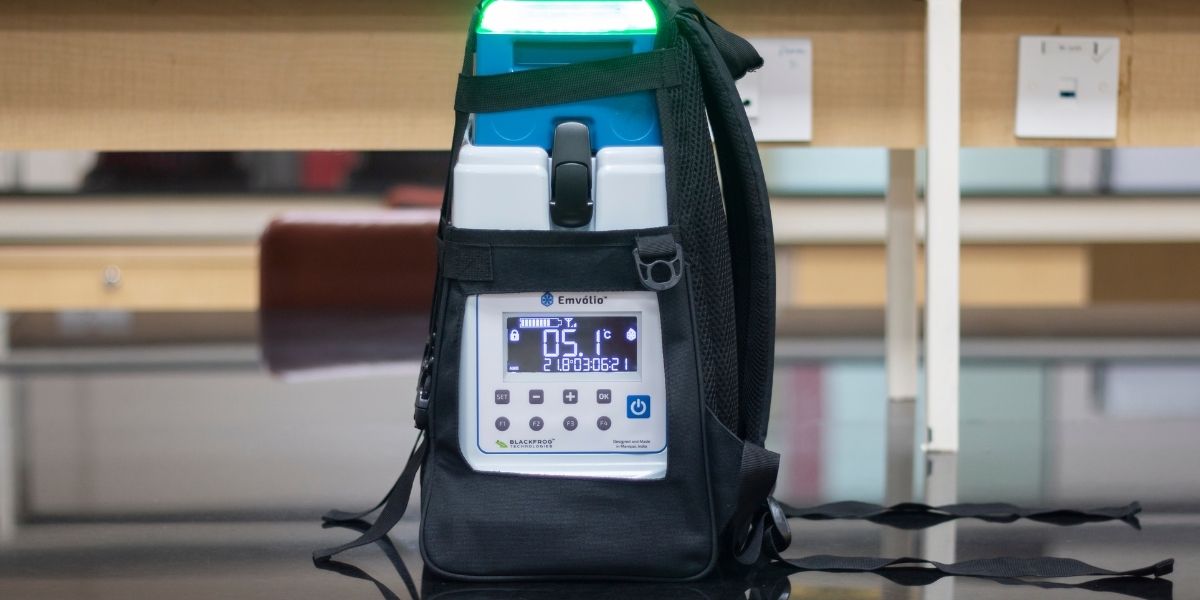 Emvólio is Blackfrog Technologies' solution to the vaccine refrigeration problem. It is a  battery-powered, portable refrigerated device that can maintain any fixed temperature for over 12 hours, making it ideal for last-mile vaccination delivery.
Emvólio's 1.8-liter size allows it to transport 30- 50 vials, which is sufficient for a one-day vaccination campaign.
Continuous temperature monitoring, position tracking, state-of-charge indicator, contact with headquarters through live tracking, and important statistics for increased coverage are among the other device features. This technique has aided remote hospitals in reducing the cost of vaccine waste.
It also helps to save human resources in vaccine distribution by eliminating the need for several vaccination visits to account for vaccines that are no longer viable. Most significantly, their battery-powered gadget outperforms the competitors in terms of mobility and charging convenience.
Emvólio was created in compliance with WHO-PQS E003 standards, and Blackfrog is an ISO 13485 certified medical device manufacturer.
All components in the chilly chamber are shrouded in temperature-controlled air thanks to Emvólio's unique technology. Solid-state cooling with a sophisticated PID (Proportional Integral Derivate) controller ensures exact temperature regulation without the possibility of toxic refrigerant leaks or cross-contamination.
Low-maintenance functioning is enabled by the lack of motors/compressors or any moving parts. The unique design of Emvólio promises uniform cooling and minimal freeze-thaw cycles.
Blackfrog's Journey So Far
Multiple institutions and non-profit groups working to improve healthcare and livelihood have acquired Emvólio Pro, which costs INR 1,30,000. These include SELCO Foundation, CInI TATA Trusts, Support Jharkhand, etc.
SVYM Hospital in Sargur, near Mysore (Karnataka), is a Blackfrog client who has been using Emvólio for a year. They claim to save INR 13,000 a month as a result of not having to throw away unneeded vaccines after the day's field trip. The field doctors say that, because of Emvólio's battery performance, they can now immunize twice as many children in tribal areas as they could with an ice-based device.
Blackfrog can produce 1500 units each month, and Emvólio is currently being used in significant quantities throughout five Indian states, thanks to permission from the National Health Mission.
How It All Comes Together
Blackfrog Technologies say about themselves:
"We strive to gain a deep understanding of society's problems through immersive context-driven research and use Science & Technology to find solutions. We are obsessed with creating, and our pragmatic perspective of the world ensures our creative energy is channeled into solving real-world problems. More specifically, our priority is to make India a safe place to live in, through uncompromising innovation and indigenous manufacturing."
In 2017, a group of researchers from the United Kingdom and Thailand conducted a study on the 'Cost, health impacts, and cost-effectiveness of ice-less refrigeration in India's vaccine cold chain' to better understand the financial benefits of using a battery-operated device to replace traditional iceboxes.
The team concluded that the cost of wastage of the ice-based cold chain system in rural India alone is USD 7,512,930. Even at a unit cost-price of USD 2000 (INR 1,47,420) for an iceless, battery-powered vaccine carrier, the cost-benefit ratio for avoiding this wastage is 0.28. Thereby indicating that this is cost-beneficial.
Blackfrog's home state of Manipal, a culturally rich state with rough terrain and a lack of infrastructure, Emvólio is changing lives. It has proven to be a reliable and effective tool for last-mile vaccination delivery, not only in the state but in the country as large.