Storytelling is as ancient as the human connection itself.
With stories, we can share information and create bonds. It also enables us to deliver ideas to our audience in an interesting manner. We develop deeper relationships with our audience if our tale engages and informs.
Princeton University scientists discovered in 2010 that good communication results in the speakers' and listeners' brains briefly linking and mirroring activity. The better the communication, the higher the neuronal coupling. Thus, in a way, storytelling creates a sense of community.
Compelling stories help us relate to and share each other's experiences, meanings, and points of view. Stories influence or modify behavior by persuading people to perceive things differently.
How Business Storytelling Makes A Difference
As a brand looking to form meaningful bonds with its customers, storytelling can be a great tool. Engaging business storytelling helps not only in selling products but also in building trust (hence, retaining customers).
Across businesses, social media, social entrepreneurship, and executive communications, experts think storytelling is undergoing a "corporate Renaissance." Marketing is just one small part of business storytelling. It's the bedrock of how businesses convey who they are and what they stand for in the world.
A renaissance is, as we know, a good thing, and storytelling, the original human social medium, is emerging in the commercial sector. It's a fantastic idea that is revolutionizing B2C behavior.
A story does not have to be told in every content detail of a business. It makes all the difference when you use storytelling in the right place, at the right time, and in the right way.
In this article, you'll discover how to utilize business storytelling to attract and bond with the audience in your marketing campaigns. We'll also take a look at some companies that do it right but also why their strategy works.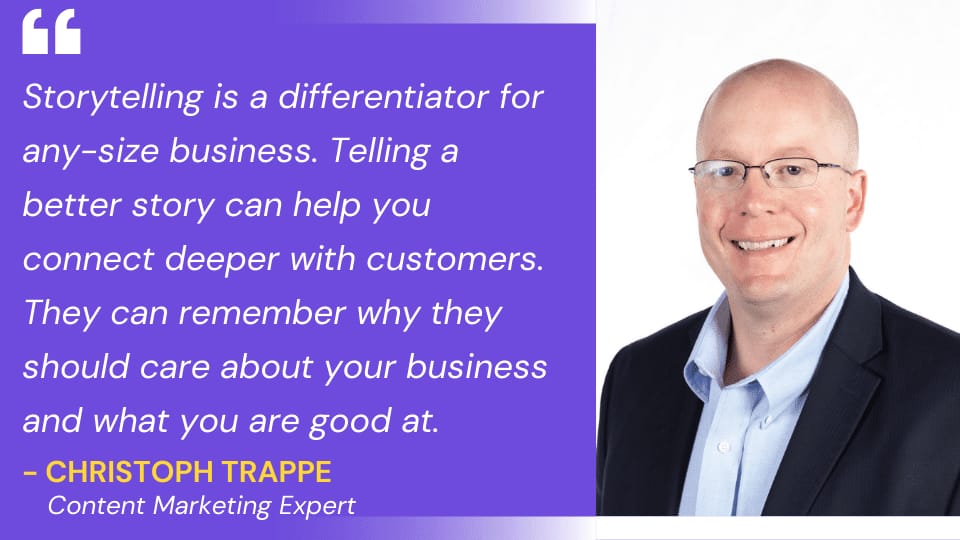 "Storytelling is a differentiator for any-size business. Telling a better story can help you connect deeper with customers. They can remember why they should care about your business and what you are good at. In today's omnichannel world, it's easier than ever to tell your story. Share it on a podcast, or a livestream, repackage the content across other channels like emails and maybe even written content on your website."
– Contributed by Christoph Trappe (Director of Content Strategy at Voxpopme, Author of Going Live and Content Performance Culture Book)
5 Ways to Make the Most Out of Your Business Storytelling
1. Know Your Brand
One of the most significant roadblocks to conveying your brand narrative is a lack of self-awareness. Who are you as a business? What do you do? What are your goals, and why should they matter?  It's tough to communicate the appropriate ideas accurately without this clarity. So, before you start generating ideas, it's critical to review what you know about yourself.
Define the heart of your brand. Establish your fundamental concepts (purpose, vision, mission, and values) and gain a better understanding of what your brand is attempting to accomplish.
Make your brand's message clear. If you want to communicate your brand's narrative, you need to be consistent with this message.
Know who your target demographic is. The 'genre' of your story depends on this even more than the previous points.
Once you have a clear idea of your brand and business values, we can move on to the next part.
2. Brainstorm Ideas
So you know who you are, but how will you explain it to your audience? Sometimes all you need to do is take a step back and examine your day-to-day business operations. You will discover that there are already a plethora of amazing tales ready to be told—you simply don't know how to locate them yet.
You will find it helps to discuss certain features of your brand when you are attempting to come up with ideas. To assist kickstart these thoughts, let's ponder over some aspects of your brand.
The face of the company: A business isn't an inorganic entity. It was founded by people, run by people, and used by people. Behind the products and all the mechanics, ask yourself, what story do these people have to tell?
For example, you could talk about the personal journey that led the founders to create this company. Or, you can talk about the personal lives and day-to-day activities of any singular employee in your community. How working in the company benefits them, their individual goals, and passion. The story has to showcase how this single person reflects the culture and vision of the company as a whole.
Behind-the-scenes of your product: Consider the product or service you offer. Beyond standard sales materials, there are a variety of approaches to discuss your product.
Is there anything special about your product that makes it particularly valuable or effective? Are there any unusual ways that your service has helped people? How is it manufactured? How is it distributed? Some companies are famous for sharing "how it's made" videos of their products.
Who is it all for: An emotional, inspirational way to connect with your audience is to tell them why you created your business in the first place. Who does it serve? Tell the stories of the people your products most benefit. How do you make their lives easier?
This approach probably works better for some products than others. For example, a healthcare firm may use this method much more suitably than an IT business. Yet, with a little imagination, you could go a long way.
Now that you have an idea (or many of them!) about how to tell your story, let's move on.
3. Validate Those Ideas
Well, it must be very exciting to think of all these cool ideas, but they won't benefit your brand if they aren't truly an extension of your brand narrative.
Some stories may be entertaining to tell, but they will not pique the attention of the individuals you're attempting to reach. Others, on the other hand, maybe intriguing in general but have nothing to do with what you do.
The objective is to locate something that falls within that sweet spot. As a result, when you've finished your initial brainstorming, you should validate your ideas by asking:
Why am I telling this story?
What makes me stand out from the crowd?
What benefit would this have on my business persona?
What will people remember about this?
At this point, you might even test your stories on other people who are not connected to your business directly. They can be good judges of how your story comes off to someone who doesn't know about your brand.
4. Choose Your Medium
You have the idea for your business story (or stories). You know it works for you, and you are pretty sure people will love it. But how do you get it to them? It's time to choose your format for storytelling.
You could get caught up in attempting to create the flashiest, most popular forms of content, but if it doesn't match your story, you're doing yourself a disservice. In some cases, the wrong format may even negate the power of your tale.
Before you start writing content, figure out what format is appropriate for your story. The format will impact how you write the content.
Some popular formats include web articles, videos, infographics, case studies, data visualizations, microcontent, among many more. For example, a story about a single employee in your company may be perfect as a case study newsletter you send via email.
5. Add Your Branding
Once you have written your story, you now decorate it with your branding. From the way it appears to the language you use, every piece of content should appropriately reflect your brand. People should recognize who developed this material, even if it isn't overtly branded (e.g., a million logos posted everywhere).
But how do you find out what your brand's personality, voice, or tone is? It sounds like your office gossip, team chats, and jokes over the water cooler. It is the humor and the culture you find every day when you walk (or log) into your office.
Also, once you've finished a draft of the material, go through it again for word choice and other details. These are the simplest methods for adding color to your material.
Your visual language matters a lot too. From your color palette to the animation style, your visual aesthetic is a reflection of your business as well. For example, different shades of blue are often seen as the most formal colors in the corporate realm.
Some Podcasts To Improve Your Business Storytelling Skill
We are not done yet! You probably got a lot of ideas from this article, but this is just the beginning. Before you delve into your own research about business storytelling, check out these podcasts that might set you on the right path.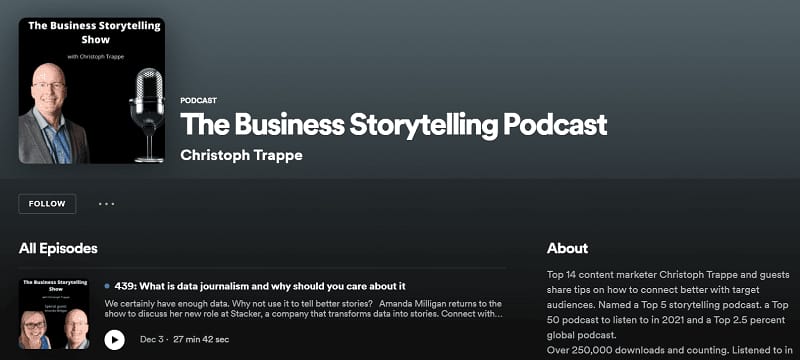 Christoph Trappe, a top content marketer, and his guests discuss how to better engage with target audiences in this podcast. Topics include social media marketing to creating branding and many more.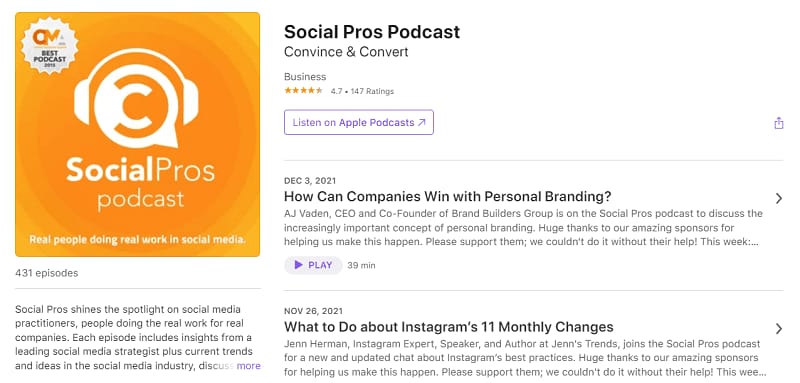 Get a detailed look at some of the most knowledgeable people in the field of content marketing. You'll get expert advice on public relations best practices, brand narrative development, and more.
Every week, Call To Action delves into the foundations of digital marketing. Learn about pay-per-click marketing, conversion rate optimization, A/B testing, content creation, and more from industry professionals.
These amazing podcasts will give you an even better understanding of business storytelling. With the right tools and some dedication, you are on your way to becoming the next successful business storyteller!
Got some storytelling tips of your own? Let us know in the comments.