Are you looking for a small business idea that requires a low initial investment?
If yes then you are in the right place as we will be sharing an amazing business idea that you can start with just a few resources. All you need is the vision to help people keep their household clean and tidy.
In this article, we will be talking about home cleaning as a small business opportunity. Also, we will help you with a complete process of how you can set up your own venture.
What Problems Are Faced By People?
In today's busy world, a number of individuals and families struggle to find the time and energy to keep their homes clean and organized. The demands of office work, family responsibilities, and personal commitments often leave little time for cleaning chores.
Also during the festive seasons, people want someone to help them clean their houses and make them a better place to live. For the same reasons, people often look for professional home cleaning services to maintain a clean and healthy living space.
💡Also Read: Start An Online Tutoring Business
What Solution We Can Provide?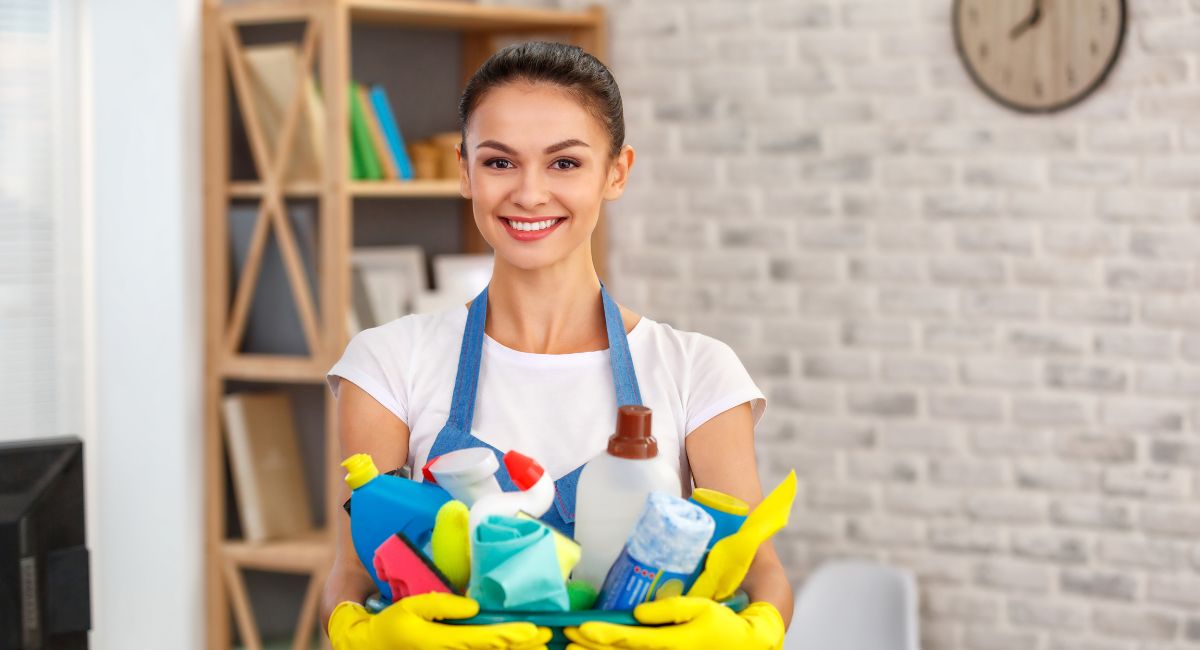 Though there are various big brands offering home cleaning services, their pricing is often on the higher side. This creates a requirement for such businesses that can offer professional cleaning services at affordable prices.
As a home cleaning service provider, you can provide various services from cleaning bathrooms and kitchens to taking care of their lawn and garden.
Here is a complete process on how you can get started:
Market Research
Start with understanding your target market, which may include busy professionals, families, or individuals looking for professional cleaning services.
You will also need to study a few of your competitors, their offerings, and all the other important details about their business model. After analyzing them, identify and note down some key points and key areas where you can offer something unique.
Services Offered
Finalize the range of cleaning services you'll provide. You can include various services like regular house cleaning, deep cleaning, window cleaning, carpet cleaning, or other services such as bathroom cleaning or terrace cleaning.
Pricing Structure
Once you have the list of services ready, you can decide on a pricing structure that showcases your services and the size of the homes you'll clean. You can offer packages and discounts for recurring clients to attract the first few customers.
Here are a few services that you can offer with a basic price range:
| Service Description | Price (INR) |
| --- | --- |
| Basic Home Cleaning (1 BHK) | 399 |
| Basic Home Cleaning (2 BHK) | 499 |
| Basic Home Cleaning (3 BHK) | 599 |
| Deep Cleaning (1 BHK) | 599 |
| Deep Cleaning (2 BHK) | 699 |
| Deep Cleaning (3 BHK) | 799 |
| Kitchen Cleaning | 399 |
| Bathroom Cleaning (Per Bathroom) | 199 |
| Sofa Cleaning (Per Seat) | 149 |
| Carpet Cleaning (Per Room) | 299 |
| Window Cleaning (Per Window) | 99 |
| Balcony Cleaning | 199 |
| Tile and Grout Cleaning (Per Sq. Ft.) | 15 |
| Mattress Cleaning (Per Mattress) | 299 |
| Upholstery Cleaning (Per Seat) | 199 |
| Fridge Cleaning | 149 |
Business Registration

To offer services to the customers, you must get your business registered. Also, you should complete all the legal requirements including the important licenses to run the business and compliance as per your offerings.
Supplies And Equipment
You will need to invest in high-quality cleaning supplies, equipment, and safety gear to start the work. Make sure that you have the necessary tools for different cleaning tasks, from vacuum cleaners to eco-friendly cleaning agents.
Online Presence
To spread awareness for your business, you can create a professional website to share more about your services, pricing, testimonials, and a booking option. You can also create social media profiles on various platforms including Instagram, Facebook, and YouTube to share regular business updates.
Marketing and Promotion
To get a regular flow of leads for your business, you will need to promote it through various online and offline methods. You can choose to promote it through online advertising, local banners, auto-rickshaw ads, and similar channels. Encourage satisfied clients to leave reviews and testimonials.
Scheduling and Booking
To manage appointments and work processes properly, you can implement an easy-to-use scheduling and booking system. It will also improve your user experience and will also enhance user retention over a period of time.
There are various such platforms available and you can also hire a software development agency to get a customized scheduling system built for you.
Hiring Staff
For the first few orders, you yourself can provide the services to your customers. But as your business grows, you will need employees for various tasks such as taking bookings, managing customers, providing customer services, and more.
There are websites like Indeed, apna, and naukri.com from where you can find employees for your home cleaning business.
Now that you know the complete process, you can go ahead and start working on your own venture. The home cleaning industry is still untapped and there are various opportunities to expand your business and earn money at scale. If you need any guidance, you can comment below this post and someone from our team will help you with your queries.