Are you looking for a small-scale business idea that requires minimal investment and high returns?
Then, you are at the right place as we are here with an amazing business opportunity that has huge demand in local markets.
Want to know what this business idea is?
We are talking about a Dry Cleaning business where you will be helping people clean their clothes.
A dry cleaning business can be a profitable venture for those interested in the laundry and garment care industry. In this guide, we will understand the demand for such a business and also will look into the steps to start one.
So, read this guide till the end to understand the topic completely:
The Problem That We Will Solve
The problem that a dry cleaning business addresses is the need for convenient, effective, and specialized garment care services.
Many individuals, professionals, and businesses face various challenges when it comes to maintaining the cleanliness, of their clothing and textiles.
These challenges include:
Stains and Fabric Care: Individuals often struggle with removing stubborn stains from their clothing and understanding proper fabric care.
Lack of Time: Busy professionals and families may not have the time to perform laundry and dry cleaning tasks themselves.
Specific Garments: People may have garments, such as suits, wedding dresses, or delicate fabrics, that require specialized care.
Convenience: Many people look for the convenience of drop-off and pick-up services for their dry cleaning and laundry needs.
💡Also Read: How to Start a Flour Mill Business
Who Can Start This Business?
No single business idea can suit everyone and thus you should only start a dry cleaning business if you have:
Attention to Detail: A keen eye for detail is very important for ensuring garments are properly cleaned and free from stains or damages.
Customer Service Skills: Good communication and customer service skills are important for building and maintaining a loyal customer base.
Business Knowledge: A basic understanding of business management, including financial planning and marketing is very important.
Investment Capacity: Starting a dry cleaning business will require some initial investment in equipment, cleaning supplies, and facilities.
Understanding of Dry Cleaning Processes: While you don't need to be an expert, having a basic understanding of dry cleaning processes, garment care, and stain removal techniques is important.
Key Steps to Start a Dry Cleaning Business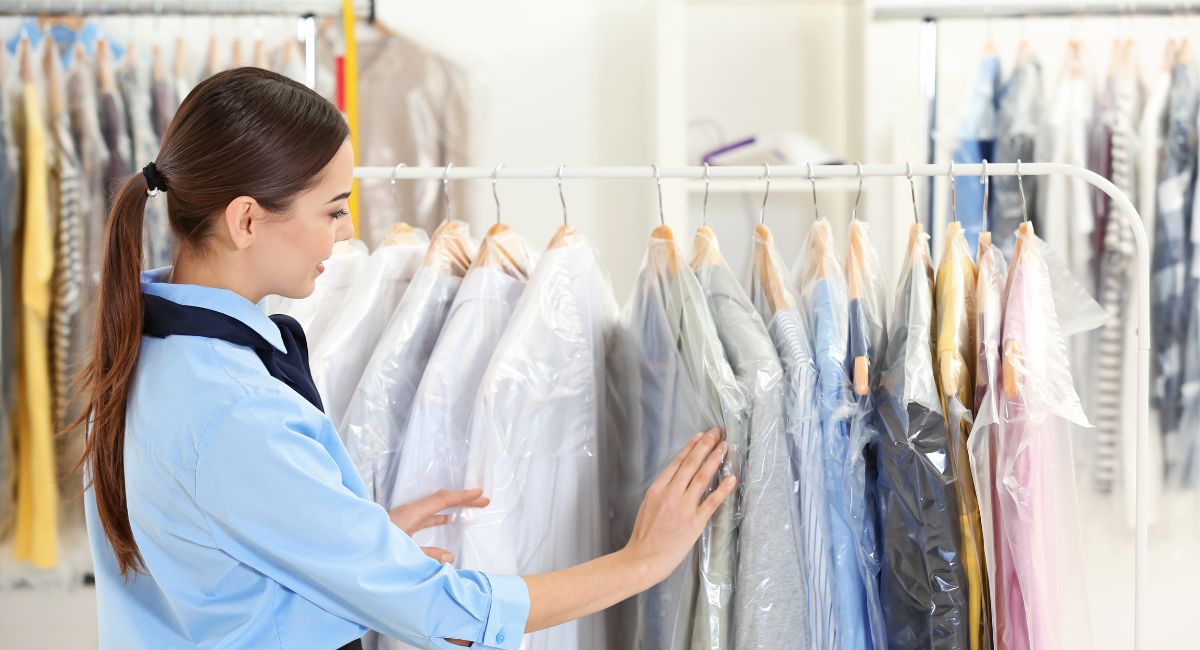 Below are some of the major steps that you need to take to start your own dry-cleaning business:
Market Research
You can start by identifying your target market, including individuals, professionals, and businesses with garment cleaning needs.
Also research your local competitors to understand pricing, services, and market gaps. This will help you in getting enough insights to work on the next steps.
Business Plan
To succeed in the competitive market, you will need to develop a solid business plan. It should outline your business goals, target market, financial projections, and marketing strategy.
Apart from that, you can also list down your budget, expenses, and all other requirements.
Legal Requirements
Once you have a business plan, you can then move on to research to find all the national regulations and licensing requirements for starting a dry cleaning business.
You will also need to get your business registered and obtain the necessary permits and licenses.
Location and Facility
To start the dry cleaning business, a suitable space will be required. The space can be chosen based on your budget, business requirements, and the available opportunities.
Make sure that the location has enough people or businesses to provide your services.
Equipment and Supplies
For a proper business setup, invest in essential dry-cleaning equipment including
dry-cleaning machines,
steamers,
pressing tables,
and garment care products.
Apart from that, make sure that you have sufficient cleaning supplies, such as solvents, detergents, and stain removers
Staffing and Training
A business is nothing without a professional and hard-working team. In the beginning, you can start with just yourself managing the tasks. But as the business grows, you will need to hire and train staff for dry cleaning and customer service roles.
Service Offerings and Pricing

Determine the range of services you'll provide, such as dry cleaning, laundry, pressing, and alterations.
Also, based on the market research you performed, you can prepare a rate card for the different services that you will provide to your customers.
Here are some services along with their price as per the Indian and US markets:
| Service Type | Price in INR & USD |
| --- | --- |
| Men's Suit | 350 INR/$15 USD |
| Women's Dress | 300 INR/$12 USD |
| Shirt/Blouse | 80 INR/$8 USD |
| Pants/Trousers | 100 INR/$8 USD |
| Sweater | 150 INR/$12 USD |
| Skirt | 120 INR/$10 USD |
| Jacket/Blazer | 200 INR/$15 USD |
| Wedding Gown (Simple) | 500 INR/$40 USD |
| Wedding Gown (Elaborate) | 800 INR/$55 USD |
| Tuxedo | 400 INR/$35 USD |
| Curtains (per panel) | 200 INR/$15 USD |
Here is an amazing business idea that requires low to moderate investment: Start your own dry cleaning business and provide your services.
Promoting Your Business

It will take time to get the first few customers for your business. You can start by providing the services to your friends and family members in the beginning.
By providing quality services, you can get a lot of referral clients. Apart from that, you can distribute pamphlets in the market, place banners, and ask people to refer your business to others.
So, here comes an end to our guide on this small business idea and the process to start it.
With the right business plan and investment, you can establish a successful dry cleaning business that meets the demand for clean and well-maintained garments in your region.