Covid caused a huge disruption in every market. However, the post-Covid era has experienced tremendous growth in specific sectors. The gift industry in India is one such sector, growing at a CAGR of 3.4%.
Gifts are an inseparable part of Indian culture. Every occasion, festival, or corporate event demands unique, personalized, or attractive gift items. That's why the market size of the gift industry in India has been estimated at INR 2,50,000 crore in 2022.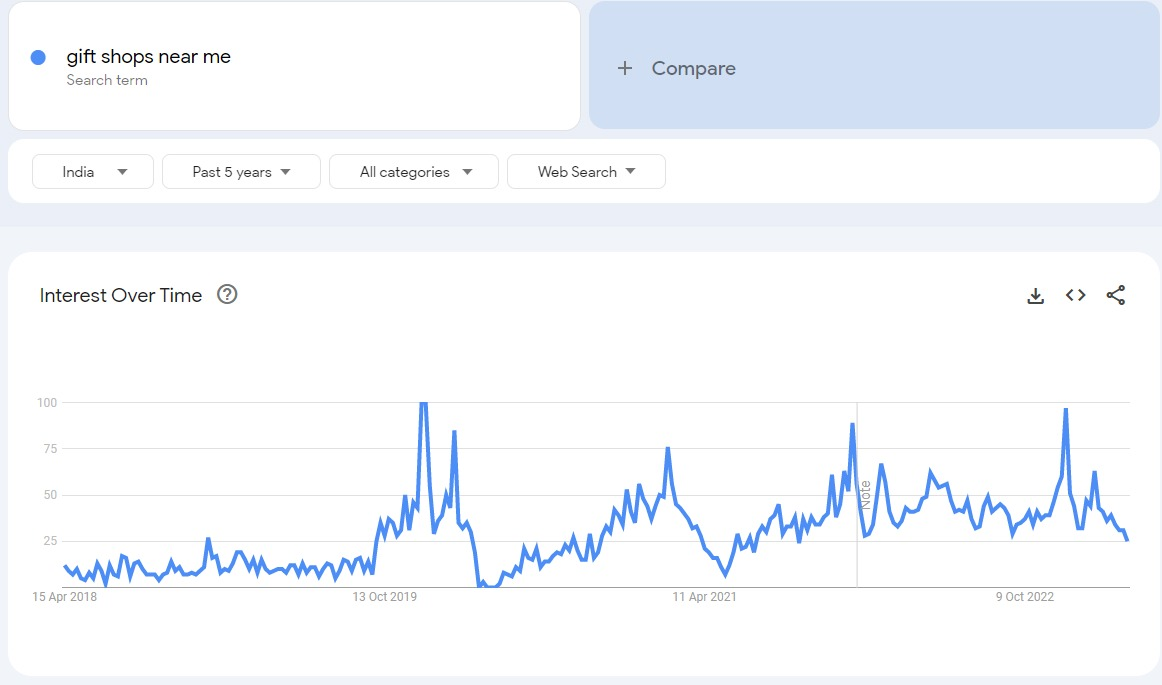 Even the data from Google Trends shows a rise in online search queries related to gifts and gift shops since its downfall during the pandemic. In this article, we will discuss how to start a gift shop in India and its pros and cons.
What is A Gift Shop?

In simple terms, a gift shop is a store that sells items you can give people as gifts. These items include greeting cards, showpieces, board games, customized merchandise, etc. A gift store can be lucrative because people love to give and receive gifts.
Is Gift Shop Profitable in India?
The Indian gift market is divided into two parts.
Personalized Gifting
Corporate Gifting
The personalized gift market has the larger market share at 95.2%. On the other hand, the corporate gifting market stands at INR 12,000 crores. Both markets have been consistently growing since the pandemic.
People purchase gifts for birthdays, festivals, events, and other occasions. These gifts are bought for family members, friends, neighbors, classmates, and even office colleagues.
Usually, the margin is 20% to 30%, but the number of sales is high. There is someone's birthday or anniversary every day. And people need gifts for these occasions.
Gift Shop Business Plan in India

If you want to make profits, you must do proper research and create an effective business plan. So let's go step-by-step and understand the process of setting up a gift shop business in India.
Planning
Planning is the most critical part before you start a business. You have to finalize the initial layout, the total capital required, and the store location.
Of course, you can make changes to this plan depending on your requirements, budget restraints, and the unavailability of location. But it's imperative to execute the tasks mentioned in the plan and do them properly to maximize your chances of success.
Choosing The Right Location
Location is very crucial for a gift shop business. You have to find a place with high footfall levels and no similar shops nearby. Markets or areas frequently visited by travelers are also good options for establishing a gift shop.
Competitor Research
Competitor research is essential to have a clear idea about business operations. You can study your competitors (nearby stores) to learn about their best-selling products, pricing, and marketing strategies. If you start a gift shop in an area, you must understand the type of products people prefer and at what price.
Finalizing a Theme
As a gift store, you can sell many types of gift items, like souvenirs, merchandise, and toys for all age groups. However, it is always a good idea to have a distinct theme.
The theme must resonate with your customers. It must make them feel like they're at the right place to purchase a suitable gift. You can include your gift shop items in your store's theme. That way, it will be easier for your customers to know how a gift might feel in a particular scenario.
License and Registration
You need to register your company and get the required licenses to start a business in India. It is always a good practice to take care of all the legal formalities so you don't get into any trouble later. Here are some documents that you need for a gift shop in India –
Business Licence
Business name registration
Certificate of occupancy
TIN (Tax Identification Number)
Insurance policy
Business plan
Sales tax permit
EIN (Employer Identification Number)
Finding Suppliers & Inventory Management
You must find a good supplier who is aware of the latest trends and can provide a gift range on urgent notice. If you can't find a good distributor, you might face loss in the long run.
For example, every other day, a new Marvel movie or a series on Netflix showcases something new. You must have a distributor who can help you keep up with this new stuff and provide all the latest gift items as soon as the demand rises.
Gift Shop Product Ideas
Initially, you must keep gift items that a person can give on special occasions, such as birthdays, wedding anniversaries, marriages, or housewarming parties. Some of the most common gift items with profit margins that you can keep in your inventory are –
| Product | Potential Profit Margin |
| --- | --- |
| Greeting cards | 40-60% |
| Photo frames | 30-50% |
| Ceramic mugs | 30-50% |
| Couple gifts | 40-60% |
| Soft toys | 30-50% |
| Wall Decor | 30-50% |
| Table tops | 30-50% |
| Souvenirs | 20-40% |
| Clocks | 20-40% |
| Perfumes | 20-40% |
| Diaries | 30-50% |
| Gift bags | 20-40% |
| Packing papers | 20-40% |
Attractive Interior
A gift shop relies heavily on its presentation. Always have a catchy design and arrange all gift products properly to display toys and accessories. Use ample lighting and try different color themes to create a comfortable atmosphere. Also, use a separate storage area in the commercial space so the shop doesn't feel congested.
Branding & Marketing
The gift shop market is a competitive space. Therefore, you need a clear and defined marketing strategy to grow and make profits. There are several ways to market a gift shop.
Focus on your branding. Pick a simple yet catchy name and get yourself a logo. Next, get a display and several banners to place in the area where your gift shop is located.
Make sure the display is clean and easy to spot. Also, you can update these banners and your display board with seasonal gift items, discounts, and new products.
The next step is to leverage digital marketing. You can create social media profiles on all major platforms. Engage with your target audience and try to learn about their preferences. Then, you can run various campaigns through social media and Google ads on specific events. For instance, you can run a Christmas sale during December.
You can also leverage email marketing to retarget your customers. For example, you can offer them discounts on revisits or rewards for referrals. Make sure to take advantage of as many channels as you can in the beginning.
How Much Does it Cost to Start a Gift Shop in India?

A gift shop requires a decent amount of investment. The investment can be higher if you choose to sell customized products. However, on average, you can expect a startup cost of INR 3,50,000.
Rent – 10,000-20,000 Rupees
Security Deposit (in some cases) – 50,000-1,00,000 Rupees
Furniture – 50,000 Rupees
License and registration – 20,000 Rupees
Insurance – 10,000 Rupees
Computer, printing equipment & software – 50,000 Rupees
Inventory cost – 1,00,000 Rupees
Launch promo and advertisement – 50,000 Rupees
Pros and Cons of a Gift Shop Business

A gift shop is a profitable venture. However, it has its pros and cons, just like any other business. Let's understand them.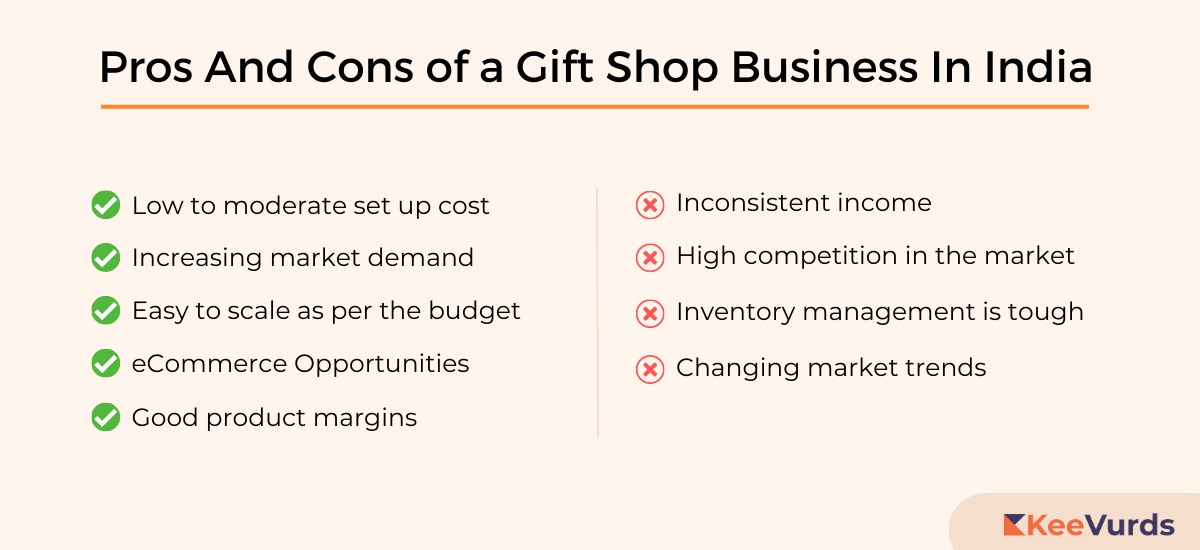 Pros
Low to moderate set-up cost
Increasing market demand
Easy to scale as per the budget
Good product margins
People 'impulse buy' gifts
eCommerce opportunity
Cons
Finding a trustworthy supplier is hard
Highly competitive space
Changing market trends
Inconsistent income
What is the Future of the Gift Industry in India?
Gifts have always been a tradition in India. They symbolize love, care, respect, and even status in Indian societies. Given the current market situation, the gift industry will keep growing. Indian gift industry size is expected to grow to $159 million by 2025.
If you can set up a gift shop in an area with heavy footfall and no nearby competitors, you can scale it and enjoy high margins.
You can follow the steps of this blog and create a well-researched business plan. Remember that all your legal documents are in place, and you leverage different marketing channels for maximum impact.
However, you have to be creative too. So come up with unique themes and creativity to make your business stand out from the rest. And you will have a profit-making gift shop business in India.