The baby fashion sector has tripled in size in the last few years. Major shops and brands are introducing newborn clothing to cash in on the rising move away from the unorganized market.
Baby clothing and accessories were previously purchased from small unorganized shops, while many people prefer to buy adult clothing from brands. This changed when more millennials started becoming parents.
The demand of millennial parents to stay up-to-date with high fashion for both themselves and their kids, as well as the social media frenzy that sees new parents ensuring their newborns look their best for pictures, have all contributed to the market's growth.
Big businesses feel infant-wear and essentials will become as big a market as kidswear, thanks to the rising number of millennial parents. As a result of the large consumer base, 'tiny' clothing is now a 'big' business for merchants.
Baby clothing (0-2 years) has a six-month shelf life, which is less than that of children's clothing (3-14 years). Parents purchase more frequently as their infants grow out of their clothes, generating a pull factor for online businesses.
There are a number of factors parents today want from their babies' clothes, and Baby Jalebi delivers. Founded by two childhood friends, the babywear and accessories shop has seen great growth recently. Let's find out more.
Taking Baby Steps
Baby Jalebi was launched in July 2015 in NCR, with its registered office in Delhi and manufacturing unit, and other offices in Gurgaon.
It was founded by childhood best friends turned sister-in-law, Gunia Chopra, and Rati Nehra. Gunia holds a bachelor's degree in English from NIFT, while Rati holds a bachelor's degree in history.
Gunia's family has been exporting and producing home furnishings for over 30 years, providing some of the world's most well-known brands. Rati has always been creative, having worked in the luxury brand market and having her own jewelry line.
When the women had their first children and were setting up their babies' nurseries, they realized that hunting baby accessories is a big hassle. There were no high-end India-made items in the segment. Whether it came to quality, sustainability, designs, or just options, the indigenous market was lacking in this segment. Hence, Baby Jalebi was born.
Gunia and Rati each put in 5 lakh seed funding for the company, and now it is in full bloom.
Baby Jalebi began by selling baby beds and bedding but has since expanded its product line to include everything babies need in their first few years. This includes changing stations, diaper bags, bibs, swaddles, burp cloths, bassinets, playmats, backpacks, and many more.
In 2020, the company debuted Kids Face Masks, and most recently, it launched Boondi, a clothing line for children aged 0 to 3.
There's an affectionate yet amusing story behind the brand name. When Rati had her first daughter, she describes the feeling of it as sweet and warm, yet confusing to the point where she felt like she was going around in spirals, and often found herself in a sticky spot. Hence, 'Jalebi' is the best way you can describe motherhood.
What Makes it Special?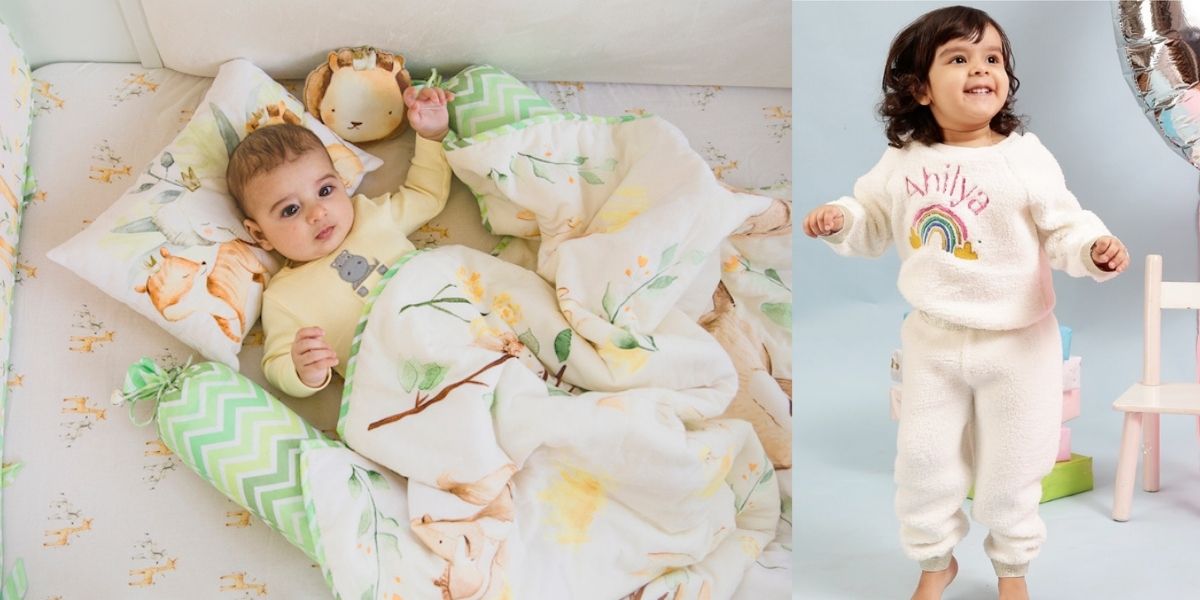 Parents today are more conscious about the components of things their babies use. They do not want to compromise on quality, comfort, or design. Baby Jalebi's baby bedding is manufactured from Gots Certified Organic Cotton, and its bags are created with style and utility in mind.
Baby Jalebi ships across India and even gets global orders. Its dedicated customer support team makes sure all clients are perfectly satisfied. Even though they are based in NCR, the brand is equally popular across various parts of India. Just a few minutes after their website launch, they got 3 clients from South India.
Baby Jalebi family has expanded to over 50 permanent employees, most of which are women and mothers, and it continues to grow month after month.
The founder-friends have a lot of fun discussing and working on new collections as a team. They're constantly striving to get out new and improved collections.
Baby Jalebi made the Boondi collection after a lot of requests and suggestions from its customers. Their snuggies collection, called Playwear, is another major hit. Its unique selling point is that they may be personalized with your child's name.
Obstacles And Rewards
Baby Jalebi's biggest obstacle is creating customer awareness about their pricing and quality relationship. New customers often get lured into buying similar-looking products with low pricing elsewhere, but the difference in quality is vast.
These cheaper products are often knockoffs and imitations of foreign brands. They fail at the most inconvenient of times and also wear and tear quickly. As a parent, you want to give your baby the best, and hence, you should not compromise on the quality of baby essentials.
The founders consider their biggest reward to be the joyful experiences their customers share with them:
"…meeting new parents and hearing them talk about how they were either gifted our products or how much they've loved using them…they send in photos and reviews with their babies. We love spotting our products randomly being used by customers across India. That thrill never gets old."
Growth Is Never-ending
Baby Jalebi grew in sales volumes and bottom line by 150% year over year in the first two years of its existence, and it has continued to expand at a 2x rate every year since then.
In the future, it aims to execute additional points of sale, faster delivery through warehouse partnerships, and extensions to its core product lines.
Currently, the website has around 5500 visitors from all across India and the world. The company has grown a lot through word-of-mouth recommendations. It also has a high engagement social media presence across various platforms.
The company has seen various customers from the celebrity world. These celebrities have used Baby Jalebi products organically and even gifted them to other people.
The star-studded list includes Sania Mirza, Kareena Kapoor, Dia Mirza, Kalki Koechlin, Sameera Reddy, Soha Ali Khan, Bruna Abdullah, Sunny Leone, Sophie Choudhary, Hina Khan, Lasya Manjunath, and many more. Kareena Kapoor's son Taimur reportedly loves Baby Jalebi's backpacks and masks.
Baby Jalebi is branching out to sell on other online marketplaces like Amazon and First Cry. However, since the founders believe that business in the future will be mostly through digital channels, they don't plan on offline shops.
Baby Jalebi hopes to wow more customers around the nation in the future.