Obesity, cardiovascular disease, and diabetes have all increased globally during the last few years. Consumers are becoming more health-conscious, and artificially flavored and carbonated beverages are avoided.
Water enhancers are a new product that is taking on the long-established flavored drinks market. Water enhancers taste like water while also providing additional nutritional advantages without carbonation. They are marketed as a health product instead of an unhealthy snack like most soft drinks are.
Water enhancers often come flavored too. Instead of stealing the show, they make consumers want to drink more water, a habit most of us want to get better at.
Consumers' increased focus on health and fitness is driving the market for water enhancers. This niche market is likely to grow exponentially over the years and might even take over the crown from other beverages.
In short, we could say that water enhancers make something beyond water. This is exactly what the Singhania siblings cashed in on; they made Beyond Water. The water enhancer brand is making headlines in the Indian market. Let's find out more about them.
The Foundation
Devang and Shachi Singhania are siblings from Kolkata who have grown up in a family of self-made people. They were taught from childhood to follow their own calling and pave their own way to success.
Both brother and sister majored in Entrepreneurship programs from Babson college.
Devang formerly handled family-owned tea estates in North Bengal, with a strong focus on operations. He specialized in bought leaf conversion during his time working with the estates.
His key strengths include knowledge of products, trends, marketing and he has a strong network.
After graduation, Shachi decided to pursue her passion for design and branding. She worked for a number of enterprises, gaining experience in a variety of positions such as curating, developing, and branding new businesses as well as revitalizing established ones.
Now she works with her brother on something that they feel will become the new face of ready-to-drink beverages. Beyond Water's mission is always to be that honest drink that you can grab for without feeling guilty.
What Makes It Special?
Beyond Water is revolutionizing the way people view bottled drinks. It is an additive to your water to make it better.
By better, we mean a subtle added flavor and a kick of loaded health benefits. Just a few drops of Beyond Water will refresh you. Flavors come from natural sources, are low in calories, and are completely sugar-free.
The company makes its flavors and colors from real plant products. For example, its orange, lime, and lemon flavors are made from cold-pressed oils extracted from fruit peels. Natural sources of color include dried carrots and turmeric.
Beyond Water has only one calorie per serving, so weight-conscious consumers can enjoy them to the fullest. They are also suitable for diabetic customers.
Consuming Beyond Water gives you 15% of your daily vitamin requirements. These include vitamins ACE, D, B3, B6 & B12. Beyond Water also has added electrolytes, therefore it can work as an ORS solution too.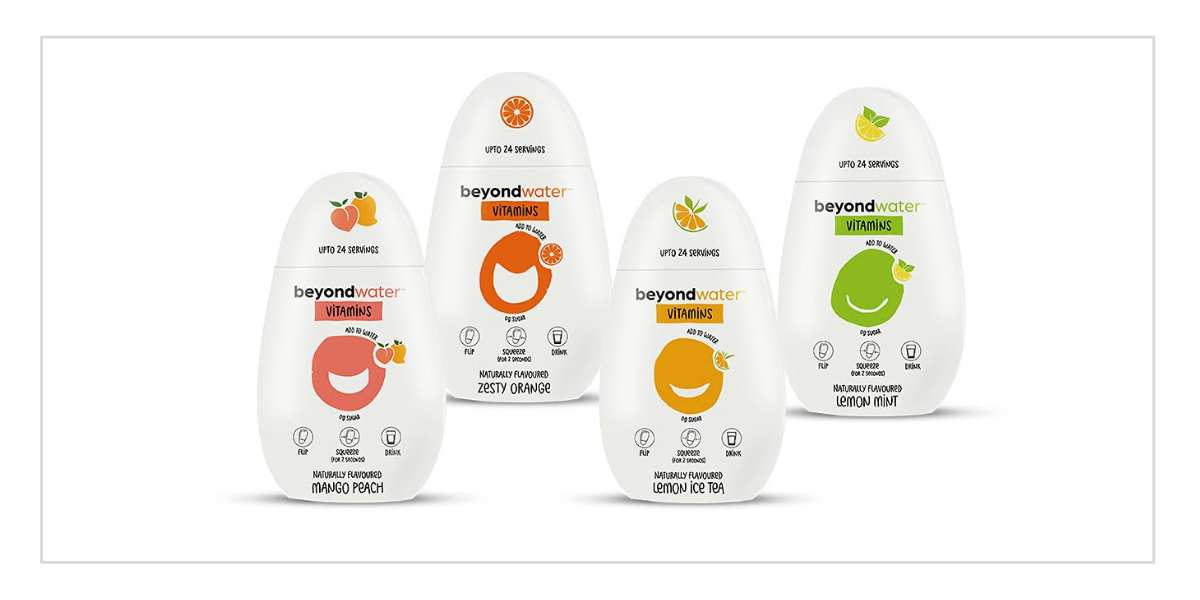 The packaging is simple, portable, and cute! It comes in a palm-sized squeezable bottle, which you can pour out into your water. You can choose to add as much or as little of it to your water intake. However, the company suggests firmly squeezing the bottle for two seconds.
Used that way, each bottle will last you 24 glasses of water. This means that you are saving plastic worth 24 bottles of bottled drinks, which helps the environment.
Beyond Water is easy to carry around as it's spillproof and fits into most bags. It is incredibly versatile. You can use it as a gym drink, a cocktail mixer, or anything in between. Not just water, you can add it to your tea, coffee, coconut water, or any other beverage you wish.
Appearance On Shark Tank
Beyond Water was featured on Shark Tank India's Season 1 Episode 15. Shark Tank is a platform where firms showcase their potential to investors to secure funding. The show originated in America but has now set foot in India, becoming a great success.
They bid for 75 lakhs' worth of funding for a 5% share of the firm. They finally got the amount for 15% equity, still a big deal for a startup. Sharks (investors) Aman Gupta and Namita Thapar invested in Beyond Water.
Since its appearance on the reality TVgiant, it has seen a tremendous increase in sales. Currently, the firm is valued at 18.75 crores.
Growth of Beyond Water
Currently, Beyond Water is available in three lines of flavors: Vitamins, Electrolytes, and Cocktail Mixers. Flavors include various citruses, berries, mint, honey, and even lavender. Each bottle is 70 ml and is airplane-friendly too.
The founders say that Beyond Water has expanded because of the positive feedback. Currently, the company has been expanding at a pace of 20% per month. It was recently launched on Amazon a few months ago, and it will be looking into a few additional markets.
The company intends to expand its product lines and verticals, such as single-serve and ready-to-serve varieties, as well as investigate modern retail and airport formats.
Speaking of the obstacles they have faced, the Singhania siblings say:
"The journey is very rewarding and also full of ups and downs, but then when any milestone is reached, it all seems very well worth it. Everyone has the right to dream and to take a shot at making it a reality. So always try and never regret."
The founders talk about how Beyond Water is a kind of product Indians haven't seen before. It can't drink out of the bottle, nor is it powder or bags that need to be cooked.
While this creates a sense of novelty, it will also take time to get used to. However, the Singhanias are sure water enhancers will become the go-to drink of the future.