Avocados are one of the most popular produce items in western supermarkets today.
With a leathery exterior, a large pit, and bright green, soft flesh, it is considered a superfood for its many health benefits. They are also called alligator pears or butter fruit.
In the west, they are widely used in many cuisines. Guacamole dips rely on them as the main component. Salads, sandwiches, smoothies, and even brownies are made with avocados. What makes it so special?
They are nutrient-dense and are a healthy addition to a well-balanced diet. They can aid in the reduction of LDL cholesterol. They also keep you feeling fuller for longer.
Avocados, like other high-fat foods, have a high caloric density, which means they have a lot of calories per gram. Avocado has 160 calories in a serving of 100 grams (3.5 ounces).
The fruit isn't local to India, but brands are introducing it to health-conscious Indians, and the fruit is set to gain popularity here. Being so incredibly versatile, avocado can be consumed in a lot of ways. Black & Green Products is offering it as a cooking oil and other condiments that will blend in seamlessly with Indian diets. Let's find out more.
The Thought Behind B&G
Black & Green, India's first ethically curated multifunctional avocado oil firm, was created by Rushabh and his wife, Miral Parikh. It was established in 2018.
They believe that the cooking oil industry has changed dramatically in the previous 10 years and that now it is time for the Indian palette to taste Avocado oil, arguably the healthiest.
B&G began as a company with a social mission. One person at a time, its mission is to make the world a healthier place. B&G feels that this is the age of quick and easy meals, it is important to sit down and acknowledge the importance of meals.
B&G wants to make healthy eating simple again. It believes that health is a right of every individual. Accessibility and real food provide true sustenance. Cooking should be enjoyed, and the kitchen is a vital part of our daily life.
Rushabh and Miral are on a quest to bring the Avo Revolution to India, where they hope to introduce the healthiest cooking and multifunctional oil to the Indian people.
More About The Founders
Rushabh along with his wife Miral realized the inaccessibility to premium grade oils and a lack thereof in the Indian market, and the two decided to work together to close the gaps in the sector.
They both abandoned their separate occupations in real estate and investment banking in order to make a difference in the health care sector. As a result, Black&Green was born, a sustainable and high-quality brand that offered India's first Extra Virgin Avocado oil.
The Blacks And Greens In It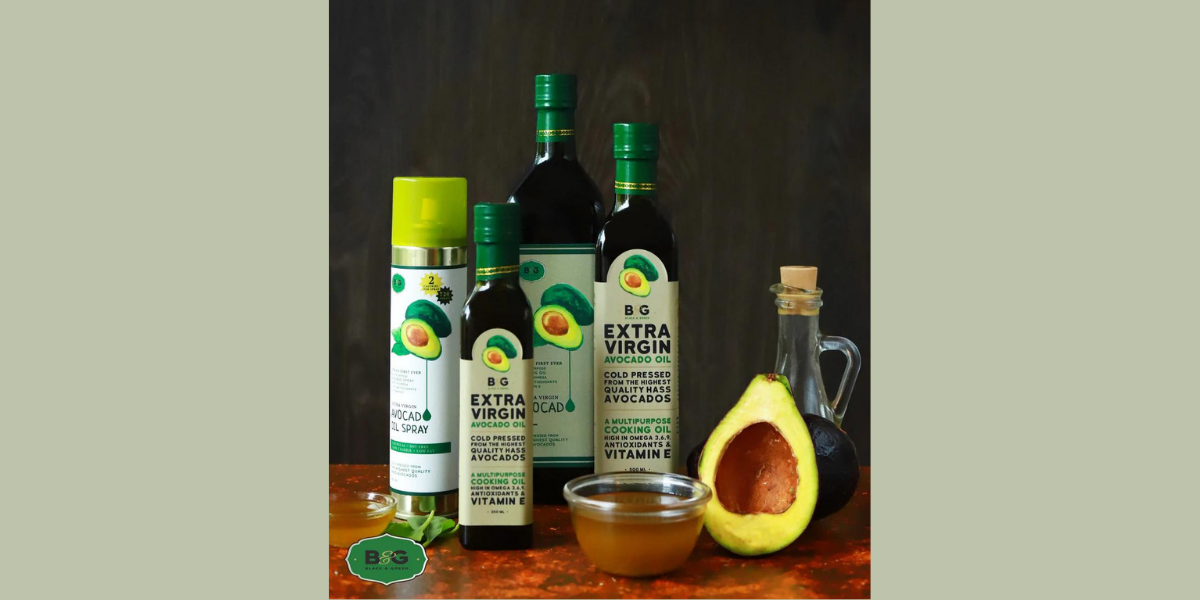 Soil and Produce are brought together in the term Black & Green. The duo can't survive without each other, and they both aspire to achieve the same level of balance and harmony.
Healthier cooking oils and fats are in high demand, and Black & Green is meeting that demand by ethically collecting green products with a low carbon footprint while upholding the highest standards of quality and morals.
In their oils, Black & Green uses only the finest HASS avocados from across the world, making them entirely unrefined and extra virgin. Avocados are sourced from Kenya, the world's finest avocado producer.
Here are some important benefits of cooking with extra virgin oils:
High smoke/cooking point of nearly 300* Celcius. Which makes it safe to cook at all temperatures for you and your family
Extra Virgin which means unlike all the other oils, it is completely unrefined
Cold Press which makes it ideal for skin and hair uses also
Unlike other Avocado Oils, which use fancy words to hide the truth, we let our quality do the talking
India's only oil to be internationally approved for the US and Europe market
B&G offers a multifunctional avocado oil that may be used for high heat cooking, such as baking, grilling, sautéing, pasta, and cold salad dressing, and is suitable for people of all ages. It's also good for hair, skin, and the face.
B&G is entirely open about its entire process, which goes through phases of sourcing, collection, sorting, processing, production, and packaging. The details of each are given on their website. Besides extra virgin avocado oil, it also offers avocado butter and avocado mayonnaise on its website.
Currently, Black & Green items may be found on Amazon, Big Basket, and at some local stores across India. What began as a simple concept has grown into a family-run business that supports ethically created, natural products, with the intention of spreading to future generations.
The Fruit of Hard Work
The company has been growing at a steady state since its inception. In the last few years, it has seen major changes in consumer choices, as they want to try healthier options and are moving to virgin cooking oils from refined ones.
B&G has appeared in numerous health magazines and other news media in India, including The Hindu, Hindustan Times, Mumbai Mirror, The Indian Express, Grazia, Express Food & Hospitality, and many more. B&G has a bustling social media presence and has collaborated with brands and influencers. In short, it has made a name for itself and set up a path for incredible success.
According to the founders, "The kitchen should be a cornerstone of a happy house and healthy body but in the age where food is fast and easy, it's time we slow down and make eating a priority again."