Cryptocurrency has become a big name in the investment scene. From Reddit to Wall Street, everyone is talking about it today.
While cryptocurrency has been here for a while now, it is recently gaining traction in India. It appears to be especially popular among the young, with even Indian teenagers reportedly investing with their pocket money.
So what is this hot new way of investing?
Simply put, cryptocurrency is digitally encrypted money. It is used to buy commodities and services, and be traded. It is strongly encrypted in online ledgers, which makes it safe.
Today, cryptocurrency is mostly used for trading profits. With the most popular version, Bitcoin, rising to over $68,000 earlier this year, and even coins named after popular memes (Dogecoin, anyone?), cryptocurrency is here to stay.
But now that we know about it, how do we delve deeper and start investing? Cryptocurrency investing can be a daunting task for many. Mudrex is a global investment platform that is here to simplify this investment journey.
Mudrex is a cryptocurrency investment platform that operates in 90 countries and is supported by the likes of Y-Combinator, Nexus Venture Partners among other VCs. It is a US-headquartered company that aims to be the world's largest asset management platform for crypto investments.
The Story of Mudrex
Mudrex began by having research-oriented chats with various groups of individuals via the Twitter and Discord forums. It contacted more than 2000 users before landing its first 100 members.
Through the several ones on one interaction with Discord members, Mudrex figured that the pain points largely revolved around the question of trust. Mudrex strives to build the layer of trust that bothers a lot of crypto investors today.
Mudrex was founded by Edul Patel (CEO), Prince Arora (VP, Engineering), Rohit Goyal (VP, Defi), and Alankar Saxena, all of whom are alumni of IITs.
After doing their research, they found that trading was tough to automate, finding good methods and signal suppliers were challenging, and the crypto industry was full of cons. The founders aimed to make a management system that is safe, dependable, and scalable, one that simply worked and helped them increase their money.
From the company's own books, Mudrex invested first in October 2020. The team paper traded for six months, doing several backtests and risk analyses.
The founders talk about how they started the Mudrex platform only as a way to make money and solve their own problems. The company has come a long way; today, the founders risk more than just their own money every day.
How Does Their "Mudra exchange" Work?
Mudrex is an amalgamation of "Mudra exchange". The Mudrex team has built a solid investing platform that is appropriate for both novice and experienced traders.
They built simple-to-invest and hassle-free products with a superior risk/reward ratio after closely studying the crypto investing sector for over three and a half years. Hence, allowing the next billion consumers to join and participate in the crypto revolution. They have collaborated on some of the industry's most innovative initiatives.
Mudrex aims to offer the flexibility to invest in not just crypto tokens, but invest in ideas built around a theme. With Mudrex Coin Sets, one has the flexibility to make periodic investments in crypto the same way as one might do for mutual funds.
They are highly open with their information, provide a wide range of options based on the risk appetite of investors, and have a pricing strategy that is recognized as the best by specialists.
What Are The Best Features?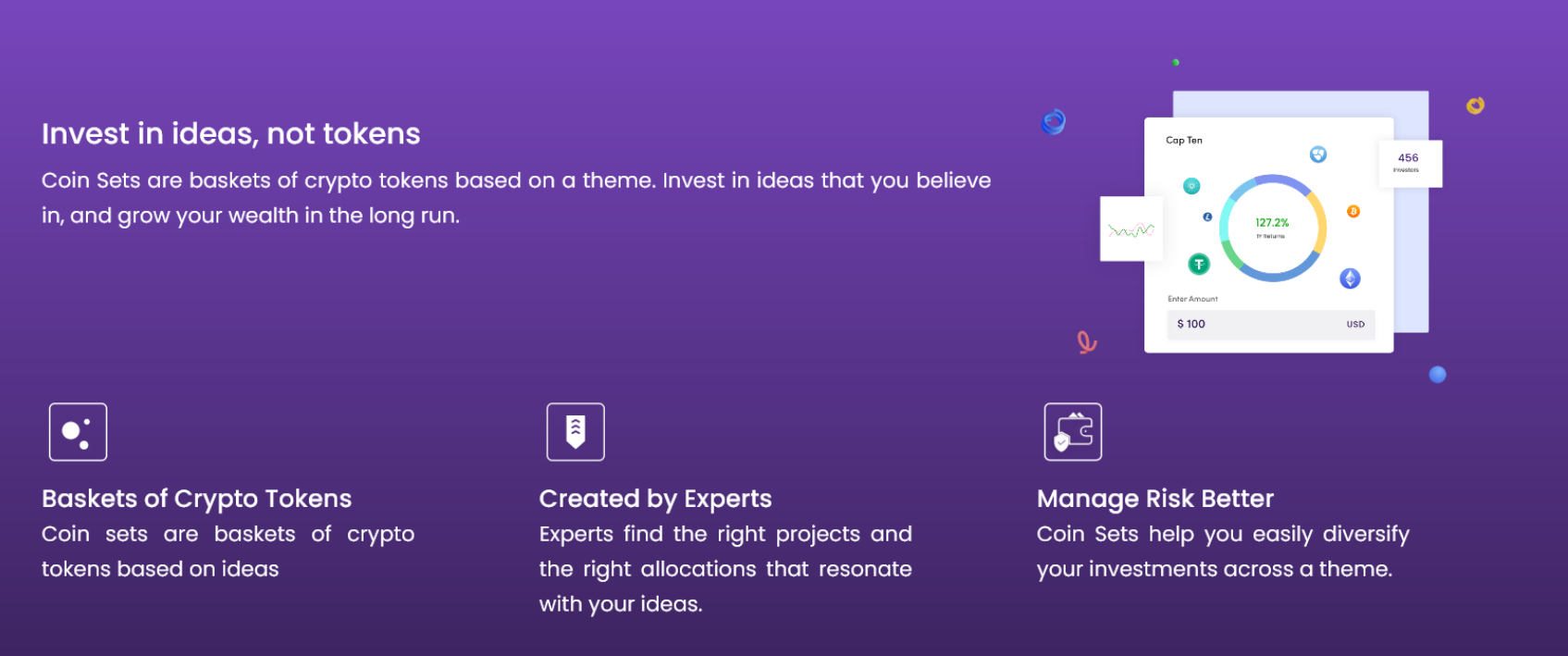 'Mudrex Coin Sets' is the flagship product that works similar to index funds containing a basket of tokens managed and rebalanced by the Mudrex team. The idea was to create a simple product like a mutual fund that helps users invest in one click.
This is reportedly the first time a product of this kind has been launched to the retail marketplace, as opposed to mutual funds with similar design and functionalities that exclusively target high-net-worth clientele and institutional-grade investors.
Mudrex has a large and active community of traders and investors on Discord. This sets it apart from other trading platforms. Customer assistance and quick replies are also handled mostly through Discord. Members of the original crew, as well as other loyal platform users, are always accessible for assistance.
Mudrex's founders provide one-on-one demos to anybody who requests one. Fill out a form within a few minutes, and you're good to go.
Mudrex's Journey So Far
Mudrex has secured $2.5 million in a seed round from Nexus Venture Partners. The funds will be used to grow the company's workforce and operations and create new goods that comply with international regulatory standards.
Currently, Mudrex's revenue is growing at a rate of 100% month after month. Mudrex has a total of $15 million in assets under management (as of October 2021).
Mudrex's founders hope to create a retail-focused complex in the future. The team is working on a full-featured end-to-end cryptocurrency trading and investment platform. They're also working on a smartphone app.
Mudrex plans to offer a crypto product based on themes in the next few weeks. Users will be able to engage in crypto retail with the aid of the product, which is designed after ETFs/Mutual Funds. They also wish to serve customers globally.
Setting The Scene For India's Crypto Future
In the founders' words,
"We are a team of experienced founders, investors, traders, designers, and developers, who are on a mission to bring advanced trading and investing to everyone. We are built using the best technologies, are backed by some of the biggest names in venture capital, and have partnered with some of the best projects in the industry."
While crypto exchanges focus their efforts on introducing new tokens and assets to grow their trading volume, platforms like Mudrex are focused on the proper issues and ensure that traders make money.
Mudrex is fast emerging as a spot where every trader, across asset classes, will want to be in the near future, despite the fact that it is still the beginning of the crypto industry.
So far, India has had a love-hate relationship with crypto. But sure enough, it will only become more popular over time. With the help of platforms like Mudrex, it is time for the average Indian to dabble more in crypto investment.