IoT-driven smart homes are one of the hottest upcoming technologies in the world today. As automated home solutions gain more traction, this made-in-India brand is worth looking out for.
Smart Node was realized with the idea that smart homes should be accessible to everyone.
Because SmartNode is able to adapt to new technologies as they emerge on the market, its products are often updated to reflect current fashions. It regards itself as one of the top businesses producing the newest Fast Moving Electrical Goods (FMEG).
A Team Led By A Dynamic Duo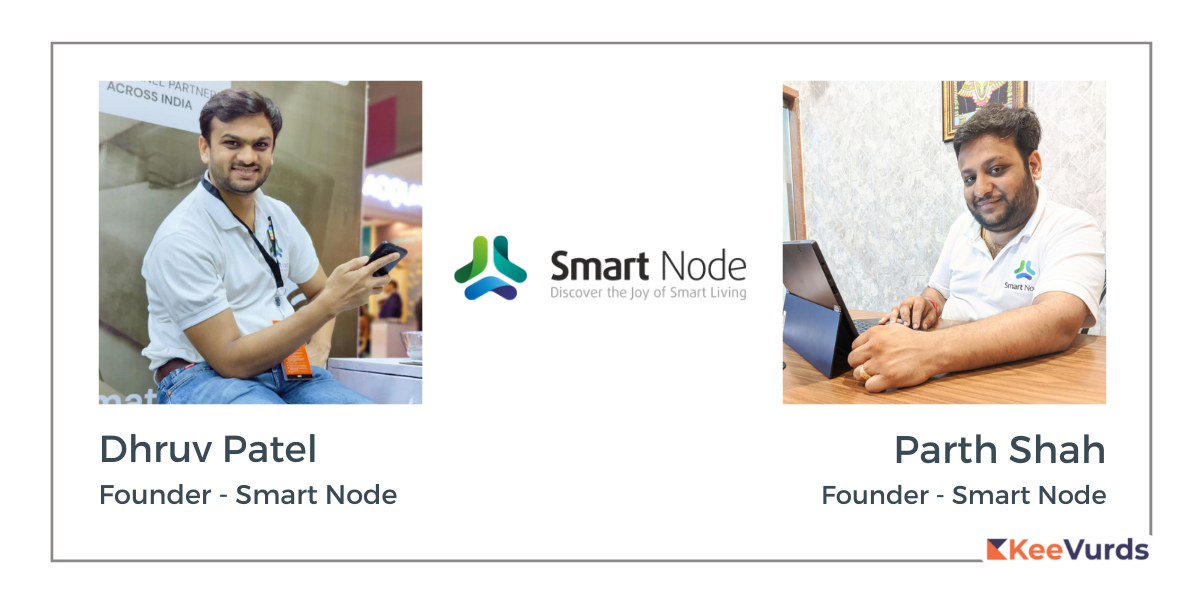 Smart Node was started in 2015 by Dhruv Patel and Parth Shah.
Dhruv is a product expert with operational expertise and technical skills; accumulated over the last seven years. He is the company's chief decision-maker and has an ambivert disposition. He oversees all aspects of business operations.
Dhruv's responsibilities include inspiring the team to work hard toward the company's mission, bridging the gaps between various departments, and ensuring that the company's culture is appropriately upheld.
His responsibility is to provide satisfaction and happiness to every employee.
On the other hand, Parth is the sales expert that handles the marketing and sales of Smart Node's products throughout India.
Parth blends his affable demeanour with his sales technical expertise. His extrovert nature and outstanding persuasion skills help him in this regard. He can successfully and swiftly sell a product. He is in charge of all the channel partners working with Smart Node up to this point.
Due to Parth's efforts, Smart Node's partners are loyal and willing to collaborate with it. Parth is very knowledgeable about the industry Smart Node deals in.
One of the company's main sources of strength is the strong relationship the founders share. They benefit from each other's unique characteristics and complement each other in all facets of life and work.
Dhruv and Parth are truly the pillars Smart Node stands on. Since their undergraduate years, they both had made it their mission to stay in India and work for its advancement. Other than the founders, Smart Node currently boasts a team strength of 80.
Building Smart Node From Scratch
Dhruv worked for TCS before turning entrepreneurial and founding the current company, while Parth spent 10 months working for a local cable company. Then, in order to increase the cable industry's production capacity, they teamed up and created an IoT product.
At the Switch Global Expo in Vadodara, the team won the Best Start-up prize. This altered their professional course.
Dhruv and Parth soon observed that internet access was becoming more affordable and efficient and that Indians' purchasing power was rising.
They changed their expertise to bring IoT to the home and created home automation solutions to take advantage of this opportunity. They installed the beta version after creating it to test its reliability in their homes and that of a few friends and family members.
They released it onto the market following numerous iterations. At first, they provided installation and service directly to customers in Vadodara.
The majority of Smart Node's initial orders came from friends and acquaintances. The founding team created flyers that were advertised in local newspapers.
To gain traction, they also executed various digital marketing efforts that targeted their potential clients in the locality.
The firm also used door-to-door demonstrations for new homeowners, builders, and architects.
Smart Node started giving architects free product demonstrations to win over their trust in its products.
After six months of operation, the startup gradually began to receive favorable market responses. Soon, it established channel partners in Vadodara and the surrounding areas.
Smart Node's Products And What Sets Them Apart
Any existing or new home can be transformed into a smart home using a variety of devices from Smart Node. In addition to making consumers' life more convenient and comfortable, its products are made with energy conservation in mind.
One example characteristic of a Smart Node-designed Smart Home is the option for the curtains and lights to switch on at sunrise or dusk.
Using human-centric features, light is adjusted in accordance with how much natural light affects human health. Automatic gates can be set to open when we are close to our home using geofencing.
The various solutions provided by Smart Node for retrofit home automation include:
Lighting Automation Controllers
Smart Device
Smart Touch Switches
Smart Touch Panels
Curtain Controller
IR Blaster
RGB Automation
Scene Controllers
Door Lock controllers
Along with Alexa, Google Home, and remote controls, the Smart Node application can be used to control linked appliances.
Glass, acrylic, veneer, marble, and other materials are among those used in Smart Node's Touch facility. The color and the icons can be changed based on the current load.
With drivers created for interoperability with wired controllers like Control4, Elan, and Creston, Smart Node also supports IFTT and NFC tags.
Other amazing features include speedy delivery and touch panel customisation, sophisticated and stylish hardware, and compatibility with several industry platforms.
The Growth Trajectory: Past, Present, And Future
For the past five years, Smart Node has operated in this market. The company has created a wide variety of cutting-edge goods with flexible customisation options. With its channel partners, the startup has had great success establishing enduring friendships and trust over the years.
Smart Node has crossed the breakeven point and reached the milestone of earning profits. The business is currently entirely self-funded. However, as profits are no longer enough to expand the business, it will look for outside funding in the coming months.
Smart Node has effectively established a solid reputation in the market among its partners and employees when it comes to the trust aspect. It has a very high rate of staff retention. Many of the current staff have been with SmartNode since the beginning.
The startup is doing its share to have a good effect on the economy of the nation. The fundamental idea is to promote economic expansion in India. In its industry, Smart Node is steadily reducing its reliance on completed goods imports by producing them on-site.
By integrating the greatest technologies, Team Smart Node is committed to giving its clients the best user experience. The business intends to make homes smarter in the future by introducing dimmable drivers for lights, sensors, and KNX actuators.
After 5 years, Smart Node is optimistic about reaching a yearly turnover of 500+ Cr and making people's lives easier and better.