Summer is just around the corner, and with it comes the ever-growing thirst for something fresh.
We don't mean thirst for new entertainment, but also thirst in its literal sense. As we inch closer to the new summer, what you'll ask for is a refreshing drink.
In the last several decades, the Indian non-alcoholic beverage sector has come a long way. The industry saw numerous multinationals, including Coca-Cola and Pepsi, enter the market in the 1990s.
They brought with them not just the promise of cool drinks but also their fun and popular branding. In the west, and later in India, brands like them became pop icons. Since then, a number of Indian and global multinational corporations have attempted to get a foothold in the rapidly expanding sector.
Today, young homegrown firms are looking to establish a strong beverage brand in the country. The non-alcoholic beverage industry in India is one of the fastest expanding in the world, thanks to a number of variables.
It is a desirable market because of its favorable demographics, long summers, and increased expenditure on packaged goods.
Throw in attractive and sustainable product packaging and size developments that make the products affordable. This segment's expansion is likely to drive demand for non-alcoholic drinks to new highs in the coming years.
Besides carbonated drinks, fruit juices and mocktails have gained traction in the market. They appeal, especially to younger generations. This is the niche J.A.B Rocktails is cashing in on. They are making a splash in the mocktail scene. Let's find out how.
From the startline
J.A.B Rocktails is a brand under the Goaah Ventures LLP. The parent company was founded in 2020 and is a Goa-based FMCG (Fast Moving Consumer Goods) startup.
Varun Krishna, who has over 19 years of experience as a marketing specialist with top firms throughout India, and Sameer Seth, who has 20 years of experience in the AlcoBev industry, manage the company. External consultants with expertise at Diageo and Beam Suntory assist the firm.
In September 2021, the parent company announced launching J.A.B Rocktails. J.A.B is short for "Just Add Buzz", and their drinks represent the fun, beachy holiday vibe of Goa. Goa is synonymous with fun, freedom, and relaxation, and J.A.B Rocktails captures just that.
Rocktails come with no rules. Chill it, pour it, drink straight up or J.A.B it. It's your drink, your way!
According to founders, people always look for new beverage alternatives with enticing flavors. Consumers want to explore these drinks as mixers for alcoholic cocktails or non-alcoholic thirst quenchers.
There has been plenty of traditional carbonated beverages and packaged fruit juices, which is where J.A.B Rocktails come in to shake things up.
What Goes In The Bottle?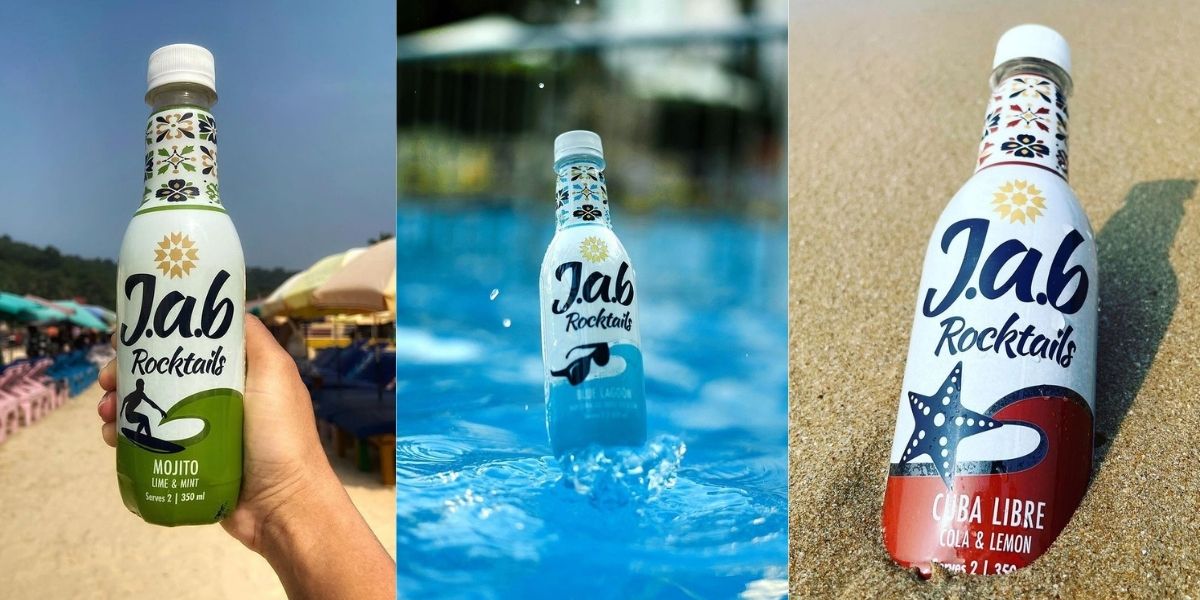 J.A.B Rocktails are available in four fruity flavors: Cuba Libre, Mojito, Cosmopolitan, and Blue Lagoon, all inspired by the beach vacation mood of Goa. These new mocktails and mixers are ideal for drinking at home, on the go, and at events and parties.
What distinguishes J.A.B. Rocktails from other beverages on the market is its distinct flavor profile, which is derived from top ingredients acquired all over the world. Their signature drink is Mojito, which has a flavor profile of lime and mint.
Various mixer brands are now available on the market, but unlike other products, J.A.B Rocktails is suitable for both drinkers and non-drinkers.
Since the drinks can't be considered either mocktails or cocktails, they are called Rocktails! In comparison, other mixers are better used only with alcohol. This cuts the target demographic significantly, as underage people and non-alcohol drinkers can't consume them.
J.A.B Rocktails drinks are vitamin C-fortified and may be enjoyed on their own or combined with white or black spirits without any expertise or preparation.
Each 350 ml bottle creates 2-3 mocktails (or cocktails) and is available at an introductory price of Rs. 75, making it a flexible and value-for-money offer.
Their product packaging is attractive and oozes 'fun'. Just a look at their fun Instagram feed will convince you of their drinks' versatility and is sure to make you thirsty! They share recipes for various drinks that can be made with their mixers on their page.
Surfing To The Future
The drinks were formerly available just at stores across Goa. Today, J.A.B Rocktail's official website ships them pan-India. The business thrives on its D2C model.
The country is witnessing a rising trend of customers purchasing groceries and drinks through online channels and hyper-local delivery platforms. This will be one of its primary emphasis areas to develop its presence and enhance brand recognition.
In the near future, the firm wants to expand its reach and go into additional value-added drinks. The company wants to take the spirit of Goa across the nation. Given the expected statistics on the market, this can be achieved soon.
In 2021, the non-alcoholic beverages market in India was worth 890 billion rupees, and it is predicted to increase at a 7.44% annual rate (CAGR 2021-2026, statistica.com), making it one of the world's fastest-growing markets. According to Goldstein Market Intelligence, the market will be worth $20.4 billion by 2030.
Whether you're craving a bit of lemon, lime, mint, or cranberry, you can count on J.A.B Rocktails. Order online and grab a bottle; you can enjoy them as is, or Just Add Buzz!