With the recent inflow of multinational cafe and bakery companies in India, on-the-go cuisine has grown popular over the last decade.
Because of their hectic lifestyles, Indian customers value convenience, and baked goods and other desserts are fast-moving consumer goods (FMCG). Hence, bakeries and cafes are popular choices.
While there is a need for bakery products, the Indian bakery business confronts several obstacles. With around 2,000 organized or semi-organized bakeries and 1,000,000 unorganized bakeries, the industry is traditionally split into organized and unorganized.
The shortage of technology and experienced people and operational efficiency are important issues in the sector.
However, Indie bakery shops are gaining immense momentum in the country. Mandy's, a startup bakery in Andheri that opened its doors to customers recently, sold out within hours on the first day and had customers waiting in a line to get a glimpse of the magic within.
Founder Amanda Divecha talks about her lifelong entrepreneurial dream and passion for baking, and how she realized both of them within the pandemic.
"I chose the name "Mandy's" back in grade 7 when my school hosted an entrepreneurial guest lecture. Right then, I knew that entrepreneurship was my calling. Years later, Mandy's is a dream come true. I baked my first cake at the tender age of 7 with the help of Dia Mirza at a cake class my mom signed up for, and I was a tag-along for. Ever since then, we've come a long way. I thank my parents (Leon and Tressa), who are the backbone of this business, for putting their expertise in and supporting my dream every single day."
Hospitality and the lockdown
India has a huge demand for baked goods and desserts, yet the resources to produce them are scarce. Baking as a profession has existed in India since ancient times, yet, it is not taken as seriously as a modern profession. Divecha states that the biggest challenge her family faced was finding skilled staff and having Mandy's vision in mind.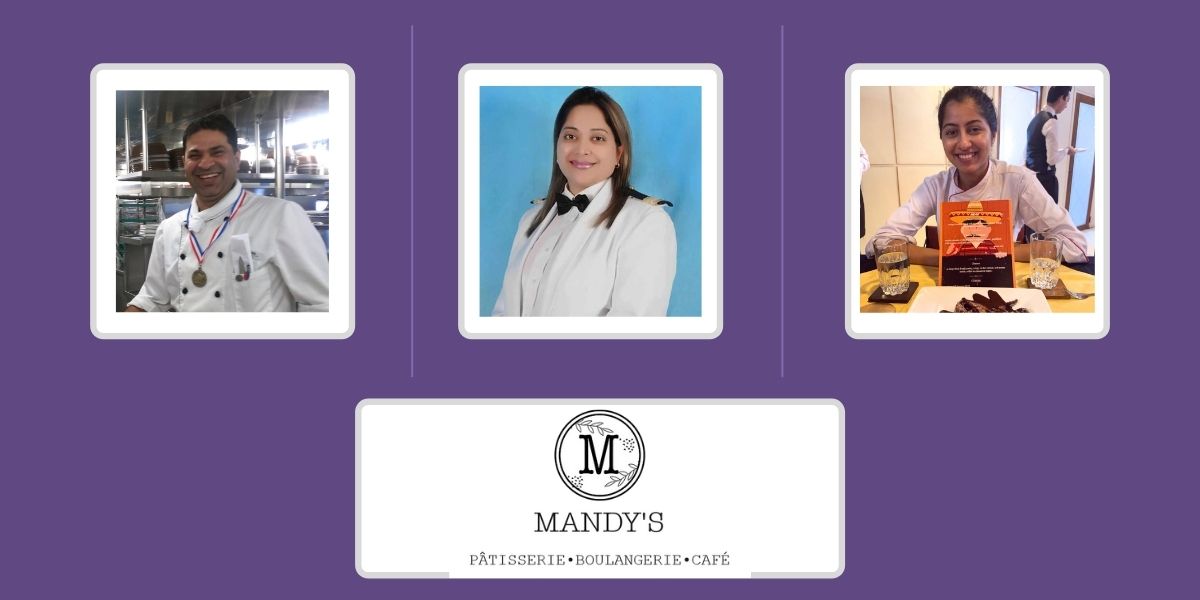 Hospitality runs in the family for Amanda Divecha. Her father Leon was part of Carnival Cruise Lines as a chef for 20 years, while Tressa was a bar manager for Disney Cruise Lines. For years, the family ran a B2B business. However, with Mandy's, they wanted to explore retail. Currently, Mandy's follows a B2C model through its outlet and also caters directly with businesses that have bulk requirements for desserts.
Divecha herself is a hotel management graduate from Sophia HAFT. Divecha interned with Grand Hyatt Mumbai whilst helping her family business since her college days.
While excellent staff, management, and determination are the star ingredients of this sweet startup recipe, Divecha says they owe their success to the lockdown as well.
"If not for Covid, I don't think I would have Mandy's today. It was during the lockdown that we decided to take a huge leap of faith and began to conceptualize Mandy's. However, the picture was not all rosy. It took us a year to open our doors to customers on a daily due to strict lockdown rules, staff leaving to go back home to their families in the village due to really slow business."
Divecha recalls the fear of almost giving up on her dreams.
"We incurred a lot of losses because of rent and staff salaries. There was a point where we thought of letting go of the whole idea but I believe that if you truly want something you will make the world topsy turvy to get it your way. We got our way."
India's affair with baked goods
Pushing through all odds, the startup did very well on its opening week. Their central kitchen is based in Andheri, Mumbai. The freshly made food is transferred to their shop in Borivali where customers buy them.
According to Divecha, Mandy's looks forward to providing consistently good products at reasonable rates and creating a loyal customer base to attend to.
In India, the baking business is being shaped by changing customer preferences and lifestyles. There is a growing need for healthier products and alternatives, particularly when it comes to bakery items, which are now more widely consumed daily rather than as a treat, as part of a global trend.
Due to increased consumption rates, customers are increasingly demanding gluten-free items or goods created with alternative components such as multigrain and whole-wheat. Along with healthier alternatives, millennials, in particular, are constantly on the lookout for new flavors and experiences, making flavor innovation crucial. Mandy's, on this frontier, won't disappoint customers at all.
"At Mandy's, we believe in the use of good quality ingredients and hygienic practices. Quality, quantity, and reasonable pricing whilst providing top-notch service and a dynamic environment for our workforce are what drives us.", its founders tell us.
The future of baking
Social media is being extensively used by organized bakeries in India to give focused and cost-effective marketing. Local bakery cafés are relying on word-of-mouth referrals and social media participation instead of traditional marketing since they lack the vast resources of larger companies. Smaller bakeries often focus on quality over quantity by tapping into the artisanal sector.
As of now, Mandy's is accepting pre-orders through their Instagram page and direct calls. Customers can also directly walk into their store for purchases. They are working to start taking orders through the website soon. Divecha says:
"Currently we do not have any kind of loyalty program or benefits that we could provide customers. However, we do have weekly promotions and hand out complimentary items to our regular customers." 
The Indian bakery industry is expected to grow at a rate of 9.3% from 2019 to 2024, with a projected market value of more than USD 12 billion by 2024. With the rise of local organised bakeries, we can expect to see this estimated stat realised.
Mandy's expects to expand to other parts of Mumbai, such that there is always a Mandy's "near you" for you to enjoy their magic.