How do you like to start your day?
Perhaps with a cup of instant coffee to wake up your senses and lift your mood. But is instant coffee the right choice you are making?
The fact that it is readily available and cheap may lead you to believe that it is the easiest way to create your favorite beverage. No more! Now, there's a healthier and more delicious alternative – Bili Hu Coffee.
A cup of Bili Hu Coffee is the perfect way to start your day, whether you like to sit back and sip your coffee or grab a cup before you rush out the door. A burst of flavor from the brewed coffee fills your mouth and gets you ready for the day.
Bili Hu Coffee is more than simply coffee and is best described by starting from the beginning and continuing till the end.
Not Just a Product, But a Lifestyle
Like you and most of us, Bili Hu Coffee shares the love and passion for a good cup of coffee. Coffee makes you believe in the magic of beans and how it has been a part of human civilization for centuries.
As a start, Bili Hu Coffee brings attention to the quality and taste of coffee, as well as how it must be filtered, similar to chai or Indian tea.
What is more special is that the company seeks to bring a cup of refreshing low-calorie coffee that can be made at home with little effort while being sustainable. The cup of coffee sitting at your table will also be therapeutic while you brew it or simply provide comfort later on with its aroma and taste.
If you are a regular coffee-drinker, or someone who has till now enjoyed their cup of tea every morning, Bili Hu Coffee aspires to make you change your routine and add their product to your mornings.
Bili Hu Coffee offers premium single-origin coffees in addition to balanced blends in hotels, restaurants, and cafés that are easily accessible. Apart from espresso machines, they also encourage you to try brewing coffee with manual filters.
Making Brewed Coffee a Morning Routine
Among mankind's most complex beverages is coffee. There's a lot that goes into every aspect of its production, harvest, storage, grinding, roasting, brewing, and even serving, and it all impacts the final taste.
Moreover, it was difficult for Indians to access the immense amount of agricultural wealth, and Bili Hu Coffee company was among the first to bring it to the market.
The founder of the brand Bili Hu Coffee and company is Bharat Singhal. He started his journey with the Coffee Board of India while working as an environment designer.
As a complete novice in the coffee industry, he became keen to learn about the retailing of quality coffee. With time, Mr. Singhal became passionate about creating blends, trying out roasts, and developing new flavors.
Brand names are highly symbolic and have a deep connection to a company's guiding principle. So is true for Bili Hu Coffee as well. Bili Hu is a Kannada word originating from the state of Karnataka in India, where coffee was first cultivated.
'Bili hu' is a white flower that signifies what the yield would look like in harvest season.
By using various forms of new media such as social media articles, posts, forums, blog articles, blogs, and videos, they strive to educate consumers about the same.
A video tutorial is needed for each coffeemaker and coffee. In order to do this,  they are seeking to educate you regarding the need to learn about coffee's farm-to-table origins first.
Reaching Beyond The Morning Table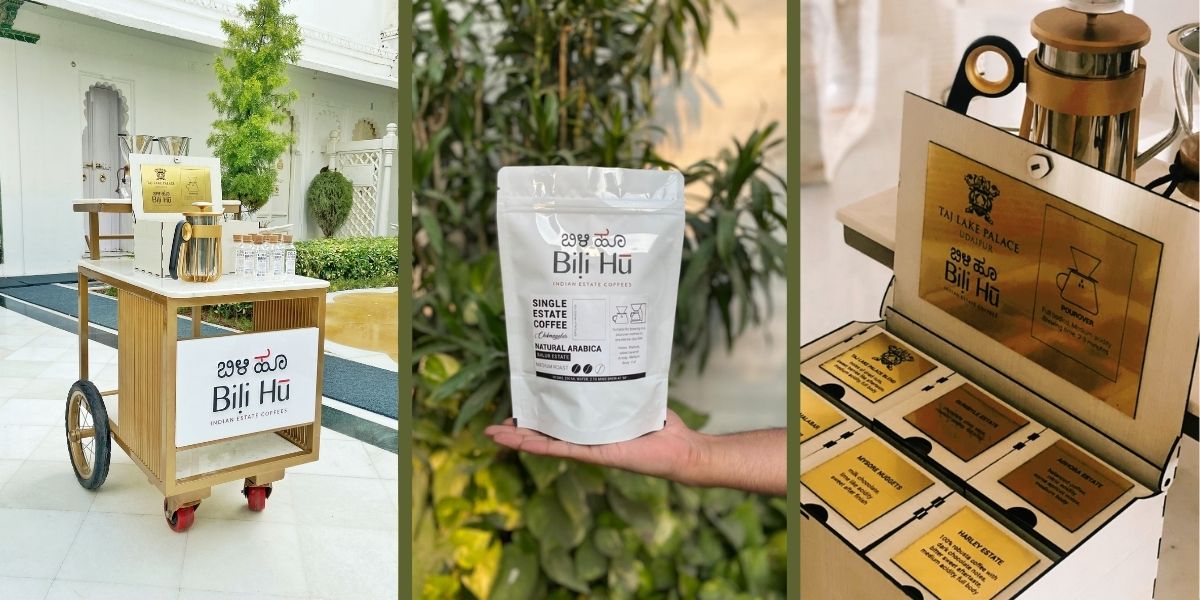 Gourmet cafes throughout India, award-winning restaurants, and ultra-luxury hotels are to be found among their clients. The company curates extensive coffee menus and sources and supplies the world's best coffee makers. They ensure their coffee selection has a USP.
Training takes place at their end, so that hotels, restaurants, cafes can pass it on. In order to achieve this, they need to dedicate time, energy, and skills. As well as coffee brewing skills, they also provide staff with soft skills and presentation training.
The company also organizes virtual sessions/workshops for corporate groups working from home, in which each participant receives a hamper containing coffees and coffeemakers, and they all brew coffee together on group video calls.
Bili Hu Coffee sells roasted and blended coffees, as well as branded coffee packs that bear their logo and brand name. You can see them at events and weddings. The brand is chic and aspires to grow and fit into a lifestyle rather than just being a product.
Success Through Planning
The company has big plans ahead of them in the not-so-distant future. To start with, it is Bili Hu Coffee's intention to develop videos and tutorials on how to make simple and easy-to-follow instructions for brewing coffee using a channi.
As well as digital marketplaces, they sell directly to consumers through their own websites. Their goal is to be on 200 Websites by August 2022. They have currently featured on over 50 digital marketplaces.
Also, they are working on helping people make amazing coffee at home using dip bags. A facility/academy will be built by the company so that baristas can be trained and coffee consumers can interact in the best ways with coffee and employees.
They hope to provide seamless delivery of these existing experiences, as well as develop new and more products for their company to generate revenue. Furthermore, they have partnered with multiple brands simultaneously with the aim to increase their product sales through co-branding.
It does appear that Bili Hu Coffee and company have a bright future and are certain to succeed. The well-designed business model and sheer determination to reach every table at the start of the day make their brewed coffee worth a try!