Wrist watches have transformed into fashion accessories rather than timekeeping devices. Their popularity has grown significantly, which can be attributed to celebrity endorsements and brand consciousness among Gen Z and millennials.
The watch industry is expected to generate a revenue of US$1.84 billion in 2023. The industry is expected to grow at a CAGR of 6.14% between 2023 to 2026. These numbers present an opportunity for players to enter this market and capitalize.
One visionary leader in the Indian watch industry who has synchronized success with style and emerged as a key player in the segment is — Shreya Jain, the founder and Chief Marketing Officer of Jainx Watches.
Over the past 8+ years, Jainx Watches has grown significantly under Shreya's leadership. They are setting benchmarks in terms of quality and elegance with their stylish products, such as couples watches.
The Genesis of a Timekeeping Legacy
Jainx Watches was founded when Shreya decided to blend traditional craftsmanship with modern technology. She aims to create symbols of style and sophistication by building something more than just watches.
Her watches are perfect for those who appreciate luxury and precision. Her journey began with a simple idea—watches that tell time, tell stories, and stand the test of time.
A Symphony of Success
Under Shreya's direction, Jainx Watches has achieved several accomplishments. Sales figures have skyrocketed, new markets have been penetrated, and a loyal customer base has been built — one that sees Jainx not just as a brand but as a beacon of luxury.
Jainx achieved many industry accolades. However, for Shreya, the true reward has been the loyalty of their customers who choose Jainx over other brands.
The Unique Timepiece Tapestry
Jainx Watches focuses on its unique selling proposition: a perfect fusion of age-old artistry with modern technology that is visible in its innovative designs. This USP isn't just a statement but a commitment to provide the best to their users.
This commitment has provided an exclusive niche for Jainx – a brand that doesn't just tell time but is a symbol of luxury.
The Heartbeat of Jainx: Shreya Jain's Craft
Shreya herself has shaped and developed the brand's identity. Her finger on the market's pulse and an intuitive grasp of consumer desires have led Jainx's collections to be both trendsetters and timeless.
Starting from the initial concept to the production stage and ultimately to the customer's wrist, Shreya's commitment to delivering the best is clear.
Her leadership has established high standards that inspire Jainx Watches to not only meet customer expectations but also to exceed them by creating products that fulfill their dreams.
The Expertise That Sets the Clock Ticking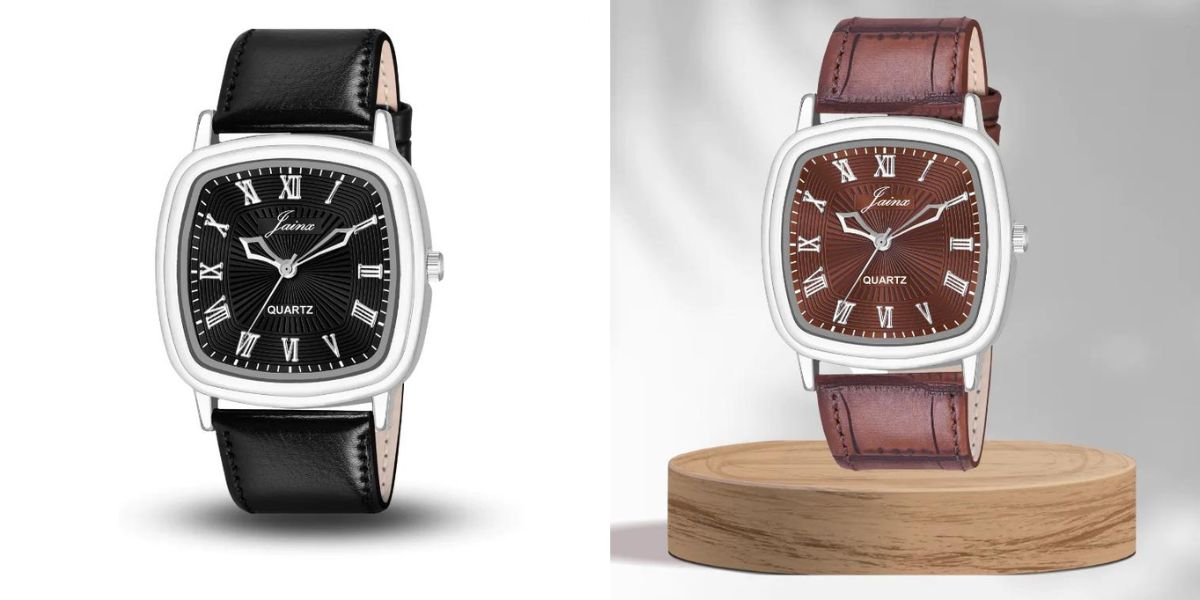 Shreya is a one-man army with knowledge in product development, strategic marketing, and consumer engagement. She is the leader behind all Jainx's operations.
She has a knack for spotting and setting trends. In addition to that, her aptitude for strategic alliances and team leadership have been the gears propelling Jainx's unwavering success.
A Clientele as Diverse as Time Itself
Jainx has a diverse group of customers, just like a watch's hands that move at different moments. Whether you're someone who loves watches and pays attention to every little detail, or a fashion enthusiast looking for a watch that matches your style, Jainx has something for you.
Apart from the individual shoppers, many brands have partnered with Jainx as their gifting partners. They use Jainx watches as a way to show appreciation or as corporate gifts that represent their high standards and accomplishments.
And there's a special category of watches that's gaining popularity in recent times: couples' watches. These watches bring joy to many people and are designed for couples to wear and share special moments.
The Tale of Time Told by Jainx
Shreya Jain's branding story with Jainx Watches is not just about creating timepieces; it's about creating something that carries forward her vision of perfection and elegance.
Each watch from Jainx not only marks time but also celebrates it. These watches signify their creator's passion and the wearer's aspiration through their artistic designs and technology.
In a world that relentlessly races against time, Shreya Jain and Jainx Watches remind us to cherish it with style and live it with elegance. Whether it's couples watches, corporate style, or style watches, each of their watches is a symbol of timeless beauty and luxury.
And as the hands of time continue to turn, Jainx Watches promises to keep ticking along, keep providing the best, and spread the legacy of their founder—a timeless legacy.