Nowadays, it's incredibly hard to live a healthy lifestyle, especially for kids.
We frequently hear people lament about exhaustion, weight gain, and joint issues. Parents across the country complain about tooth decay and fatigue their children are experiencing.
A young couple, Shrey and Urvashi discovered the causes after conducting extensive research to be a lack of physical activity and an addiction to sugary packaged snacks, chocolates, and junk food.
Shrey had a strong presence on Instagram as a health influencer, Urvashi had the creative chops needed to run a business, and most importantly, they had an Indian Nani, whose delectable yet healthy snack recipes led to the creation of Trick Or TREAT Foods. Let us find out more.
Founders Behind The Treats
Shrey Arora is the Co-Founder & CEO at Trick or Treat Foods Pvt Ltd. He earned an MBA from IMT Ghaziabad after finishing his engineering degree and later worked for Genpact and Maruti Suzuki India Ltd.
Shrey had a keen interest in value investing (stock market) while working for Maruti. Getting to thoroughly examine a number of companies from various industries has been a rewarding experience for him. He discusses how much relevant knowledge he acquired during the procedure.
Then, Shrey researched extensively about various companies, their distinctive marketing strategies, and the founders' stories of success and failure. In April 2020, he launched a company page on Instagram, which eventually grew to 50,000 followers.
Because it helps to learn more about growing his business and digital marketing, he also enjoys watching YouTube videos and signing up for courses.
Urvashi Srivastava is the Co-Founder & Creative head at Trick or Treat Foods Pvt Ltd. She's been drawn to creativity her entire life. She and Shrey are married.
She has a degree in petroleum engineering and spent five years working in the oil and gas sector, but she wanted to pursue something that inspired her to be more creative.
She enjoys designing; therefore, she decided to start her own Designer Label of Ethnic Wear in 2018 after leaving her corporate job. She also enjoys experimenting with cuisines to develop new, delicious yet nutritious meals.
Since Trick Or TREAT Foods is a new company, the majority of the production is carried out internally.
Urvashi, who is self-taught in graphic design and photography basics, has been handling all of the Trick or TREAT shoots internally, in addition to packaging design, website design, and content generation for advertisements.
Bringing Back The Tastes of Childhood
When Shrey first tried Urvashi's Nani's homemade aam and imli candy, he was struck with nostalgia and inspiration.
He wished everyone would at least taste them once because they were so delicious. He was reminded of how his own Nani also used to prepare delicious homemade sweet delicacies during the summer.
Indian grandmothers are renowned for their "desi nuskhe" and age-old family recipes. Shrey and Urvashi came to the realization that these sweets would become a more delicious and healthy alternative to the chemical- and sugar-filled candies if they could be sold as fruit bars.
Although the concept sounded promising, the execution was initially very challenging. The two founders sought to create junk-free, all-natural Roll-Ups. This ensures that it is made without processed sugar, artificial flavors or colors, or preservatives, just like Nani makes it at home.
Numerous brands sell sugary, flavorful, and colorful candies on the market. Consequently, it can be difficult to get people to comprehend why Trick Or TREAT Foods' offerings are better.
Diving Into Healthy Snacking
"We hate it when big brands trick customers to sell snacks loaded with refined sugar, preservatives, chemicals for mere profits."
This is what Shrey and Urvashi staunchly believe in.
Through research, they discovered after examining the labels of popular snacks that the majority of the well-known brands of sweet snacks are laden with sugar, preservatives, colors, chemicals, and artificial flavors.
This made them reflect on how much junk and chemicals we inadvertently consume, particularly as youngsters who are introduced to such chemical-filled sweetmeats at an early age. The absence of healthy snacking options is the main source of worry for people, particularly parents.
The two decided to offer both children and adults cheap options for healthy snacks, with the assistance of their Nani. Trick Or TREAT Foods is dedicated to assisting individuals in fostering greater dietary awareness.
Only healthy treats, not the tricks major manufacturers try to sell you in the name of health and flavor. This is what Trick Or TREAT Foods promises.
A Peek At The Products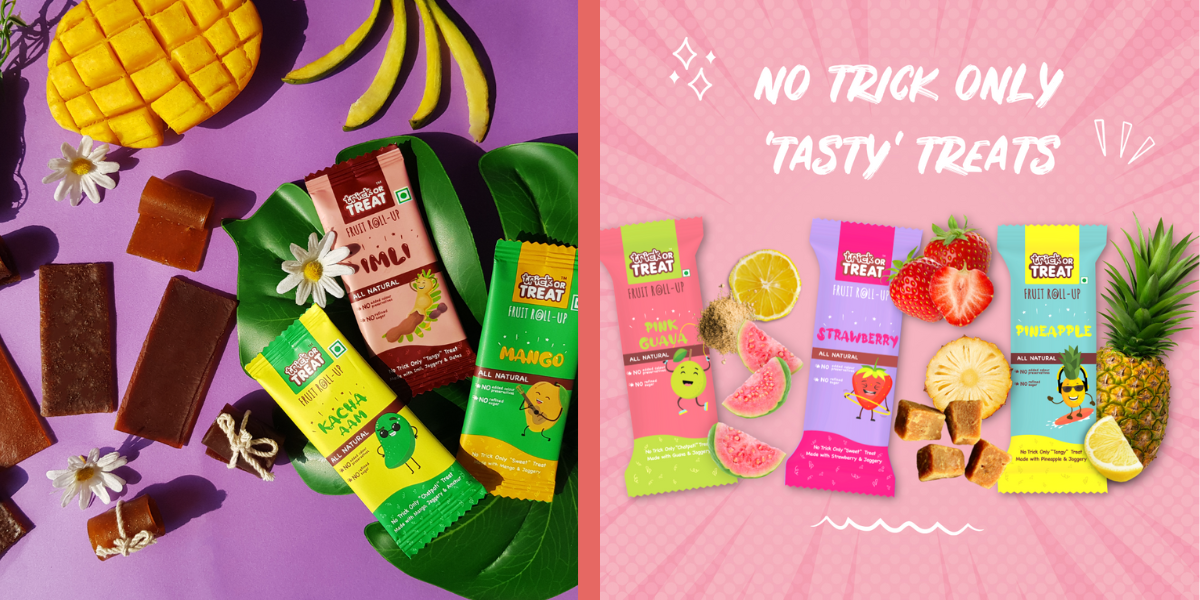 Currently, Trick Or TREAT Foods offers two lines of products, namely fruit roll-ups and energy bars. All these are made with 100% genuine ingredients, with no preservatives or artificial flavours. The ingredient labels for the products are absolutely transparent and simple.
Flavours in the fruit roll-ups include Mango, Kacha Aam, Imli, Pink Guava, and strawberry. Ingredients include real fruit pulp, spic mixes, jaggery, and fruit pectin.
The Coco Energy Bars include six flavours, namely Choco Chip Brownie, Coconut Crush, Almond Coconut Pie, Fruit and Nut, Coffee Tiramisu, and Crunchy Peanuts. These are made of dates, roasted Bengal gram (chana sattu), extra virgin coconut oil, nuts like cashews and almonds, and natural cacao and coffee.
The products come in affordable variety packs and combos and boast highly rated reviews. All of Trick Or TREAT Foods' products are currently available on their website and also on Amazon.
Witnessing Booming Growth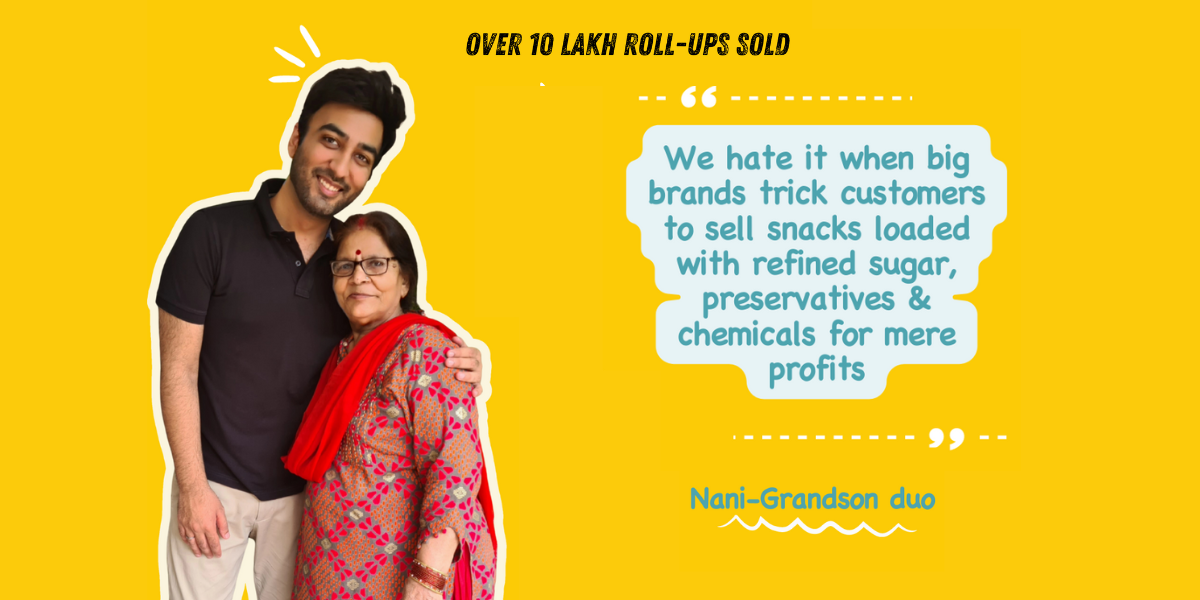 In just 7 months, Trick Or TREAT Foods has sold more than 10 lac fruit roll-ups both offline through distributors and online through its website and Amazon.
More than 200 wholesalers have so far inquired about working with the startup to sell their goods in local markets. So far, there has been a colossal response.
Following the popularity of its three original flavors—Mango, Imli, and Kacha Aam—the brand introduced two additional flavors in July: Strawberry and Pink Guava.
Thanks to Urvashi's Nani's delectable recipe and a lot of love, the fruit roll-ups have quickly become a big hit. After receiving such a positive response, the founders intend to introduce more kid-friendly healthy snacking options in the future.