Working remotely has its benefits—the biggest of which, without a doubt, is working from the comfort of your den.
However, this luxury can turn into a missed opportunity if you are not productive or organized. You don't want that, do you?
So, let us help you out.
1. Stick To Your Morning Routine
While it is natural for you to feel lazy in the morning when you don't go to the office, it is important you hold onto your horses. Set an alarm at the same time as you would if you were going to your office and stick to your usual morning routine. This way, you can mentally transform your home into your office.
Although it is not necessary that you dress up for work, simply changing into a fresh set of clothing can put you in the right mindset for the day. It's a great way to say goodbye to laziness and start feeling energized instantly, right?
It's almost as if our brains are wired to make decisions based on our appearance.
2. Set Goals On A Daily And Weekly Basis
Every day, take some time to jot down a list of goals you want to accomplish in your work. Use these everyday goals to build a bigger goal to be achieved related to your projects and assignments in that week. This will help in completing your work without getting distracted.
3. Take Breaks
This might sound like an irony when working from home, but sometimes we end up working for long hours without sufficient breaks. Tired eyes and minds negatively impact productivity and performance.
So, make it a point to take a short 5-minute break between tasks to walk around and relax your mind and body. This not only rejuvenates your brain but also prevents burnout.
If you tend to lose count of time when working remotely, use time management techniques like the Pomodoro method to monitor how much time you are spending on various tasks. The idea is to improve concentration and productivity by working in focused sprints of 25 minutes and taking short breaks of 5 minutes—repeat the sets 4 times to complete 1 Pomodoro.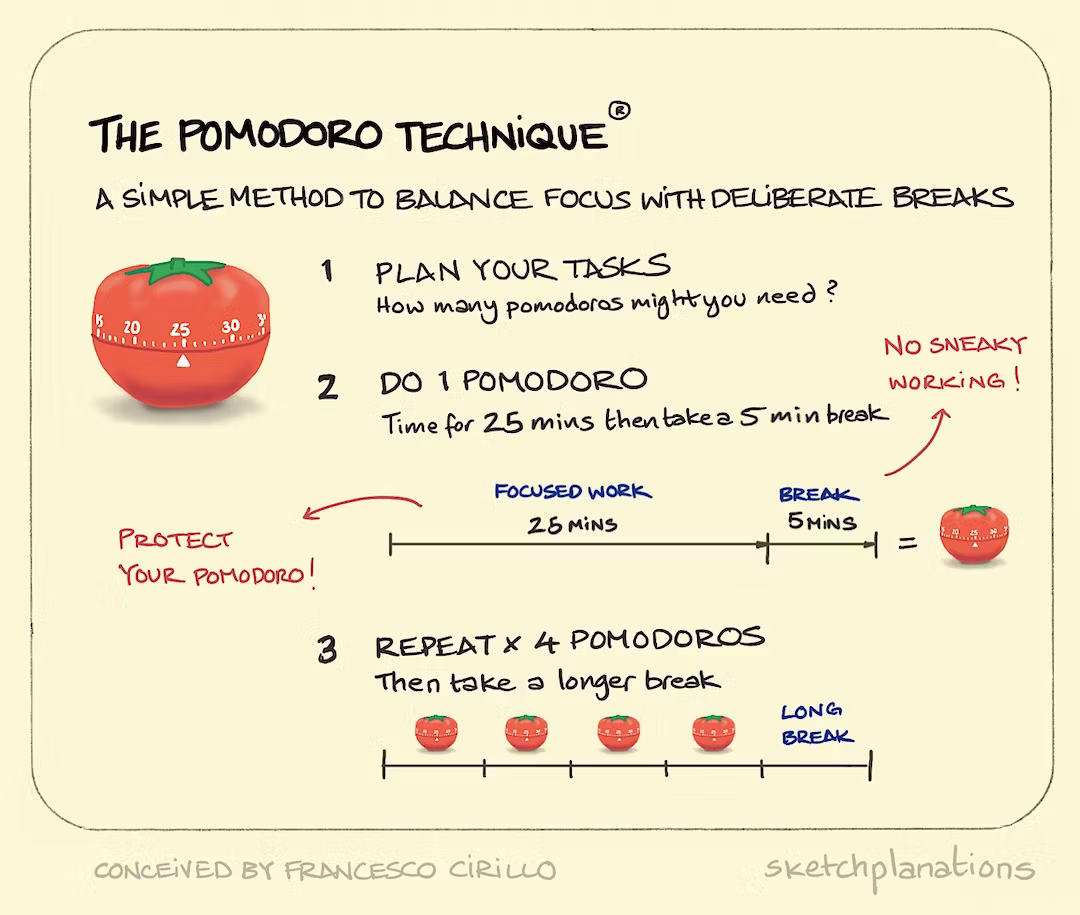 4. Have A Designated Workspace
The comfort you can get by working from anywhere, like the kitchen, living room, or bedroom, is the greatest perk of working from home.
But this comfort comes at the cost of productivity and dedication. Just lounging around the house leads to distraction and subpar performance. So, choose an ideal location as your workspace and stick to the location when you work. Create a workspace in a separate room or anywhere without noise or distraction.
Isolate your workspace and make sure it is off-limits for others when you are working.
5. Have An Organized Workspace
Keep your workspace clear of clutter; make sure your desk is clean and files/paperwork are organized. This saves you time, and you do not have to spend eons looking for an important file.
You can invest in a good storage system if your room is big enough, otherwise, simply store your work documents separately using manila folders. Stay consistent with your organizational approach to ensure you are disciplined and focused.
6. Step Out Once A While
Use some of your breaks to step outside and enjoy the fresh air. It rejuvenates your mind and helps you focus better. Taking outdoor breaks is an efficient way to reduce stress as the cool breeze, greenery, and chirping of birds can unwind your body and mind—which is very important when you are working from home.
7. Invest In A Sturdy, Height-Adjustable Desk
Nobody likes to sit in an uncomfortable position for long hours. There are height-adjustable desks available in the market that are sturdy, efficient, and durable. Such height-adjustable desks are a perfect solution for people who wish to calibrate and customize their work desks to their comfort.
Find a trusted store to buy WFH furniture and build yourself an enviable home office that makes you want to work.
8. Get Yourself Comfortable With Ergonomic Furniture
It is common for individuals working in front of a desk for long hours to develop eye strain and other bodily injuries.
For example, poorly-designed furniture leads to Uncomfortable postures, making your home office conducive to neck and back problems.
Get yourself top-quality ergonomic furniture to ensure your neck and back is supported adequately.
Ergonomic furniture cushions your lumbar region, and the footrest which often comes with the furniture, offers stability and comfort. Make sure you buy home office chairs and tables made from top-quality, medical-grade material for better efficiency.
9. Stock Up On Gourmet Snacks And Wellness Products
A healthy mind and a healthy body are the two fundamental elements of our well-being. Snacking is something that each of us loves and looks forward to, but most of us don't snack right. We end up stuffing our system with junk and unhealthy food, which in turn affects our health and performance. Healthify your stash with nutrient-rich, gourmet snacks like nuts, dry fruits, popcorn, and so on.
Also, make sure to give yourself valuable wellness products like essential oil humidifiers, lip balms, rejuvenating spa products, etc. so you can work from home without giving up on your health and wellbeing.
10. Have A Scheduled Eating Routine
Schedule your meals at proper intervals to avoid starving while engrossed in work. Stick to your meal plan every day. This way, your body gets used to a healthy routine. Also, this helps you plan your breaks where you can sneak in your workout or other relaxing sessions.
11. Enroll In Online Training
Consider participating in professional development or other online programs to enhance your skills and further your career. Utilize your remote working opportunity to advance in your career by improving your industry knowledge.
12. Collaborate With Your Colleagues Virtually
Use any video conferencing platform to meet your colleagues virtually at least once a week. Talking to each other and having a verbal conversation will help your team plan and schedule your work effectively. Regular face timing will also help you stay connected with your office and not feel isolated.
13. Have Reasonable And Consistent Working Hours
Losing track of time happens when you are completely focused on work. This is not a healthy practice. Dedication to work is good only if it is not overdone.
So, stick to your working hours and pour in your passion during these hours. Once your working hours are over, switch off your mind from work and spend time with your family. Work-life balance is very essential when you are working from home.
Extend your working hours only when you have additional work. Not doing so can lead to mental and physical exhaustion.
Here are some additional tips you can follow:
Always set your alarm one hour before your office time.
Utilize this time to freshen up and plan your work for the day.
Set a timer for the closing time before starting your day's work.
Give your complete focus and dedication during working hours.
Shut down your system immediately after the timer goes off.
Step out of your workspace and call it a day. Spend time for yourself.
Final Words
The majority of businesses had to resort to remote work owing to the pandemic. Even now, most companies prefer a hybrid work culture where employees are given the option to work from the office or home. And guess what? Most employees prefer working from home.
Work from home, when done efficiently and in a systematic manner, has proven to deliver better efficiency and productivity.
However, care should be taken to have an organized work schedule to make sure you don't overwork or show lethargy.