Startups are risky projects by default: 20% fail until the end of the 1st year.
Running out of investments, no product-market fit, getting off the competition, or facing regulatory challenges are a few of startups' failing reasons.
Though, promising projects led by talented people and required on the market are exposed to failure due to lack of knowledge and weak management. One of the ways to eliminate risks without affecting quality is to cooperate with a talented Chief Technology/Technical Officer (CTO).
In this post, I will discuss the CTO's skills, responsibilities, and traits, as well as when businesses need a technical director. You also find a couple of tips on how to find a good CTO.
Core Roles and Responsibilities
Before looking for a Chief Technology Officer, you should be familiar with responsibilities that CTO conduct within a startup. To make this section as valuable as possible, I'll limit CTO's responsibilities to technical leads' ones.
CTO's Responsibilities
MVP development
Before addressing investors, it's essential to develop a software MVP to ensure stakeholders that your project is worth money. The CTO is often in charge of creating a software MVP.
Apart from managing the development process itself, they may select the required tech stack for the specific project or even take the role of any programmer to fill the talent gap.
Architecture updates
Even after you release your application, its architecture may require some adjustments. Thus, to make the most out of further product development, CTOs start taking care of architecture development by themselves.
DevOps tasks
DevOps specialists are often a dream for most startup companies. CTOs carry out all DevOps tasks until the organization finds a dedicated specialist. These tasks include domain and SSL certificates management, server configuration, database maintenance.
Software testing
As in the case with DevOps specialists, QA engineers are rare guests in early-stage startups. Hence, oftentimes testing and bug fixing tasks are handed out to CTOs. Since CTOs are responsible for the app's architecture creation, they can conduct effective system tests.
Recruitment and onboarding
Assembling a professional team is a challenging and responsible process. Business owners need to define what they want from a new position to hire the best tech talents.
The success of employing talented specialists is understanding their needs and clarifying what they will be responsible for within the startup. Recruiting tech talents often falls on a CTO's shoulders. Their main goal is to set up effective hiring, onboarding, mentoring processes to attract best-fit candidates.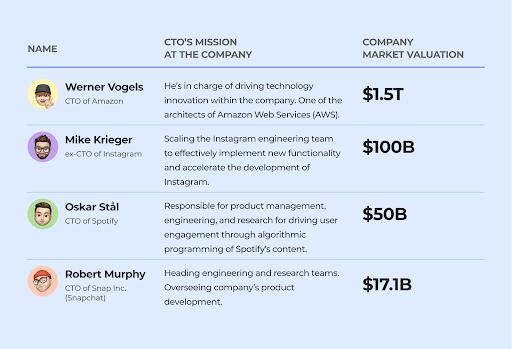 Skills Required by CTOs
As you've noticed, the CTO is responsible for a broad scope of work. Thus, before cooperating with the CTO, think of what skills you should consider ensuring that a startup initiative will succeed.
Proficient in technologies
Since Chief Technology Officers make business-critical decisions, understanding of technology is a must-have skill.
Besides, a CTO should be aware of all nuances of the software development life cycle. In addition, the CTO has to be familiar with programming languages and frameworks, cloud technology, etc., for selecting the appropriate tech stack for the various projects.
Comprehensive programming and QA knowledge
The CTO often replaces the software engineers in the early startup stages, so strong software development skills fit right in. In addition, MVP development requires a thorough knowledge of multiple tools, technologies, and methods to establish a smooth development process, thus, accelerating the project-to-market time.
Moreover, to launch a working, bug-free product, the CTO should be proficient in software testing to detect and fix bugs that may arise throughout the development.
Deep project and team management skills
A good CTO should have strong management and leading skills to establish an effective and productive internal workflow, so that product creation works like clockwork to address strict deadlines.
To achieve this, the CTO has to interact with the team members appropriately, wisely distribute available resources and correctly assign tasks for implementation.
Mentorship and communication skills
Maintaining the whole team of developers isn't an easy process. Being responsible for a team's productivity and task fulfillment, CTOs must have excellent leadership and communication skills. Being a good mentor implies that CTO should help team members grow professionally to bring added business value.
Qualities
You should also pay attention to personality traits a good CTO should have when looking for a specialist.
Constant learner
Being responsible for a startup requires profound knowledge. Tech development never ends, and a skillful CTO must be on the cutting edge of advanced technologies. So, never-lasting learning is a must.
Creativity
A creative approach will allow the CTO to find captivating and extraordinary solutions to complex business-related challenges.
Perfectionist
A good Chief Technology Officer should always strive for perfection. Since the core startup's goal is to deliver a product that is way ahead of competitors, this characteristic will help reach better outcomes and present outstanding software.
Tips to Find a CTO If You Don't Have Tech Expertise
The process of finding a good CTO is time-consuming and goes along with certain difficulties, especially if you don't have a tech background. However, here are some hints that will push you in the right direction and help you find a C-level specialist.
Pay attention to the experience. In order to check this aspect, you can consider an applicant's past jobs, reach their last employers, and request feedback on the applicant's past success. Attending different tech meetings and hackathons may speed up the searching process, allowing you to establish valuable connections.
Check the applicant's social media. You may consider this advice a little odd, but a professional CTO  will be well-liked on professional networks. Typically, experienced CTOs share their expertise and useful insights on professional websites like LinkedIn. Besides, it'd be helpful to check different tech publications. Professional CTOs will definitely publish articles on the expert community to share their years of practice, practical thoughts, and expert views.
Evaluate communication skills. At any startup stage, the CTOs interact with a significant number of tech specialists to establish a clockwork workflow. As a result, they need to have strong communication skills to translate ideas easily and lead others.
At first sight, these suggestions are pretty simple, but they validate the most critical qualities for a good Chief Technology Officer.
When Does a Startup Need a CTO?
There are different scenarios when your business needs a CTO. Let's take a look at four situations when you should consider hiring a technical director.
Legacy Soft Modernization
There is a moment in every business when legacy software should be modernized to boost business growth. A CTO will help you capitalize on modern technology to be more effective and respond to market changes.
You Need Someone to Push Your Startup Forward
You already have a working product and generate income, but you want to move on and accelerate business development. A good CTO can assist you in digital transformation without losing money. This is the core responsibility of the CTOs. They apply cutting-edge technology to drive business growth and build incredible customer experience by implementing digital technology across the company.
Your Development Team Need a Leader
A person who has a clear vision of the digital product's development, aligning with the business needs and goals is what any tech startup requires. CTO can help you with team management by coordinating the workflow across different offices.
Rising Amount of Tech Tasks
The majority of founders take more than their team can handle. Well, this is the reality of startups. Or you overlooked some circumstances that caused many problems. In such cases, the CTOs will help solve industry-specific challenges and unload your team.
They can organize a productive workflow to eliminate the circumstances that slow down the business growth.
Author's bio
Vitaly Kuprenko is a writer for Cleveroad. It's a web and mobile app development company with headquarters in Ukraine. He enjoys writing about technology and digital marketing.