India, a land with so many natural freshwater bodies, suffers terribly from a drinking water problem. Diarrhea kills around 1.5 million Indian children every year. Experts estimate that by 2030, 40% of India's population would lack access to safe drinking water.
In urban areas, municipal water supplies are a safe bet, and yet further secured by installing water purifiers at home. However, the picture isn't so pretty in rural areas, where even getting water for daily uses remains an issue.
People throw raw sewage, silt, and waste into India's rivers and lakes, polluting around 80% of the country's water. As a result, the water has become undrinkable, forcing the people to rely on costly sources.
The brainchild of two University of Minnesota students, Pure Paani is helping combat this great evil in the country.
An Overview
Pure Paani specializes in providing water quality solutions for unprivileged people, such as portable, hand-powered, high-flow water filters, pumps, and tablets. Pure Paani not only offers these solutions to communities but also to small merchants who can subsequently sell purified water to their neighbors at a low cost.
Bulkey Logston and Kaylea Brase founded the company in 2016 while pursuing their master's from the UoM.
Origins of A Solution
The city of Bengaluru lives in perpetual fear of Zero-day; the day all the water taps will run dry. It is, therefore, significant perhaps, that Pure Paani's founders chose this city as their headquarters.
Unsurprisingly, the city has been battling tainted water for years. According to a 2013 survey, 5734 residences in Bengaluru city have hazardous water, which contains pollutants such as Coliform bacteria, which may cause diarrhea, urinary tract infections, gastroenteritis, and typhoid.
Like other Indian counterparts, Bangalore is waiting for long-term answers to its major water quality concerns; it has over  20 lakh people living with water quality issues.
Pure Paani gets in Bangalore all the factors it needs to work properly: a large low-income population, a booming startup culture, and an openness to anything new.
As a result, the founders relocated to Bengaluru three years ago to better grasp the difficulties and fine-tune Pure Paani's plan to make safe, inexpensive drinking water a reality rather than a pipe dream.
How Does It Help?
Pure Paani offers a variety of water quality improvement options, including ultra-filtration machines (both manual and electric) and biological pollutants treatment tablets. Bulkley-Logston and Brase, both civil and environmental engineers, devised these solutions by adapting existing purification processes and building a supply network to make them cost-effective.
Their mode of operation is to a community, learn about their treatment needs, and provide answers.  The majority of the communities are made up of migrant workers, and this model can easily be copied in rural areas.
The affordable per-liter pricing addresses the needs of the marginalized population, while more water treated in less time allows merchants to scale up and serve more customers.
Pure Paani says that its system can purify three liters of water in one minute for about 0.5 per liter. While boiling and gravity separation can equal this price, the company says that treating one liter of water takes 4-10 minutes.
Saving Every Drop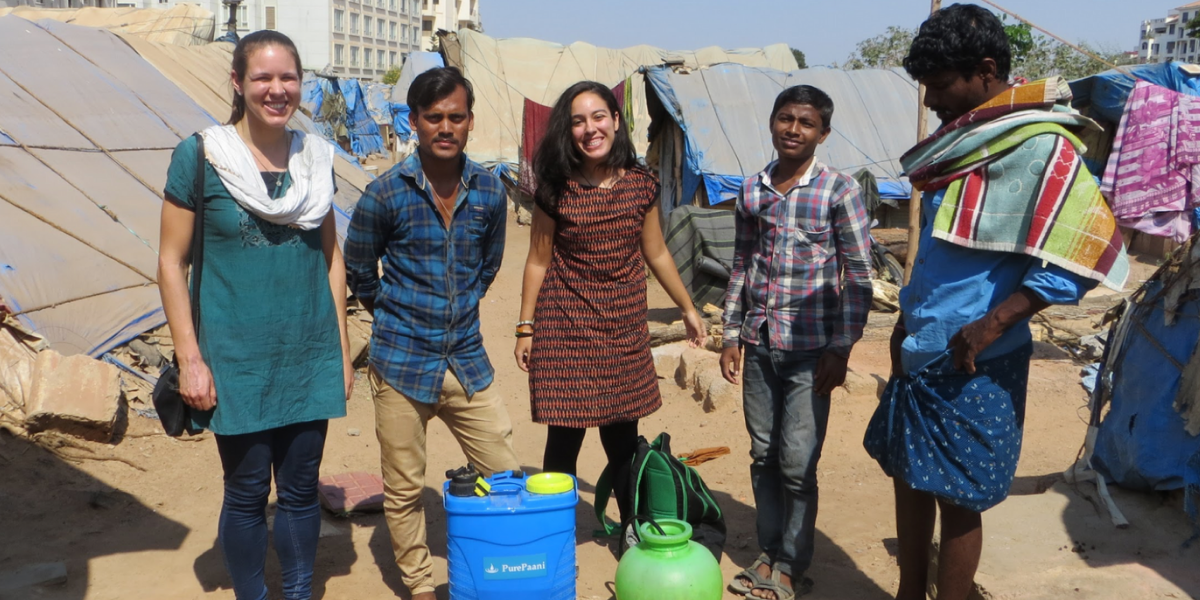 India-Israel Innovation Challenge, Start-up India, IIT-B, Shine Social Entrepreneurship Program and many other private CSR endeavors have funded and applauded Pure Paani.
Since its start, Pure Paani has been able to create effective relationships. One of its partners, for example, is the Shining Stars Football Club, which uses football to engage youngsters from Bengaluru's marginalized areas.
This is what the club's director had to say about Pure Paani:
"When Pure Paani approached us for support in 2017, we asked them to come and play with us. Kaylea and team play football with the children, and that's how the partnership kicked off."
The kids warmed up to the Pure Paani crew, and soon the conversation steered towards water usage and its concerns. The kids then went on to test the water in their own houses and raise awareness about the need for clean drinking water in their neighborhood.
The Biggest Obstacle
Today, the Pure Paani team has launched over 70 initiatives in Bengaluru, involving over 100 different communities.
However, the greatest barrier they encounter is simply a lack of awareness—or even a refusal to admit the problem. People continue to deny that water quality is an issue in India, even as millions of people die every year.
Plans For The Future
Pure Paani hopes to scale out its business model to bigger regions while making it viable for all stakeholders after conducting pilot projects in a few locations and developing the technology based on feedback. It now operates in Whitefield, Bommanahalli, Dodda Nagar, RT Nagar, and Shivaji Nagar, among other places.
The testimonials of hundreds of families and people in Bangalore keep them moving forward.